Nunatsiavut leader says 'time bomb is ticking' with Muskrat Falls flooding underway
The Nunatsiavut Government says the reservoir flooding now underway at the Muskrat Falls hydro project in Labrador leaves Inuit vulnerable to physical and cultural harm associated with anticipated increases in methylmercury contamination of fish, seal and other traditional foods.
"With reservoir impoundment under way, the time bomb is ticking on the future of those who depend on the Churchill River and Lake Melville for sustenance, and on the health, culture and way of life of many Labrador Inuit," Nunatsiavut President Johannes Lampe says in a lengthy statement sent to media on Thursday, less than 48 hours after Nalcor Energy began raising the water levels in the 59 kilometre-long reservoir in central Labrador.
The flooding of Muskrat Falls comes four years after a peer-reviewed scientific study led by researchers out of Harvard University warned of significant potential human exposure to methylmercury, which is created when soil and vegetation are flooded and then bio-accumulates in the food web and can impair neurological development in human beings who consume unsafe levels of contaminated meat.
Lampe says the unfulfilled promises by the province to mitigate human exposure to methylmercury is a "terrible tragedy".
"The Nunatsiavut Government is extremely disappointment with the Government of Newfoundland and Labrador with the way it has handled the whole Muskrat Falls fiasco," he says. "The Premier has [repeatedly] betrayed our trust by neglecting to respond, in writing or publicly, to our concerns and/or questions.
"If this is what reconciliation is all about, then we want no part of it."
In his statement, Lampe lays out a brief history of the Labrador Inuit government's interactions with the province in the three years since a marathon meeting between Newfoundland and Labrador Premier Dwight Ball and officials from the three Indigenous groups in Labrador rendered a plan to address Indigenous peoples' concerns around mercury.
An Independent Expert Advisory Committee [IEAC] was formed in 2017 and tasked with, among other things, reviewing the science around methylmercury production and the potential impacts to wildlife and human health.
The IEAC submitted its final report and recommendations to the Ball government in April 2018.
Among its recommendations were capping wetlands within, and removing soil from, the reservoir area in order to reduce expected methylmercury levels in the food web.
The province never provided an official response to the report.
During testimony before a public inquiry on Muskrat Falls last month, Ball admitted his government failed to process an application from Nalcor Energy, the provincial crown corporation building and operating the dam, to undertake wetland capping.
The government had been made aware by Nalcor months prior that the deadline for any wetland capping activity had passed.
When news of the missed deadline was made public, the government and Nalcor offered the three Indigenous governments in Labrador one-third of the $30 million earmarked for the capping.
Innu Nation and NunatuKavut Community Council accepted $10 million each – but Nunatsiavut has refused the money.
"We have said all along that compensation is not a form of mitigation. We advised [Nalcor CEO Stan] Marshall, as well as the Premier, that offering Labrador's three Indigenous groups a share of this $30 million would be perceived as a form of compensation, or 'hush money,'" Lampe said Thursday.
"We remain adamant this money should have been used for what it was intended – to cap wetlands."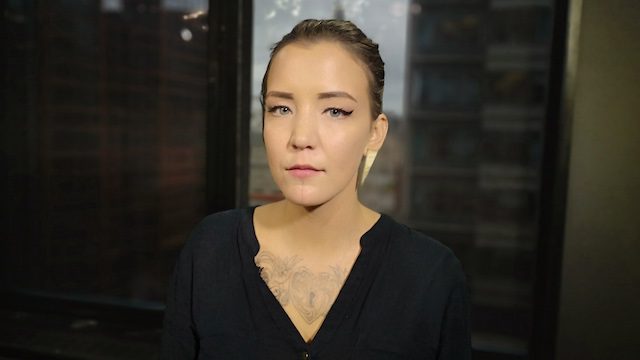 (Delilah Saunders says there is 'fear and concern' in Labrador as residents wait for the impacts of reservoir flooding at the Muskrat Falls hydro dam, which is located just upstream of communities like Happy Valley-Goose Bay, Mud Lake, North West River, and Sheshatshiu Innu First Nation. Photo: Justin Brake/APTN)
Ball's emergency meeting with Innu and Inuit leadership was called amid an ongoing occupation of the Muskrat Falls work site by Innu, Inuit and settler Labradorians, who united in opposition to reservoir flooding primarily over concerns of the safety risks presented to locals' traditional foods and to human health.
It also coincided with a hunger strike by three Inuit from Labrador, who refused to eat until a political resolution was reached.
Delilah Saunders' hunger strike lasted 10 days.
On Wednesday of this week she told APTN News that she's proud of Lampe and the Nunatsiavut Government for not accepting Nalcor's offer of $10 million in lieu of the wetland capping.
Saunders, whose family resides in Happy Valley-Goose Bay and Hopedale, said her community's culture and traditions are at risk if methyl mercury levels rise in traditional foods.
"My family, personally, they don't really have a choice in whether they can or cannot harvest our traditional foods," she said, explaining they depend on the availability of country foods for sustenance.
The province has said it will issue consumption advisories if mercury levels increase in fish and other wildlife, and compensate Indigenous people whose access to traditional foods is compromised.
"There's a lot of fear, and there's a lot of concern, back in my community and along the coast," Saunders said Wednesday.
"I guess we have to wait and see how this is going to affect the health of Inuit, Innu and Southern Inuit."
APTN reached out to Premier Ball for a response to Lampe's statement but did not hear back by the time of publication.