Not all travellers happy with barriers to enter N.W.T.
The territory has fined 12 people so far for violating its self-isolation protocols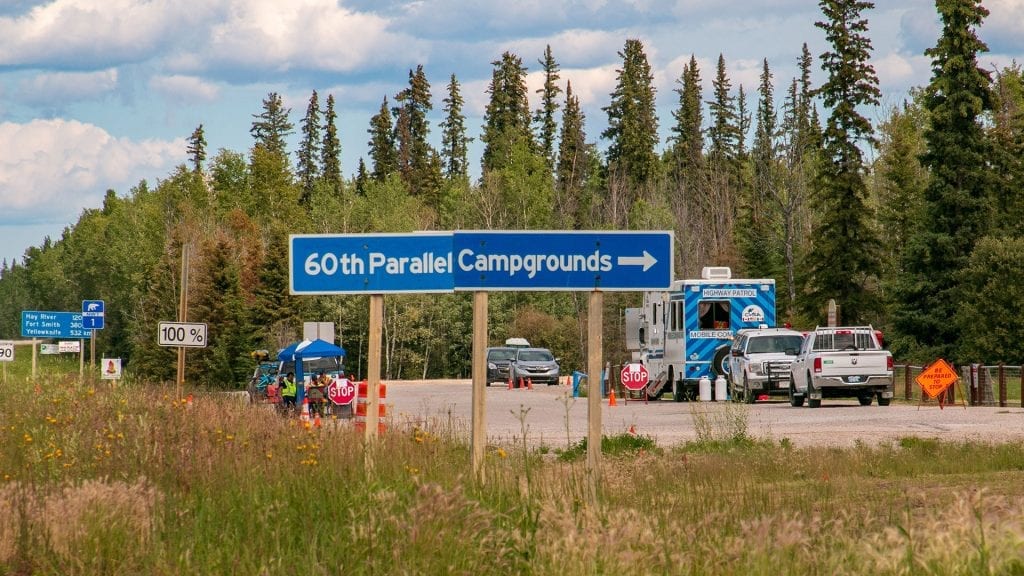 Crossing into the Northwest Territories (N.W.T.) looks a little different this year during the COVID-19 pandemic.
With the exception of supply chain and essential workers, travellers and residents must submit a self-isolation plan to the territorial government.
The busiest checkstop is known as the 60th parallel, at the border of N.W.T. and Alberta.
A team of 10 is working rotating shifts asking travellers for paperwork and identification.
The information is then passed on to a Protect NWT hotline, a COVID-19 Compliance and Enforcement Task Force, and the appropriate self-isolation centre (in Yellowknife, Inuvik, Hay River and Fort Smith) depending on where travellers are headed.
For the roughly 30 passenger vehicles that pass through the stop daily, about 12 are turned away due to inadequate paperwork or territorial approval for their self-isolation plans.
Dennis Marchiori was redeployed to the position of Deputy Chief Public Health Officer for his experience helping craft a government response to the H1N1 virus outbreak in 2009.
Marchiori finds the public is still catching on to COVID-19 rules under the territorial Public Health Act.
"There's a lot of information on the various websites about COVID-19. Sometimes it's American, sometimes it's Canadian," he said.
"Sometimes it's understanding the difference between coming from an international location and that you have to follow federal quarantine rules which are more strict than our self-isolation."
60th parallel
Such was the case when APTN News visited the 60th parallel while two travellers waited at the checkstop to pick up five dogs from Canada's most northern community,  Grise Fiord, Nunavut.
Victoria Burdett-Couttes, a researcher who often works in Nunavut, expressed frustration with the N.W.T. exemption process.
Usually she and her partner fly or drive to the capital of Yellowknife, but this time the Yellowknife Society for the Prevention of Cruelty to Animals (SPCA) dropped the puppies off at the border, a 14-hour round trip.
Figure 2 Couple from British Columbia say they are frustrated with the N.W.T. self-isolation protocol which resulted in them waiting for hours to exchange dogs from a N.W.T. shelter to bring down south. Photo by Charlotte Morritt-Jacobs
As Burdett-Couttes waited she observed another traveller breeze through the border crossing. She said he told her he was granted permission to go to Yellowknife to collect a horse from the SPCA.
"Just this morning, myself and the horse person were supposed to meet the same SPCA person. He was exempted to get the horse but we weren't exempted to get the dogs. We had applied three months ago," Burdett-Couttes said.
She told APTN she was denied entry because she couldn't produce a self-isolation plan to stay in the N.W.T. for two weeks, even though she planned to drive to and from Yellowknife with no stops to retrieve the dogs.
"So, I think, even in terms, both are non-essential reasons because they are animals, we at least went through a process, we had a plan, we were very cognizant of people's concerns of the virus. The coronavirus doesn't care if you are picking up a horse or dogs," she said.
In April, the territorial government assembled a 30-person COVID-19 compliance and enforcement task force to ensure residents respected social distancing and self- isolation rules.
READ MORE: N.W.T. puts social distancing enforcement team together
According to a news release, 12 people have been fined since March for violating self-isolation protocol.
Some of those fined, like Michael Courtney, are speaking about the experience.
In June, Courtney walked through the locked British Columbia-N.W.T. border. He didn't make it very far before RCMP caught up with him.
"They drove me back to the border – to the B.C. -N.W.T. border. I told them, 'Once you guys are gone I'm coming back,'" Courtney said.
He told APTN he was born in the North but grew up down South. He plannedto reunite with his family for the first time in 16 years in Behchoko, so he walked more than 700 km and camped along the way.
"The fact (is) I've been isolated on my own just walking across Canada. And that isolation itself should be a quarantine and should be considered a self quarantine," he said.
"Maybe it's prideful, but just because my ancestors are from here and just because I am not a resident here doesn't mean that I should be denied access."
According to Courtney, after four days in Behchoko, RCMP and public health officers came by.
"The health official gave me two options. (He said) 'We are going to fine you and your sister's mother $10K for hosting you, or you can come to the isolation centre and avoid all the fines and just self isolate for two weeks.'
"So I said, 'OK, let's go.' Clear cut and simple. Just to put the rest of the community at ease," Courtney said.
But the next day in self-isolation at the Nova Hotel in Yellowknife, Courtney said a different public health officer handed him a $1,725 fine.
Self-isolation plans
More than 12,000 self-isolation plans have been submitted to the territorial government since March with more than 1,600 pending approval.
While Marchiori could not comment directly on Courtney's situation, he said very few people walk into the territory.
He said there has been some vandalism to the gate.
Marchioiri noted public health officers are trying to give out verbal and written warnings first.
"We wanted to be able to talk to people so you'll see we provide stats on warnings and written warnings," Marchioiri said.
"At some point in time, we have done enough education so if someone completely violates the public health orders and travels to the N.W.T. against the public health order then it is a fine."