Northwestel makes internet access more affordable in N.W.T. but not for everyone
Like many places across the country, many northerners have developed a healthy reliance on the internet during the COVID-19 pandemic – working from home alongside kids playing video games and binging Netflix.
On a good day, the internet speed in Yellowknife would shock most southerners, not to mention the monthly bill.
Drive to a few hours on a winter road to a remote community and the situation considerably worsens.
The public cry for quality telecommunication without breaking the bank is evident.
Melaw Nakehk'o is one of the voices.
She decided to put pressure on industry and government and created a petition on Change.org  to waive data overage fees in all 33 communities in the N.W.T.
"I thought at the beginning it would promote social distancing, physical distancing, and help people stay in their homes and stay connected," she said.
(Melaw Nakehk'o's hand drawn poster for northern internet equality petition)
In two weeks, there was over 800 signatures, but it wasn't a quick fix for the duration of the COVID-19 lockdown Nakehk'o asked for.
Originally from Lildli Koe First Nation – Fort Simpson, N.W.T. and now living in Yellowknife, she recognized the need to connect families who are peppered across the vast territory.
"I know friends that live down south and they would be like 'I would love to video chat with my Auntie in Tulita, or Colville Lake or something' but the internet services are not good enough.
"We have been having virtual beadings circles but a lot of the ladies in the smaller communities can't participate in those because their services aren't good enough," Nakehk'o said.
On Mar. 16, Northwestel, one of the largest Internet providers in the north, proposed forgiving internet use overage fees for customers and submitted an application to the Canadian Radio-television and Telecommunications Commission (CRTC) to do so.
Overage charges were waived for customers in Yellowknife, Fort Smith and Norman Wells, while other smaller communities received increased caps for internet usage.
Nakehk'o also said she also hasn't heard from Northwestel or the territorial government, but that hasn't stopped her from advocating for internet accessibility and financial equality in smaller communities.
"It doesn't really seem fair because somebody in Fort Liard is in the exact same position as somebody in Toronto. We need to be able to access the internet and access the same services so we can all continue working, continuing supporting our kids and their education. For our mental health and promote social distancing," she said.
As an artist, Nakehk'o has going online for work during the pandemic. She's created original social distancing campaign posters with local non-profits such as Hotıì ts'eeda and FOXY.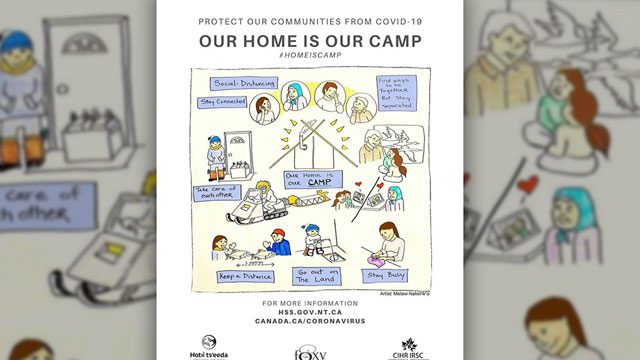 (Artwork of Melaw Nakehk'o for campaign poster 'Our Home is Our Camp' to promote social distancing in the Northwest Territories)
Even with culturally relevant information, the gravity and safety precautions surrounding COVID-19 hasn't reached smaller communities.
"There's very limited access and quality of internet in some of the communities. I think a lot of the information doesn't seem like it is a real thing yet. Somebody just walked into one of my relative's houses in Fort Simpson to visit a few days ago. I was like 'Oh my god we need to put up signs on your door, saying no visitors call ahead,'" Nakehk'o said.
The N.W.T. has five confirmed cases of COVID-19. One person has recovered.
On April 6, the territorial government extended its state of emergency.
Schools across the north are closed as a safety measure and have gone online for the remainder of the academic year.
As a single mother of three, Nakehk'o noted the importance of internet accessibility for kids to socialize with friends and complete school work.
"The internet thing is really important right now for education. All of our students need to be able to have access to internet. As parents we shouldn't be stressed about the bills that are accumulating," she said.
The territorial government said its not responsible for internet service and directed APTN to contact Northwestel or the CRTC.
APTN reached out to Northwestel to ask about services in remote communities but were denied an interview.