Northern Tutchone artist from Yukon shortlisted for $100K Sobey Art Award
Krystle Silverfox, who is a citizen of the Selkirk First Nation, is shortlisted for the 2022 Sobey Art Award.
---
A multidisciplinary artist and Selkirk First Nation member in the Yukon has been nominated for one of Canada's most prestigious art awards.
Krystle Silverfox, who is Northern Tutchone, is one of five artists shortlisted for the 2022 Sobey Art Award.
Organized and presented by the National Gallery of Canada, it's one of the most distinguished awards available for emerging artists in Canada and comes with a $100,000 prize.
Each of the four shortlisted finalists will also receive $25,000.
"I didn't believe it. I got an email and I was like I think they emailed the wrong person," Silverfox tells APTN News. "To be honest, being nominated was all I wanted, and to be shortlisted it's beyond my wildest dreams."
---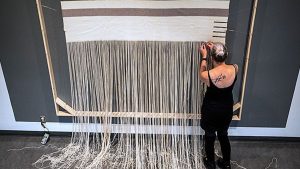 ---
Silverfox grew up in Vancouver, B.C. and moved to Dawson City, Yukon last year after landing an art teaching job at the Yukon School of Visual Arts.
She says her unique experiences growing up as an urban Indigenous person away from her First Nation community are often reflected in her work.
"One of the things that really got me was the fact that if I wanted to learn more about the art of my First Nation, it was easier for me to travel to local museums in Seattle like the Burke Museum, or the Museum of Anthropology in Vancouver, then it was for me to actually travel to my First Nation and learn first hand," she says.
Since moving to the land of her ancestors, Silverfox says she feels closer to her Northern Tutchone roots.
"I feel like I have more of a connection now living up north," she says.
Other themes explored in Silverfox's work include de-colonialism, Indigenous feminism and transnationalism – the idea of belonging to more than one nation.
"It's how can I explore the fact that I am Canadian, I do have settler background, but I'm also Indigenous and I'm an Indigenous citizen, and how do I put that together?" Silverfox says.
---
---
'My art means something'
Silverfox is not the first artist with First Nation's heritage from Yukon to be shortlisted for a Sobey Art Award.
Jeneen Frei Njootli, who is Vuntut Gwitchin, and Joseph Tisiga, who has Kaska Dene ancestry, were also shortlisted in previous years.
Silverfox says she's excited to join the ranks of other esteemed artists who were shortlisted.
"When you get nominated for a Sobey it is kind of like you've made it in the world," she says.
"I have something to do with imposter syndrome, I'm constantly feeling like I'm not really a legitimate artist, but then when I get Sobey's shortlisted I know that my art actually has impact and it means something."
Silverfox says if she wins she hopes to use the money to further her own practice and help her First Nation community by starting an arts program.
"That would be the idea. I make art not for myself but for the future," she says.
Silverfox and the other shortlisted artists will have their work displayed later this year at the National Gallery in Ottawa where the winner will be announced this fall.