'No doubt in my mind they met a tragic event' Mi'kmaq community remembers couple lost 80 years ago
(Moccasins on the shores of Bras d'Or in memory of sisters Judina Noel and Kate Michael and their husbands, Noel Marshall and Joseph Michael. The fifth pair is for Kate's unborn child. Photo: APTN)
Trina Roache
APTN National News
Mi'kmaw elders held a quiet ceremony in the early morning drizzle Wednesday along the shore of the Bras d'Or Lake in Cape Breton to honour four people who went missing 80 years ago.
"On March 30, 1936, they left here that morning," said Joe Michael. "They went across to Big Pond. This is where the ceremony will begin. And in Big Pond, where they camped and fished for eels…Big Pond is where we'll capture their spirits."
Judina Marshall and Kate Michael were sisters from the Mi'kmaw community of Eskasoni. They traveled across the Bras d'Or Lake by dory that day with their husbands – Noel Marshall and Joseph Michael – who took their eel spears.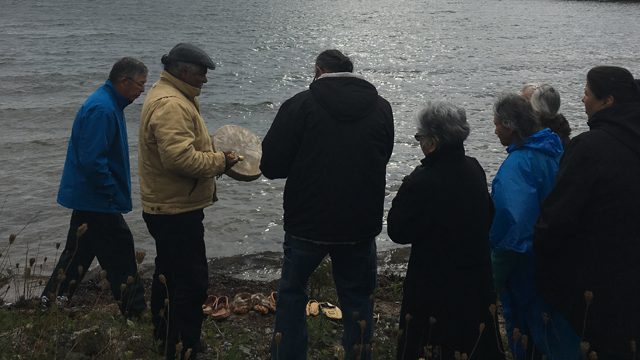 The women had their baskets and crafts to sell or trade for goods.
But they never returned.
The Mi'kmaq spent over a month combing the waters and surrounding woods for clues but found nothing. Eight decades has passed but the community never let it go. The late Greg Johnson and Charlie Morris spent years searching for the truth.
About three years ago, Joe Michael, a retired RCMP officer, and the grandson of Kate and Joseph, took over the investigation. He rounded up accounts of what happened.
No one has ever found the bodies but Michael did find something else – someone who had seen the dory.
Michael said he was told the bottom of the boat looked like it had been smashed with an axe, as if someone tried to sink it.
"No doubt in my mind they met a tragic event," said Michael. "Somebody did something over there. Can I say murdered them? No. I don't want to say that because it'd be too, um, I don't know. It's probably not the word to use right now. They met a tragic end and that's where their bodies are. Still over there."
The RCMP never investigated in 1936. In 1965, the chief of Eskasoni Charlie Francis asked police to re-open the case, but police declined.
"There was nothing, not back then," said Elder Georgina Doucette. "Things were different in Cape Breton. I guess there was so much racism that when anything like that happened to our people it didn't get investigated. It was hardly mentioned in the paper, just a small paragraph and that was it."
She said Wednesday's ceremony was also about moving past the frustration to forgiveness.
Georgina's son Michael Doucette sang and drummed He smudged those gathered along the shore.
"I'm sure over there they feel anxiety that we're re-opening this," Doucette told everyone. "We're not outright accusing them. But in our hearts we know what happened to our people."
The day is about closure – for the Mi'kmaw community who has wondered for decades what happened and the many descendants. The two couples left behind a total of 14 children. Kate Michael was eight-months pregnant at the time she went missing.
"I feel good bringing the spirits home to Eskasoni," said Georgina Doucette. "I think we're all very happy that this memorial, this ceremony took place. Something had to be done. You can't go on thinking they're there, somewhere across the pond.
"In my heart, I do believe something tragic happened to my aunts and my uncles. And the unborn child."
A caravan of cars drove around the Bras d'Or Lake to hold the next part of the ceremony at Big Pond. It's known that the two couples arrived here and had tea with friends around 11 in the morning Joe Michael has pieced together some details. He's convinced they met a violent end that involved a confrontation between the men and one or more people in Big Pond.
"The women, my grandmother and her sister, they were probably standing by watching what was going on and became victims," said Michael. "The wrong place at the wrong time."
Michael won't divulge all he knows. He said it's enough that he and the family members know the truth.
Georgina agreed. The two sisters, Judina and Kate, were her aunts.
"We never had any answers just speculation and hearsay," she said, adding that no one ever believed the theory that the four people drowned. "We don't want to go out there making accusation or having people put words into our mouths or add on to the story. They've been there 80 years and I would like them to just continue their journey so we can all have peace."
Michael placed moccasins along the water's edge. People reach down and lay their hands on the pebbled beach. Somewhere on this shore are the bones of their ancestors. Elder Susan Marshall led prayers and tobacco offerings.
"We're here today to release the spirits of our ancestors who went missing 80 years ago," said Chief Leroy Denny as he addressed the crowd, much of it spoken in Mi'kmaq.
More prayers. A final Mi'kmaq Honour song.
The group headed to the church in Eskasoni, where over 100 people were waiting. Mi'kmaq cultural traditions and Catholicism were intertwined. They brought in five crosses for the four men and women and the unborn child who died.
A gentle version of Amazing Grace is sung in Mi'kmaq.
At the end of the service, Michael stood up and gave everyone his account of what he believed happened. Most likely, they were killed. And nothing was ever done about it.
"We're not here to press charges or prosecute anybody," he said. "1936 is gone. Today is about forgiveness."
The community is fundraising now to put up a memorial which will tell the truth about what happened to Judina and Noel Marshall and Kate and Joseph Michael.
"It will make a difference in our stories now and we can tell our children," said Georgina Doucette. "No more speculation. We know what happened."