No apology from prime minister over 'condescending and sexist' remark
"You're Chief Judy Wilson, and everybody must say that every time."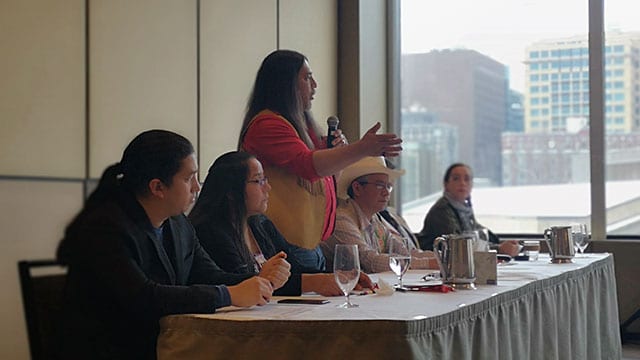 Justin Trudeau has not apologized – and doesn't sound like he will – to Neskonlith Chief Kukpi7 Judy Wilson.
The prime minister was roasted on social media for the way he answered a question Tuesday from Wilson at an Assembly of First Nations' gathering of chiefs in Ottawa.
Wednesday, UBCIC demanded an apology for the treatment of the Secwepemc leader, who is also secretary-treasurer for the Union of B.C. Indian Chiefs (UBCIC).
On Thursday, Wilson agreed the prime minister's tone and use of her first name was "condescending and sexist."
The prime minister's office, in an email to APTN News, said "no relationship is more important to our government than the one with Indigenous peoples" but did not address Wilson or UBCIC's concerns.
Wilson had challenged Trudeau on the Trans Mountain oil pipeline.
She told him the pipeline extension will run through more than 500 kilometres of Secwepemc territory and "there was no consent" on the project.
Chief Judy Wilson = The epitome of our Seven Sacred Teachings. Why our other Chiefs didn't speak up when PM JT dissed her by not respectfully addressing her as Chief and essentially speak down to her, patronizing. https://t.co/Tw0DCBwWvN

— Hilda Rose Fitzner (@Tornado_Rose) December 6, 2018
"You can't count a few IBA's [Impact Benefit Agreements] with some of the communities as consent because it's the proper title holders of those nations that hold the title," Wilson said.
The few Secwepemc Indian Act bands that signed agreements with previous pipeline owner Kinder Morgan "might have been under duress – but it's not a proper process," Wilson added, referring to the communities desperate need for jobs and development but also what she says is Canada's refusal to regard the 10,000 Secwepemc people as the proper rights and title-holders whose consent is required.
Trudeau addressed the chief by her first name, which some say is outside proper protocol, and criticized Wilson's comment about distress instead of addressing the question around consent.
Former Manitoba Keewatinowi Okimakanak Grand Chief Sheila North told APTN she "was taken aback when he came out [with what] almost sounded like a warning to say what he said, and also calling her by her first name."
North, one of the candidates for AFN National Chief earlier this year, said she could understand the prime minister addressing all chiefs by first name in an effort to build a friendlier image, but "to me that wasn't respecting her position as a representative of her people, and she deserves a lot more respect than that."
Wilson said if Trudeau "respects women" – amid an ongoing national inquiry into missing and murdered Indigenous women – he "should do the respectful thing and apologize."
National Chief Perry Bellegarde said he would "follow up to make sure that no one is disrespected in this assembly, from anybody.
"You're Chief Judy Wilson, and everybody must say that every time here in this assembly — I don't care who you are."
Wilson said the prime minister made it sound as if she was an outlier in her nation.
"It's not me speaking solely on my own — I'm talking from Elders, from the proper title-holders, from the resolutions that the Union of B.C. Indian Chiefs mandated us to. So when he's putting me down it's really all of our people he's putting down," she told reporters at a news conference Thursday.
The prime minister apologized to Coldwater Chief Lee Spahan and addressed him as 'Chief.' (APTN/Justin Brake photo)
Kanesatake's Mohawk Council Grand Chief Serge Simon also spoke in support of First Nations resisting Trans Mountain.
A member of the Treaty Alliance of 150 First Nations that have united in opposition the expansion of the Alberta tar sands, Simon said "it seems like our right to say No, our consent is not required, simply because you've put together a quasi-judicial board, the NEB, as a buffer between me and the Crown.
"There's environmental concerns. The planet is in trouble. Everyone recognizes it except for the governments, those who are supporting this industry," he said.
"The transition must be done and it must be done soon if we're going to save our grandchildrens' future. What the hell do you not understand about that?"
The press conference included leaders from the Mohawk, Nlaka'pamux, Squamish and Secwepemc Nations, and called attention to what they say is a failed second attempt by Canada to adequately consult with First Nations that stand to be impacted by the pipeline expansion if the project is built.
They say Canada requires the consent of their people, not just consultations with a few representatives.
They also take issue with what they say is an inadequate timeline for meaningful dialogue.
"We're here to call out the arbitrary deadlines and timelines and the process that the Trudeau government continues to use as it reviews this project and response of the federal court ruling," said Khelsilem, a councillor with Squamish Nation, commenting on last summer's federal court decision that prompted Canada to carry out a second consultation process with First Nations in the region.
"The federal government has said on one hand there is no timeline in the engagement and consultation with Indigenous communities, but on the other hand there is a 90-day requirement under the National Energy Board Act that Canada has to make a decision on this pipeline project once the NEB report is tabled in January."
Wilson said Trudeau "is basically telling us that they purchased [the pipeline] and they're putting it through. And we're here to say, 'Prime minister: No you're not.'"