New housing project on Vancouver Island helping people move away from homelessness
A new housing project in Port Alberni on Vancouver Island is helping people move away from homelessness  – and changing their lives.
This is the first time Bear has ever lived alone in his 55 years.
He just moved in to a brand new supportive housing unit in Port Alberni.
"It's sad that I have to be here, but happy that I am here," Bear says weeping.
Bear grew up in child care in East Vancouver and ended up on the streets in his teens.
He  has struggled with addiction all his life
But for the last 20 years, he's also been helping others struggling with addiction and homelessness.
"I spent 20 years on the streets and 20 years developing programs for people on the streets," he says.
But now Bear has been given a second chance at a new place called Our Home.
"It rebuilds people's lives," says Bear.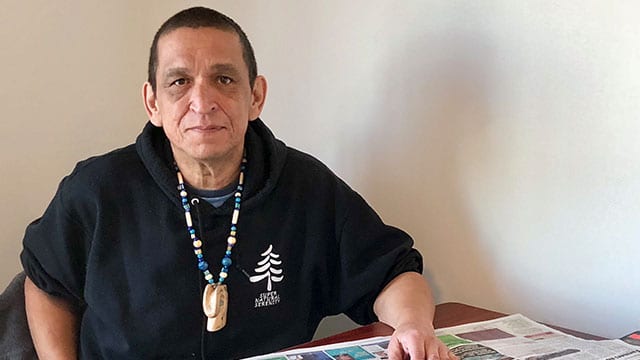 (Bear at his apartment, "They need more programs like this everywhere." Photo: Laurie Hamelin/APTN)
Wes Hewitt is one of the creators behind the Our Home project –  which is now just up and running.
"Our Home takes people in from as far south as Ditidaht to as far north on the west coast of the Island as Kyuquot," he says.
Hewitt says people on the island are struggling to find affordable housing and services just like the rest of the province.
"Our Home was conceived in 2010 and it's got 30 supportive housing units which are independent suites on the second floor and on the main floor is support services and we still operate a shelter facility out of here.
Although the project began in 2010, construction began just last year.
The cost of the new building was $7.5 million.
"This building was funded by the rapid response to homelessness with B.C. Housing and a partnership with the Vancouver Island health authority, the Port Alberni shelter society and the City of Port Alberni.
Residents are chosen based on an application process using a vulnerability assessment.
Rent is $375 per month and people can stay as long as they need to.
Bear's thankful he made it in, but says there are still many more people on the island that need help.
"They need more programs like this everywhere," he says.