New Cambridge Bay art studio to help local youth keep out of trouble
Red Fish Arts studio will offer several arts and industrial programs aimed at youth.
---
It's a legend as old as time itself.
Sedna is Inuit goddess of the sea and mother of all sea creatures – and also the inspiration for an eye-catching mural.
"I like to put in fun characters because it's young people, and funky colours and stuff," says Ele Davis, the painter behind the vibrant mural.
The mural is just one project that's taking place at the soon-to-be-open Red Fish Arts Studio in Cambridge Bay, Nunavut.
Funded by the Canadian Northern Economic Development Agency (CanNor), the municipality of Cambridge Bay renovated an old fish plant building, transforming it into an arts studio. One side of the studio will foster the fine arts; the other, trades.
The studio will offer several programs for youth like painting, weaving, beading, traditional tool making and even small engine repair.
While a few programs are already underway at the studio like the mural project, it won't fully open to the public until Sept.7.
Davis, who is from the south and spending a month in the community helping youth paint at the studio,  says more than a dozen young people have wandered into the space so far and offered to lend a hand.
"They pop in for an hour, some of the older ones are cutting the wood with a jigsaw, sanding edges, painting, helping make decisions and helping clean up the place because this is a beautiful space that we get to use here," she says.
Studio to keep youth preoccupied
---
Marla Limosuin, CAO of the municipality of Cambridge Bay, is hopeful the studio will deter the community's young people from getting into trouble.
She says while there's no shortage of sport recreation for local youth, finding creative outlets to keep them occupied is another story.
She says it's no secret youth vandalism is an issue in the small, isolated hamlet of around 1,800 people.
"There are a lot of youth in the community, summertime's when everybody's out and about, 24 hours a day, so there's a lot of trouble they can get into," she says.
In recent weeks a group of youth also trashed an elder's place. They were later caught, and had to clean up the mess.
Limosuin's hopeful the studio and the programs that will take place there will keep idle hands busy while also teaching kids respect. She notes a Hudson's Bay park in the community has experienced minimal vandalism because youth participated in making art that's displayed there.
"There will be snacks, it's safe and warm and it will keep kids occupied. I think that goes to building great citizens who care about the community," she says.
Youth welding program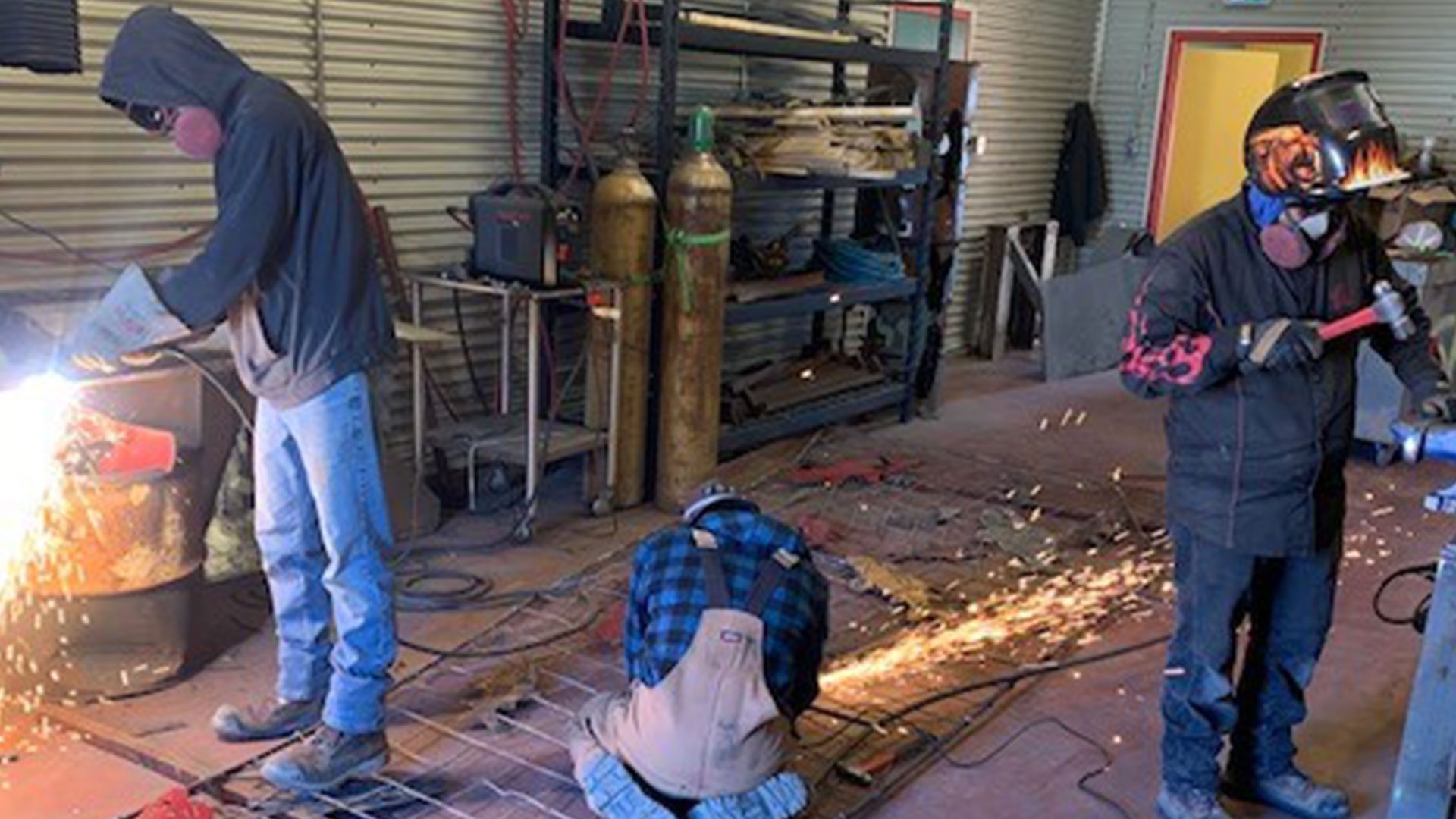 ---
A youth arts project that's proven to be successful in keeping kids out of trouble will also have a new and improved home in the studio.
Cambridge Bay's youth welding project has been running for around five years out of a garage bay that was lent to the municipality. It teaches welding skills to at-risk youth using recycled scrap metal.  Five young men currently take part in the project.
Some eye-catching creations to emerge from the project include sculptures of a muskox and two wolves which are displayed in the community as well as a welcome sign bearing a school of fish near the community's airport.
The project's success in motivating youth earned it an $100,000 Arctic Inspiration Prize and the winnings were invested in purchasing new equipment for the welding project. It is now being run out of the industrial side of the studio.
Welding instructor Mark Slatter says the project has had a "phenomenal" impact on its participants.
"In a very short period of time we went from one-word answers to being brutally honest, and before where they would have acted out, now they'll call me and say 'Mark, here's what's on my mind,'" he says.
Robert Taptoona- Haines, 20, who participates in the project, says it's helped him manage his emotions.
"The most rewarding part would be learning to deal with emotions in a safer way and having a group of friends that can achieve stuff like what we're doing," he says.
Slatter says now that they have a new studio, there's talk of opening a girls' program as well as having the current participants teach younger kids the trade.
Taptoona- Haines says he's interested in sharing what he's learned so the next generation on the right track.
"Because the youth up here, it's not so great, and passing something down here, it can take your mind off stuff and it's going into something that's better then vandalism," he says.