Necessary Force: For the last two years Nunavik's police force has been killing people at the highest rate in Quebec
---
"It was really shocking for the community. It was like people were dying one after another in the hands of the police officers" – Lucy Nowra 
---
The cell phone video is gritty and the camera's shakiness adds an ominous touch.
In the video, the remnants of dusk are fading in what looks to be a remote community.
A shadow can be glimpsed running on the gravel road beside a row of houses.
A sharp rifle shot rings out, and the shadow, presumably a police officer, crouches behind a vehicle for cover.
---
---
Tommy Ningiuk
Lucy Nowra filmed this from her window just across the street.
"I live a few houses down and tried talking him out of it. But when I fell asleep this early morning he started shooting again," wrote Nowra in a Facebook message to APTN Investigates mere hours after the incident.
On Sept. 4, 2018, Tommy Ningiuk, 40, fired several shots from his home in Inukjuak, Qc.
At one point he paused to send a selfie to Nowra during the 14 hour stand-off with police.
In it Ningiuk is holding a hunting rifle, a thin smile on his face. Nowra's phone shows that she missed a video call from Ningiuk just before 3:00 a.m.
He also sent her a brief message near 8:00 a.m. that simply read "Hi." By the time Lucy wrote him back at 12:30 p.m., he had died in an exchange of gunfire with the police.
"I talked him out of it, but I fell asleep," wrote Nowra, her words tinged with guilt. "I'm so hurt, another soul lost to this."
Most small towns like Inukjuak (population 1,600) would consider an armed stand-off with police an extraordinary event. But for Nowra, it's not even the first time an armed stand-off has happened on her street.
(Lucy Nowra is from Inukjuak. She thinks the police need to do more to prevent volatile situations from turning violent. Photo: Tom Fennario/APTN)
In November 2015,  Peter Weetaluktuk, 18, was shot by police after brandishing his rifle.
"It was that house, that brown one over there," said Nowra in July of 2018, pointing to a house about 100 metres down her street.
"That's how close it was to our place."
Weetaluktuk survived the shooting, but others have not been so fortunate.
---
Jobie Napartuk
"Many people in town have been shot. Some of them have been killed," said Nowra, who thinks Inuit are all too often blamed for getting shot. She believes that police need to do a better job diffusing situations that turn volatile.
"It was really shocking for the community. It was like people were dying one after another in the hands of the police officers," Nowra said.
It started in 2014 when Elisapi Napartuk's 29-year-old brother Jobie was shot and killed by police. She describes Jobie as good father who had an oddball sense of humour.
"He could've lived more. He was only 29 years old. He had eight children, they were all under 18 years old and he left them," lamented Napartuk.
(Jobie Napartuk, pictured here with the youngest of his eight children, was 29 years old when he was shot and killed by police. Photo courtesy of the Napartuk family)
Police were called to Jobie Naparktuk's house "to ensure the safety of his family" according to the coroner's report. He had traces of cannabis and more than two-and-a-half times the legal amount of alcohol in his system when he threw a frying pan and casserole dish at the officers, who then went outside to wait for back up, according to the coroner's report.
That's when Napartuk came outside, this time brandishing knives. Officers ordered him to drop the knives but he refused and went back inside his house. Police followed him, fearing he may hurt someone inside, according to the report. Once inside they fatally shot him. After an investigation, police were found to have followed procedure despite  Jobie Napartuk's  death.
Many people in Inukjuak wonder to this day why deadly force was necessary. When asked what she felt the police could have done differently regarding her brother's death Elisapi Napartuk said, "Not to shoot him, like, at least use a taser."
Members of the Kativik Regional Police Force (KRPF) shot Jobie Napartuk. They police Inukjuak and 13 other communities in Nunavik, what the Inuit call their territory in subarctic Quebec.
A rash of KRPF incidents that led to injury and death prompted Inukjuak residents to band together in 2014.
They demanded less deadly force including tasers to handle precarious situations. Kativik police in Inukjuak did eventually receive tasers, but not until four years later, in Spring 2018.
"It's really unacceptable to take this long," said Nowra. "I'm sure some of them should've ended better, instead of fatally."
---
Allie and Jimmy Kingalik
Nowra points to the Kingalik brothers as an example.
Allie Kingalik was paralyzed by a police shooting in 2014. A year later his younger brother Jimmy was killed after he went into the Inukjuak police station with an ax.
(Elisapi Kingalik (R) has had 2 sons shot by police. One is dead, the other has limited mobility from the waist down. Photo: Tom Fennario/APTN)
Their mother Elisapi says 27-year-old Jimmy was angry about his brother's shooting, but after a shed fire that left him severely burned to the point of being handicapped, she doesn't see how Jimmy could've posed much of a threat to police.
"He was weak. I don't know why they did that to a person who was handicapped," said Kingalik in Inuktitut. "They could've got a shield for themselves and then grabbed the weapon from him. They've could've asked for some assistance.
"Why did they do that?"
Aibillie Niviaxie was in a jail cell at the station when Jimmy Kingalik was shot. He recalls that from his vantage point, he was able to see the officers, but not Kingalik.
"When Jimmy came into the police station, and they gave him three shots," said Niviaxie, turning his hand into the shape of a hand gun, "and maybe he was trying to get up again and the police was screaming and shot him three times again."
The coroner's report differs, saying police shot five times, hitting Kingalik with four bullets, the last of which killed him.
The report does confirm, through security camera footage, that after being hit twice, Kingalik fell and tried to get up before being shot twice again. It also says there was no apparent motive for Jimmy to threaten KRPF officers with an ax, even though his brother had previously been paralyzed by a KRPF bullet.
What the family has the most trouble grasping is why the police didn't disarm a handicapped Jimmy after the first bullets knocked him down. Elisapi Kingalik said that she's been waiting eagerly on the investigation being done on her son's death to find out.
But the investigation was completed in 2016, she just hadn't been told about it.  Instead APTN Investigates informed her that the investigation has been concluded and that the officers had been found to be acting correctly.
"So no one will explain to me who was at fault?" Kingalik asked, seemingly to no one and everyone at the same time.
(Aibille Niviaxie witnessed the police shooting of Jimmy Kingalik. Photo: Tom Fennario/APTN)
One person who might be able to answer is Jean-Pierre Larose. With nearly 40 years of experience in policing, Larose took over the post of KRPF Chief in February. He says equipment and training for less lethal force are being introduced, but that it's not as simple as handing officers a taser.
"We can use it in certain circumstances and I'm aware of that, especially up north when Inuit have parkas outside, there's no effect on them, the tasers, so we are looking into some alternative impact weapons right now," Larose explained
He also adds that he's implementing more follow up care after violence, for both police and family. Specifically, Larose says he's spoken to the body that investigates police shootings, the Bureau des Enquêtes Indépendantes (BEI) about reporting back to family members such as Elisapi Kingalik.
"I explained to them the importance of explaining of what's going on, what's going to be the investigation, not only with the family but with the town council," Larose stated.
---
Alakagiallak Nowkawalk
But for some families, there's no solace to be had. In 2015, 23-year-old Alakagiallak Nowkawalk fired a shot in his girlfriend's direction after she left his house following an argument. 
It set into motion a three day stand-off with police that led to Alakagiallak's death. It was ruled a suicide: something the Nowkawalk family refuses to accept.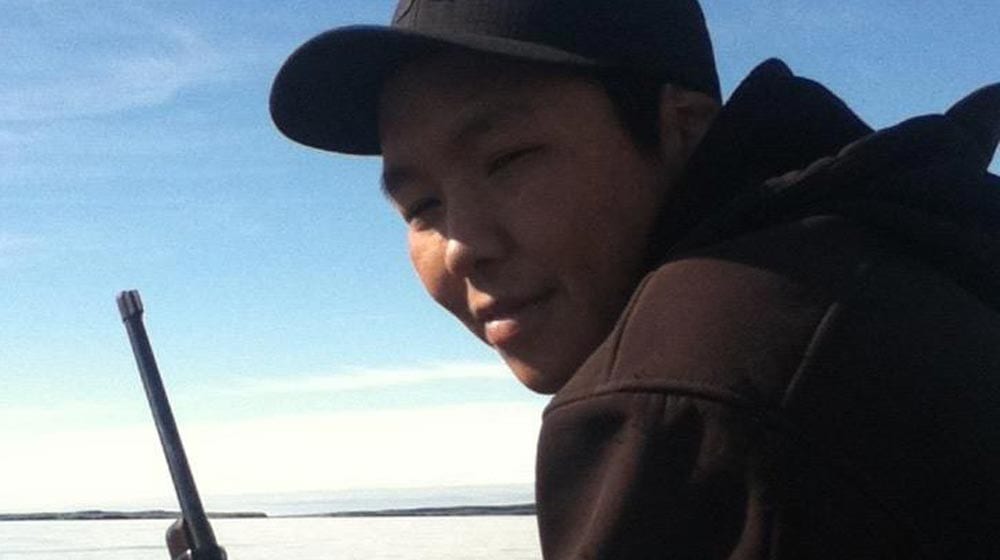 (Alakagiallak Nowkawalk died after a 3 day stand off with police. His death was ruled a suicide, but his family thinks differently. Photo courtesy of the Nowkawalk family)
Charlie Nowkawalk, Alakagiallak's uncle, says the family's doubts come from examining his corpse. What doesn't make sense to Charlie, an experienced hunter, is that there was no exit wound.
"I checked the body, I looked at the body, I even took some pictures of the body and there was a little teeny, tiny hole right there right in the centre and nothing in the back," Charlie said, pointing towards his sternum.
Quebec's provincial police, who took over from the local Kativik police during the stand-off, told the coroner that Alakagiallak turned the gun on himself after they stormed the house.
The report states they took that drastic action after 28 hours of negotiations went nowhere. Also according to the coroner report, Alakagiallak had a burn on his chest that indicates he was shot from very close, or even point blank range with a Tikka brand .223 found near his body. But Charlie said the rifle his nephew used to allegedly kill himself was too powerful to not leave an exit wound.
Charlie is also convinced that his nephew didn't own a .223 rifle, but rather an even more powerful .243 rifle.
"If he used that big rifle, .243 which we use for caribou hunting or big game hunting, that's a strong rifle. If he used that there would have been a big hole in his back," said Charlie, who frequently hunted with Alakagiallak.
Alakagiallak Nowkawalk's mother Minnie Nowkawalk is sitting on her couch next to her husband Noah Ehalook. He comforts Minnie frequently as she repeatedly breaks into tears while discussing the death of their son. Chief among Minnie's complaints are that negotiations with Alakagiallak were handled poorly.
"They work alone, we weren't even able to phone him. Only the police were able to call him," Nowkawalk said in Inuktitut.
Neither the KRPF nor Quebec provincial police have negotiators who speak in Inuktitut, the mother tongue of the vast majority of Inuit. Out of 48 KRPF patrol officers, three are Inuit.
"There was absolutely no help between my son and the police. Both sides were lacking help," said Minnie Nowkawalk.
Lucy Nowra says that she has firsthand experience that Inuk negotiators work. When she heard on the local radio that there was yet another stand-off with police, she drove to the house where it was happening.
"Three police trucks were blocking the road. They were stopping us from going in but I just passed them, I went in and I continued. I didn't care if they were going to arrest me. I was thinking 'my God, I don't want to lose another person I don't want to lose another family member,'" recalled Nowra.
When asked about getting Inuktitut speaking negotiators for perilous situations, KRPF Chief Larose wasn't sure how it could be implemented, but stopped short of dismissing the idea.
"There's special rules. It's the SQ [Quebec Provincial Police] that takes over the operation and they have their own negotiator. But I think that it would be effective to maybe have an Elder, maybe beside the negotiators, to get involved. I don't know but it would be interesting to have that right away in the community, to have somebody close to the negotiator to help us," Larose said.
"Our culture is different from Qallunaat, white people's culture, it would be more comfortable to speak with an Inuk who's understanding, rather than someone else, who's white who wouldn't understand what I'm going through or what I'm trying to say," explained Nowra.
It's impossible to know if Inuktitut speaking negotiators or translators would've helped Jobie Napartuk, Jimmy Kingalik, or Alakagiallak Nowkawalk, who all died violently less than a year a part.
What is known is that since then there have been others all over Nunavik. From July 2016 to Tommy Ningiuk in September 2018 Kativik police were involved in about 10 percent of all cases where police kill or seriously injure people in Quebec. That's third in the province out of 26 police forces and, according to CBC research into police shootings, the most fatalities for any Indigenous police force in Canada during that time.
For perspective, KRPF has had nearly half as many officer-involved fatality cases as the Montreal police. yet they KRPF officers police an equivalent of less than one per cent of Montreal's population. Crunch the numbers, and the rate the KRPF kills or injures someone is 55 times that of Montreal police.
---
---
Known in Quebec by their French acronym BEI, Quebec's independent investigation bureau is mandated to investigate cases where a person is grievously injured or killed by police. Formed in July 2016, the BEI has investigated the KRPF 10 times. Many of the cases involve shootings, but not all.
One case from April 2017 involved a young Inuk man dying in KRPF custody in Puvirnituq's jail, despite the fact that in 2016, Quebec's ombudsmen released a scathing report describing overcrowded conditions in jails in Nunavik as third world and unsanitary. They called for a complete overhaul for how people in Nunavik are detained a year before the Inuk man died in the Puvirnituq jail.
Another open BEI investigation includes that of Mina Aculiak, who sustained several broken ribs, six fractured vertebrae, a broken left arm, a punctured lung, as well as a lacerated kidney and liver after being hit by a pursuing KRPF patrol car in Umiujaq, QC.
"When I heard that she got struck by a police truck, it came to my mind, 'why?'" Aculiak's partner Paul Tookalook told APTN News in June.
The petit Aculiak said she was running from police after shoplifting knives.
"Why not run after her, pepper spray her? Not hit her," asked Tookalook.
The seriousness of most of Aculiak's injuries were not immediately reported to the BEI by the KRPF, even though they are obligated to do so.  KRPF maintains that when Aculiak was medivacked to a hospital, it was thought that she only had a broken arm, and that the BEI was notified more than once about her more serious injuries.
"When we noticed that the injury, a few weeks, I think a month later, it was more injured, we called back and told them that," explained KRPF chief Jean Larose.
Yet it wasn't until Aculiak's case received media attention two months after the incident that the BEI started investigating. When asked why the KRPF has so many violent encounters with Inuit, Larose states the KRPF is doing its best under difficult circumstances.
"Right now, our police force, my men, is really out of breath and we are kind of on the respirator," Larose said, exasperation showing through his normally calm demeanor.
In 2017 Nunavik saw more than 11,000 criminal offences, 4,000 more than a decade earlier. For a population of 13,000, that's almost one incident per person. Larose says when compared to the Montreal suburb he used to police, those rates are nearly 20 times higher.
While Inuit in Nunavik still maintain strong ties to their land, language, and culture, they are also recovering from decades of colonial practices that include, but are not limited to, residential schools, forced relocations, and a sled dog slaughter by RCMP. The 11,000 criminal offences from 2017 include over 3,000 assaults and nearly 450 sexual assaults. Statistics show the majority of these crimes are alcohol related. Factor in that a rifle is rarely far from reach, and dangerous situations will arise.
In June Larose was called to testify as an expert for the National Missing and Murdered Indigenous women and girls inquiry. There he described the KRPF as overworked, understaffed, and under-equipped to deal with the realities of policing Nunavik.
"I was very shocked by the amount of work and the amount of incidents I've seen on my first five months on the job," he testified, despite the fact colleagues had warned him that the job was going to be challenging.
Larose also testified that in order for the KRPF to adequately police Nunavik, they need 30 more officers. Despite rising crime and population rates, they haven't had a staff increase in 15 years. He also says a call centre, more specialized training, and equipment is a must.
"It's kind of basic things that we are asking, and I think that they understand, but the bottom line is, the money has to come," stated Larose.
The KRPF's 2017 budget was $20 million, but this year they find themselves in limbo. While Quebec has increased its funds for KRPF, the federal government has yet to sign off on a new agreement.
Larose says the five-year offer on the table isn't much more than the rate of inflation.
Public Safety Canada, who pays for 52 per cent of funding for Indigenous police forces (while the provinces pick up the remaining 48 per cent), declined to be interviewed for this story. In January of this year, they announced an increase in funding for Indigenous policing by nearly $300 million for nearly five years.
"When you look at the crime statistics in communities that have the [Indigenous] policing program, you see a distinctly better pattern than elsewhere, so the program works, it simply needs to have more horsepower," said Public Security Minister Ralph Goodale at a January press conference announcing the funding increase.
The feds say a chunk of the new money will pay for some of that horsepower, including up to 110 additional police officers. But those new officers are to be spread out among 185 Indigenous police forces across Canada, an average of less than one officer per Indigenous police force. Which means the KRPF is in tough to get the 30 officers they say they need.
"We're way behind what the program is offering us, and we have to apply and we're not sure if we will have some officers in Nunavik from that federal program," said Larose.
When asked about why $20 million isn't enough, Larose adds that remote forces such as his have unique challenges. For instance, about 15 per cent, or $3.3 million a year of KRPF's budget is spent on moving Inuit detainees back and forth from prison in southern Quebec to Nunavik for trial because there is nowhere to hold them long term in Nunavik.
Sometimes an Inuit detainee will fly back and forth a half dozen times before their case is settled.
Larose also points to KRPF's high turnover rate and that training new officers costs them $20,000 more a year than other police forces as other reasons the existing budget doesn't cut it.
"I believe that the Inuit community deserves a good police force with all the services as they do back in the south. That's why we are insisting in this agreement and we want what we ask for, it's a must," said Larose, who hopes to have to have a new agreement with the feds before the end of the year.
(Elisapi Napartuk is the sister of Jobie Napartuk, who was killed by police in 2014. Photo: Tom Fennario/APTN)
He also acknowledges that for many in Nunavik, the police have a public relations problem.
Lucy Nowra puts it succinctly.
"Inuit people don't trust police because they think they're gonna get shot."
But KRPF also have reason to be wary. Visit the Canadian police officer's memorial in Ottawa, and you'll see among the 850 names that of 27-year-old Steve Déry. In 2013, KRPF officer Déry was shot to death while responding to a domestic violence call in Kuujjuaq, QC.
Another officer was seriously injured before the Inuk shooter took his own life.
"It's still in the memories," said Larose when asked if the Déry murder hangs heavy over the KRPF.
Larose says that, agreement or not, he has implemented new measures to reduce violence and regain trust in Nunavik's 14 communities. He emphasizes that KRPF officers now receive sensitivity training from an Inuk Elder and increased efforts to recruit more Inuit officers are underway.
"I can understand their mistrust because I understand what happened in the past. What I can tell them is that I am somebody who is very open minded and I believe in prevention and working with them. And our police officers also want to get involved and they want more good relations with the Inuit population," concluded Larose.
Lucy Nowra acknowledges that the police have a difficult job here. She would know, she's had her own run ins with the law.
"I started drinking a lot. Smoking a lot. It was my way of coping with the losses that I had. So it led me to drug dealing. In 2013, it was a way for me to get free drugs and alcohol. So I didn't think of it that way and the impacts back then because I was younger, and then it all caught up to me, I got arrested and was sent to jail for six months."
Nowra has long since turned things around. Now a 30-year-old responsible mother to three who involves herself in the community, she is currently finishing cooking school. She just wishes that some of the people she knew, such as Jobie Napartuk, Jimmy Kingalik, Alakagiallak Nowkawalk, had gotten the same second chance.
Which is why the self-described loud mouth decided to speak up. She felt somebody had to.
"It's very hard for Inuit to just complain because we're usually people who forgive easily and forget," said Nowra.
But after years of violent confrontations, forgiving and forgetting isn't coming easy.
Most would agree the status quo only continues to worsen Nunavik's frayed relationship with its own police force. And while change may be just over the horizon…in the vast isolated land of Nunavik, the horizon has a way of appearing very far away.