Native Women's Association names interim leader
NWAC names interim leader at AGA in Gatineau, Que, on Saturday.
APTN National News
GATINEAU, QUE — The Native Women's Association of Canada has named Francyne Joe as their interim president.
The appointment was made at NWAC's annual general meeting in Gatineau, Que., Saturday.
The move comes after Dawn Lavell-Harvard announced her resignation 1 year into her 3 year term.
Joe is listed on NWAC's website as the 2nd vice-president and a member of the British Columbia Native Women's Association.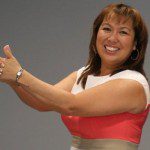 Her LinkedIn profile states that Joe is a human resources generalist and has worked with Community Futures of Central Interior First Nations, Canada Border Services Agency and the Shuswap Nation Tribal Council.
Joe is currently employed as a business development officer with the All Nations Trust Company.
It is not clear how long Joe will head up NWAC before members meet to vote for a full time president.