National chief candidate involved in lawsuit over cancellation of Muskowekwan election
Reginald Bellerose broke a 4-4 council tie in decision subject of Federal Court judicial review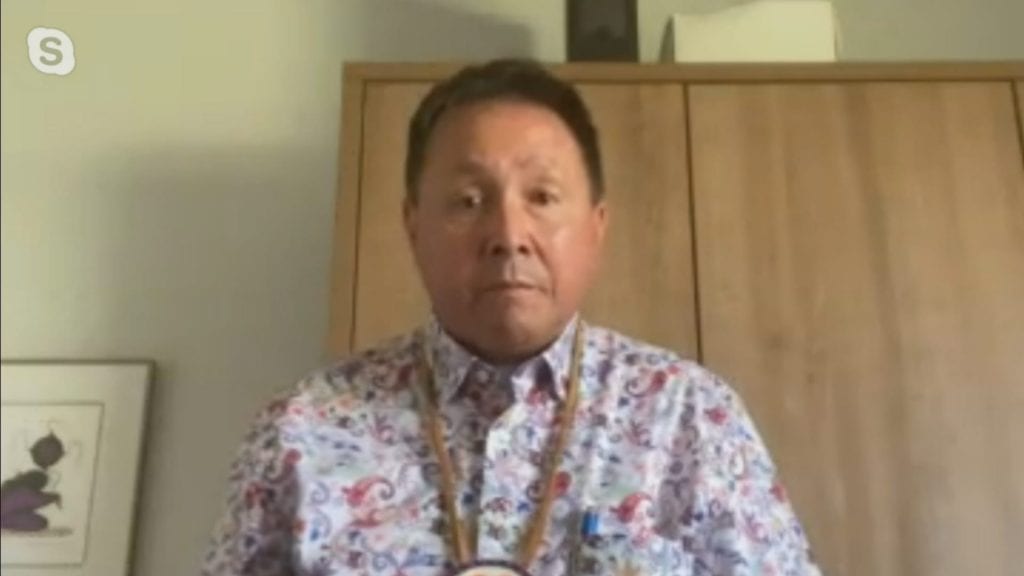 ---
A candidate from Saskatchewan vying to become Assembly of First Nations national chief is caught up in a court battle over his administration's decision to cancel the Muskowekwan First Nation's election and extend their own term of office.
As Muskowekwan chief, Reginald Bellerose cast the tiebreaking vote to cancel the 2,000-person band's April 4 election during a council meeting on March 29, citing COVID-19 concerns and relying on federal government regulations, according to court documents.
It was a decision that Vernetta Campeau, a Muskowekwan member and candidate in the cancelled election, immediately challenged.
She filed for judicial review and an injunction in Federal Court, alleging the decision was made without community consultation and violated its custom election code.
"To my knowledge, no members were consulted prior to the election being cancelled. Many members spoke to me, called me and wrote on my Facebook. All of them did not support a cancellation," Campeau said via affidavit. "I believe that this new election process is an attempt by Chief and Council to shore up their chances for re-election."
Campeau expressed concern for "the non-consultative process" that led to the decision to cancel in a March 29 open letter filed as a court exhibit.
"This decision is not Chief and Council's to make. Taking our right to vote you took our voice away," Campeau wrote, asking, "Is this action of Leadership that cares about their members?"
Bellerose, who has been chief of the community located 140 km northeast of Regina since 2005, wasn't seeking re-election. Council was split 4-4 over whether to cancel, and Bellerose explained his reasoning for breaking the deadlock in a responding affidavit.
"I was in contact with numerous MFN members, including family heads or representatives of various families in the months preceding the election regarding the increasing numbers of COVID-19 in the community," said the May 19 filing.
A doctor at Indigenous Services Canada had advised Muskowekwan on March 25, three days before the meeting, that nine COVID-19 cases had been confirmed in the community, seven of which were variants of concern, according to the court record.
"These conversations with MFN membership helped form my decision to vote to extend Council's term and cancel the election in order to preserve the safety of our community," said Bellerose's filing.
Under questioning, the long-time chief said he had "more or less" consulted with membership. Pressed for more information, Bellerose said, "I have a group of people who provide some good inputs, and encourage good decisions."
"So you consulted with your group of people?" the lawyer replied.
"Those that — those that helped me — have helped me over the years, yeah," Bellerose answered. "There's always tough decisions, and you kind of bounce stuff off people and get an idea."
Bellerose added that a chief candidate was hospitalized with COVID-19, while the candidate's entire family was either with him or isolating. Bellerose said postponing would be unfair as the other candidates could continue campaigning while one candidate would be held back due to the coronavirus.
"So that was — that was an important factor in the — in how — why I broke the tie the way I did," the transcript reads.
But evidence filed in support of Campeau's injunction bid showed that council had other reasons. One councillor wanted to fire the electoral officer and restart the process, according to the documents, which meant the election would need to be cancelled and not just postponed.
Cancelling meant that any mail-in ballots already cast under the fired electoral officer would be destroyed and a new slate of candidates would have to declare.
"I don't even want to think of the man. I don't even want to think when he was fired. I don't even want to talk about him," the councillor said about the electoral officer.
"So you supported cancelling the election?" asked Campeau's lawyer.
"Yes, I supported it. And if we ever have an outbreak again, I'll support another decision like that," the councillor replied, according to the transcript.
All of this happened in the weeks leading up to Bellerose announcing his candidacy for national chief publicly on June 3.
---
Read More:
Longtime chief Reginald Bellerose wants to bring experience to AFN's top job
---
Albert Pinacie, a band member and candidate, also accused chief and council of unilaterally cancelling the election without community consultation in a supporting affidavit.
"I believe many new candidates had momentum and it was looking like there would be a change in leadership this election," said Pinacie's filing.
"Given the way the election campaign was going, I am concerned that the outgoing Chief and Council are going to use a completely new process to have more of their supporters run for Council and maintain their power for another 4 years."
Muskowekwan's Custom Election Act states a general election "shall be held" on the first Sunday in April of each election year.
Campeau's lawyer argued in written submissions that council's decision barred community members from exercising their democratic right to select their political leaders at regular intervals, as enshrined in this customary law.
Counsel Orlagh O'Kelly urged the presiding judge to grant the injunction and restore the April election, thus preserving the ballots already cast.
O'Kelly wrote that the decision to cancel was "unreasonably made in bad faith" and that it would be wrong to ask members who already voted to vote again in a potentially and allegedly "flawed and unlawful" process.
Muskowekwan's lawyer countered that while Campeau "asserts that she will suffer irreparable harm as a result of the destruction of her ballot, and a lost opportunity to vote at fixed terms of office. Neither of these grounds actually constitutes irreparable harm."
On June 21, Justice Russel Zinn sided with Campeau and granted the injunction. The judge suspended the decision to cancel the election and ordered the previously cancelled process resumed pending the outcome of the judicial review.
"The lack of notice and community involvement prior to the decision being taken to cancel the April 4, 2021 Election is all the more troubling because there was no urgency to make that decision when it was made or so quickly," said Zinn in written reasons.
Zinn said he was satisfied Campeau "is likely to succeed" in her bid to prove the decision was unreasonable, beyond chief and council's jurisdiction and without broad community support.
"I find that the disfranchisement of electors in an election mandated under the Muskowekwan First Nation Custom Election Act to take place on April 4, 2021, constitutes clear and convincing evidence of irreparable harm," the judge explained.
Nevertheless, a win for Campeau is not guaranteed, as events in Muskowekwan unfolded alongside developing legal and legislative factors.
Muskowekwan relied on Sec. 4 of the federal government's First Nations Election Cancellation and Postponement Regulations (Prevention of Diseases), which Ottawa drew up at the height of the pandemic last spring.
Sec. 4 states First Nations who elect chiefs and councillors according to custom may extend their own term of office to prevent or mitigate spread of disease "even if the custom does not provide for such a situation."
On April 1, shortly after chief and council used this clause to cancel Muskowekwan's election, Federal Court ruled Sec. 4 is invalid and ordered a N.W.T. First Nation that used it to hold its election.
The court put the declaration of invalidity on hold for 60 days, which, Campeau's lawyer argued, meant Muskowekwan's legal foundation for cancelling the election disappeared on June 1.
But Ottawa immediately appealed the ruling while promising to pass legislation validating all decisions made under its election regulations. The Liberals delivered on this promise when the budget bill received royal assent June 29.
A clause in the budget bill stated the regulations "are deemed to have been validly made and everything done under, and all consequences flowing from, those Regulations since April 8, 2020 are deemed effective as if those Regulations were so made."
Zinn weighed the potential Muskowekwan would be successful in the judicial review based on this development against the potential harm that would result if the election was found to be wrongly cancelled but the ballots were destroyed.
"If the applicant is ultimately successful, then that does constitute a harm," Zinn wrote, "and an irreparable one, both to her and to other members of this First Nation."
None of the allegations have been tested in court.
Bellerose and his team did not respond to requests for comment.
---
Editor's note: This story was updated to correct a spelling error in the name of counsel Orlagh O'Kelly.