Mom working to combat racism that marred daughter's death
"I couldn't believe that police services would come and escort her out of the hospital."
Juliette Tapaquon died of cervical cancer in 2014, but her mother is still fighting prejudice in the Saskatchewan healthcare system she says humiliated her daughter.
About five years ago two police officers marched the dying woman out of palliative care at Regina's Pasqua Hospital after a doctor expressed fear about an angry text on the patient's phone.
"It was based on a stereotype," says Juliette's mom Joyce Tapaquon.
Not only was the terminally ill woman wrongly profiled but Joyce says the unfounded worry led to her daughter being barred from the hospital. Juliette was forced to buy street drugs to deal with the pain and died weeks later.
WATCH how APTN Investigates covered the story.
Now, after years of meetings and media coverage, the inner-city hospital that serves a large number of Indigenous patients is starting to make amends. On May 13, the Saskatchewan Health Authority (SHA) funded a traditional feast in Juliette's honour at the Pasqua's Native Health Services centre.
It's the same place the family couldn't access for after-hours traditional ceremonies or Elder services as part of Juliette's last wish to die in hospital. They were also told smudging in her room would set off the fire alarm.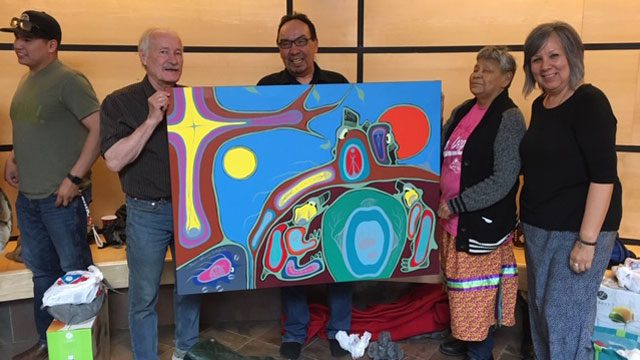 Bob Hughes (L to R), Harry Desnomie and Joyce Tapaquon with a painting commissioned by the Saskatchewan Health Authority. (Submitted photo)
Former employee Harry Desnomie recalls meeting Joyce and her other daughter, Lisa Tapaquon, at a nearby doughnut shop to discuss Juliette's end-of-life needs because Native Services only operated 9 a.m. to 4 p.m., Monday to Friday.
"There's still a lot of racism within not only the health region but other organizations towards minority groups," he says, "but it's coming forward."
Bob Hughes, of the Saskatchewan Coalition Against Racism, is a friend and advocate for Joyce. He says she hasn't wavered in her fight despite losing Lisa to medical complications in 2018, and coping with blindness and other health issues that make her an occasional patient at the Pasqua.
"It's been an awful time for Joyce to lose two daughters and go through all of that," Hughes says.
"It was never about money. It was about justice and having a recognition of what had gone on here."
READ Saskatchewan human rights commission will get involved in family's racism case against hospital if asked 

Regina Police Chief Evan Bray and Joyce Tapaquon, who is visually impaired. (Submitted photo)
Desnomie attended the feast and admires Joyce for trying to change a stubborn system.
"Now Native Services is available for any other families that are wanting their end-of-life service," he says, "with an Elder and smudging in the prayer room."
He says what happened to Juliette was "horrible."
"Juliette – she weighed less than a 100 pounds – just a small, little woman in the final stage of cancer…I couldn't believe that police services would come and escort her out of the hospital."
The SHA has never apologized for what happened to Juliette.
But it did pay for the feast, which included a pipe carrier, drummers, tobacco, food and an Elder.
And commissioned a painting of Juliette – gifted the name Bear Woman by her grandmother – for $2,600.
"You know, Julie was worth it," says Joyce, who is still pushing to  see Native Health Services re-named Bear Woman Lodge in her daughter's honour.
"They told me they would hang that picture at palliative care…I want it at the ceremonial room (where the feast was held). That would be wonderful."

Joyce Tapaquon in the ceremonial room at the feast for Bear Woman. (Submitted photo)
Hughes agrees, and wonders why the ceremonial room can't be  open 24 hours a day, seven days a week – "just like the (hospital) chapel is."
A spokeswoman says the SHA is now amalgamating its facilities under one umbrella. That means ceremonial practices like smudging could eventually be recognized and allowed at its facilities province-wide.
Already, smudging is permitted at the bedside in palliative care at the Pasqua, the spokeswoman added.
Gabe Lafond, executive director of First Nations and Métis Health, says further Indigenous services could become available.
"We have ongoing engagement with our communities to help give direction and guidance in terms of how we move forward from a First Nation-Métis alliance," he says from Saskatoon.
"…In March of this past year, we had our board chair, as well as our CEO, made a public commitment to being responsive to the statement of commitment to the Truth and Reconciliation (Commission). So we're making progress."
Joyce, inspired in part by the Truth and Reconciliation Commission calls to action, met with Regina Police Chief Evan Bray on May 3 to discuss Juliet's "humiliation."
She says the chief told her he's in regular contact with hospital officials who are training staff to de-escalate situations and contact their own security before calling police.
"Part of being a Bear Woman means being strong," says Joyce. "Very, very strong."
And that may mean being very, very patient, too.
Hughes says last weekend, while a patient at the Pasqua, Joyce was denied access to the ceremonial room with an Elder after a security guard refused to unlock the door.
"It was back to the doughnut shop," he says. "How ironic."