Mixed messages on whether Kerle oil leak harmful to wildlife in Alberta
Environment Canada raises concerns while Alberta says there's no evidence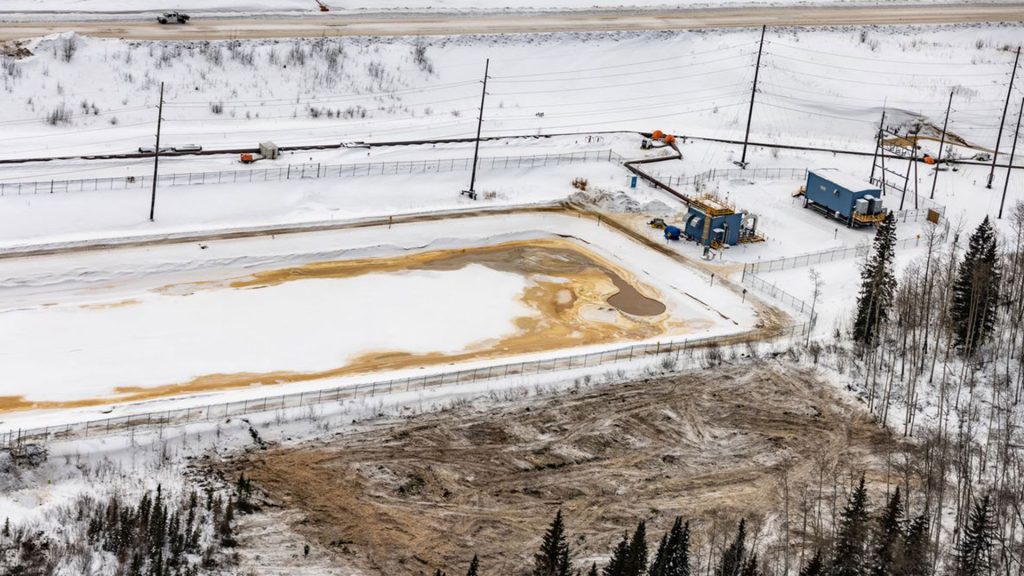 ---
In a series of back-and-forth statements, federal inspectors believe a significant tailing pond leaks north of Ft. McMurray is harmful to wildlife, but Alberta regulators disagree.
"There's been a lot of mixed messages," said a spokesperson for Athabasca Chipewyan First Nation (ACFN). "[The regulators, Imperial Oil and the province] say one thing to us and another to [the] media."
"Based on information enforcement officers have to date, the seep is believed to be deleterious or harmful to fish," Environment Canada said earlier this week.
The disparity was the last straw for Athabasca Chipewyan Chief Allan Adam.
"This is further evidence that the [Alberta] regulator has lost all credibility," Adam said in a statement.
An overland spill is what first brought the ongoing tailings pond leaks to the attention of the First Nation. The leak was an estimated 5.4 million litres or enough to fill two Olympic-sized swimming pools.
Imperial Oil reported it to the Alberta Energy Regulator [AER] on Feb. 4.
The oil sands project is more than a 300-km drive from the First Nation, but members hunt and fish in the area and rely on the same watershed.
"We need the federal government to use all legal tools at its disposal to take control of the investigation and cleanup," Adam said.
Alberta Environment Minister Sonya Savage and federal Environment and Climate Change Minister Steven Guilbeault discussed the seepage and leak from Imperial Oil's Kearl oilsands mine about 70 kilometres north of Fort McMurray, Alta. on Tuesday.
The seepage was discovered in May 2022, but neither politician was told about it until nine months later. They learned about it from an environmental protection order issued by the AER after a second release of 5.3 million litres of oilsands wastewater at Kearl from a catchment pond.
"Minister Guilbeault underlined that Imperial Oil's own stated failures of communication were unacceptable and have raised broader concerns regarding the efficacy of (Alberta's) existing notification systems," said Kaitlin Power, Guilbeault's spokesperson.
"It's an unfortunate incident that happened at Kearl, and I think we need to learn from it and do better," Savage told a legislature committee on March 9.
"I think there are probably some gaps that need to be looked at and processes fixed and improved."
In a later statement on March 15, Savage's communications staff said the Alberta government has not seen "evidence of waterway, water body or drinking water contamination as a result of the incidents under investigation, but will continue with testing and monitoring and will share results with Minister Guilbeault as they become available."
Savage has repeatedly promised to get to the bottom of why it took so long for news of the leaks to be released.
But Alberta New Democrat Environment Critic Marlin Schmidt told The Canadian Press that the public deserves to know what questions will be asked and how those fixes will be made.
"Be forthright with what the scope of the investigation is," he said Wednesday. "Tell us when they expect it will be concluded."
Aside from what he called "clues" in the environmental protection order, Schmidt said it's not even clear what is being investigated.
Savage has said she couldn't say anything for fear of affecting the regulator's investigation.
Schmidt called on the government to release the basis for its repeated assurances that no wildlife or waterways were affected by the seepage.
"They need to release all of the data they have to this point," he said. "I think they're hiding the data."
---
      Read More
       Toxic tailings leak ongoing concern for First Nation in northern Alberta
       While tailings pond leaked, Imperial Oil lobbied Alberta government on 'cost-effective' regulation
---
He said the province should take responsibility for dealing with the problem.
A provincial news release said Alberta Environment and Protected Areas has sent officials to the site to conduct independent water sampling, in addition to monitoring already in place.
Environment Canada, which has said the tailing pond leaks are harmful to fish, also has inspectors at the site.
Imperial Oil released an update Wednesday evening saying it toured community leaders and government officials through the affected area and has nearly 200 people working on seep mitigations and cleanup, including on the overflow at Kearl.
The company said the Regional Municipality of Wood Buffalo has declared drinking water to be safe in the community of Fort Chipewyan and that its own monitoring and water sampling data shows no impacts to local waterways or drinking water.
Imperial said there has been no indication of effects on wildlife or fish.
"All seven Indigenous communities have been invited to [the] site for tours and to conduct independent monitoring and water sampling; in-community meetings are occurring," the release said.
A spokesperson for ACFN confirmed the company has invited the nation but noted it has also put up barriers to being able to complete the visit.
"Get drug tested. Submit a budget. Submit a scope. No one has been able to test yet."
With files from the Canadian Press