Metis man sues Crown, RCMP after key evidence withheld in wrongful conviction
RCMP repeatedly harassed Clayton Boucher, wrongly accused him of a being a drug trafficker and then withheld key evidence for months, according to lawsuit.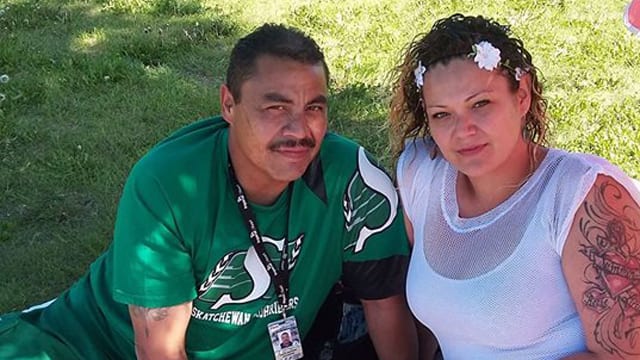 The RCMP repeatedly harassed a Metis man, wrongly accused him of a being a drug trafficker and then withheld key evidence for months that he needed to exonerate himself while locked up in an Edmonton jail.
Then the Crown prosecutor on the case found out and not only didn't drop the charges, but let Clayton Boucher plead guilty to crimes he knew Boucher didn't commit.
It was this "deliberate and unlawful" conduct that make up the main allegations in the more than $1 million lawsuit filed in an Edmonton court Monday by lawyer John Phillips, who began representing Boucher after APTN News first reported on this case last October.
The claim names five RCMP officers, the Crown prosecutor and Boucher's lawyer at the time as defendants, as well as Canada and Alberta.
Phillip's last client was Omar Khadr who reportedly received a settlement of $10 million from the Canadian government over his treatment by the United States government."(Boucher) spent months incarcerated not only in the absence of evidence but despite the existence of exonerating evidence was withheld from him," the claim states.
The key evidence that was withheld was Health Canada test results on powder seized from Boucher's home at the time that came back negative for cocaine, or any illegal drug. In fact, it was baking soda.
But no one told Boucher and he spent four months in the Edmonton Remand Centre until pleading guilty to multiple counts of drug possession on May 30, 2017.
Those convictions were overturned last September by the Alberta court of appeal.Just recently the RCMP launched a code of conduct investigation into several of the officers involved in Boucher's arrest.
The bulk of this story is based on the statement of claim filed in court, unless otherwise stated.
The Arrest
The last day Boucher saw his wife was the day he was arrested on Jan. 22, 2017.
Boucher was allegedly breaching his probation by not informing the court he had changed addresses and the RCMP pulled over a vehicle he was the passenger in.
The driver of the vehicle apparently told police he bought meth from Boucher.
However, no drugs were found during the arrest.Boucher was living at a friend's house at the time and the RCMP obtained a search warrant to search the home for drugs.
"They located some white powdery substances, including in an Arm & Hammer backing soda box in a kitchen cupboard, which they concluded was cocaine, and therefore seized as evidence," the claim states.
Boucher, who had been in lock up for about six hours at this point, told the RCMP it was just baking soda.
"The (RCMP) believed that Mr. Boucher was lying, and decided that the substance must be cocaine, crack cocaine, or methamphetamine," the claim states.
He was charged with not only trafficking crack cocaine and methamphetamine, but making it.
A day after his arrest he told his lawyer Leighton Grey to contact Crown prosecutor Erwin Schulz to have powder tested immediately by Health Canada.
He did so again Feb. 17 and Grey emailed Schulz seeking test results but the RCMP hadn't sent in the powder to be tested at that point.
Boucher called Grey's office five more times in March for results.
While this was happening APTN knows Schulz had requested the lab results on several occasions from the RCMP based on documents APTN previously obtained.
But Schulz was told the results were not back yet, every time.
Despite no tests results a trial was scheduled for September 2017.
But Boucher kept calling.
"He keeps asking the same questions!!!" wrote Grey's assistant Robin Harrison in a telephone call log sheet on April 3, 2017.
He called again two days later and twice on Friday, April 7, 2017.
But he was also calling Schulz and other members of the Public Prosecution Service of Canada office demanding test results and telling them he was being wrongfully imprisoned.
"By April 28, 2017, the Plaintiff had been in prison for over three months and still did not have a copy of the Certificate of Analyst which was the key to regaining his liberty," the claim states.
"He was completely vulnerable, and reliant on Grey, Schulz and the (RCMP) doing their jobs; nevertheless, he was effectively ignored and dismissed."
Boucher's wife dies
Two days later his common-law wife, Phyllis Favel, died in a car collision in Saddle Lake, Alta.
She was 34.
On May 5, 2017, a desperate Boucher finally broke.
He told Grey he would plead to lesser charges of possession if he was released on time served. However, he still held out hope the results would be back in time before that would happen.
However, Grey had already threatened the Crown on May 2, 2017 he would file a Stinchecombe application to demand all the RCMP's evidence if he did not produce the Health Canada test results.
The RCMP told the Crown the next day the results came back negative for cocaine.
Simply put, there were no drugs.On May 4, 2017, Schulz called Grey about the results.
"Remarkably, Schulz did not immediately offer to drop all charges and release Mr. Boucher, nor did Grey demand that he do so," the claim states.
The RCMP then sent Schulz the certificates showing the results May 15. Grey and Schulz discussed that day Boucher pleading to "possession of smaller amounts of drugs".
This all happened on the same day Boucher attended his wife's funeral dressed in a jail-issued orange jumpsuit and in shackles, as per Schulz's direction.
"It is unconscionable that, knowing of Mr. Boucher's innocence, Schulz allowed the farce of these charges to persist while he was grieving his wife's death and to insist on a humiliating protocol as a condition to permitting him to attend her funeral," the claim states.
APTN previously reported Schulz somehow believed the seizures contained "spitballs" (small amounts of cocaine), despite the test results "unequivocally" coming back negative for any controlled substances.
Schulz has never said how he came to this conclusion based on documents APTN has obtained.
Schulz didn't respond to questions from APTN on the lawsuit.
Grey also didn't respond to questions but previously told APTN he was told by Schulz the drugs contained trace amounts of cocaine in 0.8 of a gram, otherwise known as the spitballs.
"Schulz, as an experienced Crown prosecutor, fully understand the documents and their implications," the claim states.
Grey never got a copy of the test results – before Boucher pleaded guilty – to confirm what he alleges Schulz said.
Boucher alleges in the claim that Grey breached his fiduciary duties by not obtaining copies of the test results and "allowing Mr. Boucher to plead guilty to an offence that did not occur."
Schulz also allegedly breached his fiduciary Boucher by "continuing a criminal prosecution against Mr. Boucher when he knew that the prosecution was not supported by the available evidence.
"Boucher did plead guilty on May 30, 2017 and was released that day, as per the plea agreement."
He was effectively compelled to plead guilty in order to obtain his freedom to deal with the tragic death of his wife that occurred while he was wrongfully behind bars," the claim states.
Clearing his name
Once he got out Boucher went to work to clear his name. He first directed his attention at the RCMP to find out if the powder was ever tested.
"Unbeknownst to Mr. Boucher, the Certificate of Analyst was actually completed several months before Mr. Boucher entered his guilty plea, and it was readily available to Mr. Grey, upon request, at least two weeks before Mr. Boucher entered his guilty plea," the claim states.
Two samples of the powder seized were sent to Health Canada Feb. 20, 2017 and were completed four days later.
"As of that date, the evidence was clear that Mr. Boucher was not guilty of any of the offences," the claim states.
However, Const. Allison Moore put the certificates into a holding locker without informing anyone once the results were sent back to the RCMP. As the exhibit custodian it was her job to alert the other officers on the case.
Const. Karine Bertrand was working "closely" with Moore and apparently never followed up with her on the results.
Const. Janarth Paramanantham was the lead investigator and did not request the certificates at any time before viewing them in May 2017.
Cpl. Daniel Fenton, who did the initial arrest, was a supervisor and was supposed to be managing the exhibits from start to finish.
The claim also names Staff Sgt. Henry Van Dorland, who was in charge of the detachment.
"There is no acceptable explanation for why it took a month to get the samples to Health Canada, why the results were not promptly reviewed and disclosed upon receipt, and why none of the (officers) who had moved with such speed and force to condemn Mr. Boucher to lockup had bothered to look for the results of the testing," the claim states.
The claim alleges this can't be "attributed to a simple lapse in judgment."
Months before Boucher was arrested as a suspected crack and meth trafficker he was on bail for an outstanding robbery charge.
It's alleged he robbed a Lac La Biche department store but there is no video of the robbery or any other physical evidence besides a clerk who believes it was Boucher. That case goes to trial next month.
Boucher was known to police having grown up in Lac La Biche and got into trouble as a teenager and early adulthood. His record shows break and enter convictions dating back to 2001, but nothing for drugs or any serious violent crime.
He claims police were always after him, stopping him walking on the sidewalk with sirens on.
"From the summer of 2016 to January 2017, Mr. Boucher was consistently harassed, intimidated and targeted by the (RCMP)," the claim states. "During this period, Mr. Boucher was stopped 8-10 times or more by RCMP officers. These stops were carried out in public and in a highly conspicuous manner."
One incident includes showing up at Boucher's home late at night to check to see if he was there. He was, but didn't hear the knocking as he was sleeping and hearing impaired.
"The (RCMP) deliberately targeted Mr. Boucher, and intended to ensure that the was kept behind bars as long as possible – even if he committed no crime," the claim states.
"Mr. Boucher was regularly and consistently harassed by the (RCMP).
"The RCMP didn't respond to the allegations made in the claim.
RCMP Complaint
Boucher filed a complaint soon after his release and was told last month by Chief Supt. Wendell Reimer of the RCMP that his allegations warranted a code of conduct investigation that is on-going.
As for the lab results, Boucher never did get those until Oct. 19, 2017, nearly nine months after his arrest.
It doesn't appear to be from a lack of trying. Between June and September he called Grey's office for copies at least 12 times.
He never got them from Grey but from the Public Prosecution Service of Canada.
However, he did call Grey a 13th time on Sept. 27, 2017 to ask why Grey didn't get a copy of the results before he pleaded guilty.
The statement of claim doesn't provide an answer.
It was also Boucher himself who filed a hand-written appeal of the convictions after his release.
He did so on June 15, 2017 after Grey declined to take the case several days earlier.
Boucher requested legal aid, who contacted Grey about the merits of the appeal on July 7, 2017.
"Grey advised (legal aid) that there was no procedural or substantive basis for an appeal," the claim states.
APTN has previously reported that Grey said he first learned the powder wasn't drugs on July 11.
Grey changed his mind and agreed to take the appeal on bro bono.On Sept. 26, 2017, Boucher was acquitted of all charges.
Unlike all the other court of appeal decisions in Alberta, Boucher's acquittal has never been publicly posted.