Métis landscape designer has plan to memorialize MMIWG at Winnipeg's Alexander Docks 
 Desirée Thériault wants to revamp site where Tina Fontaine was found murdered
---
Desirée Thériault has a plan to make the area around Winnipeg's Alexander Docks safer, while memorializing missing and murdered Indigenous women and girls.
"The land is such a powerful medium to create space for reconciliation, to create space for memorialization, and to create space for justice for missing and murdered Indigenous women and girls [MMIWG]," said Thériault, a Métis landscape designer from Winnipeg.
Thériault said the Truth and Reconciliation Commission's calls to action emphasize how art can raise awareness of MMIWG, but don't acknowledge the power of architecture.
When she embarked on her master's degree in landscape architecture at the University of Manitoba in 2018, she said she felt compelled to do something concrete for MMIWG.
"When I first started out my research, I was really impacted by the loss of my friends who had gone missing, and I realized that the realm of design was really critical to bringing a voice to those who have gone missing, or who have been murdered," said Thériault.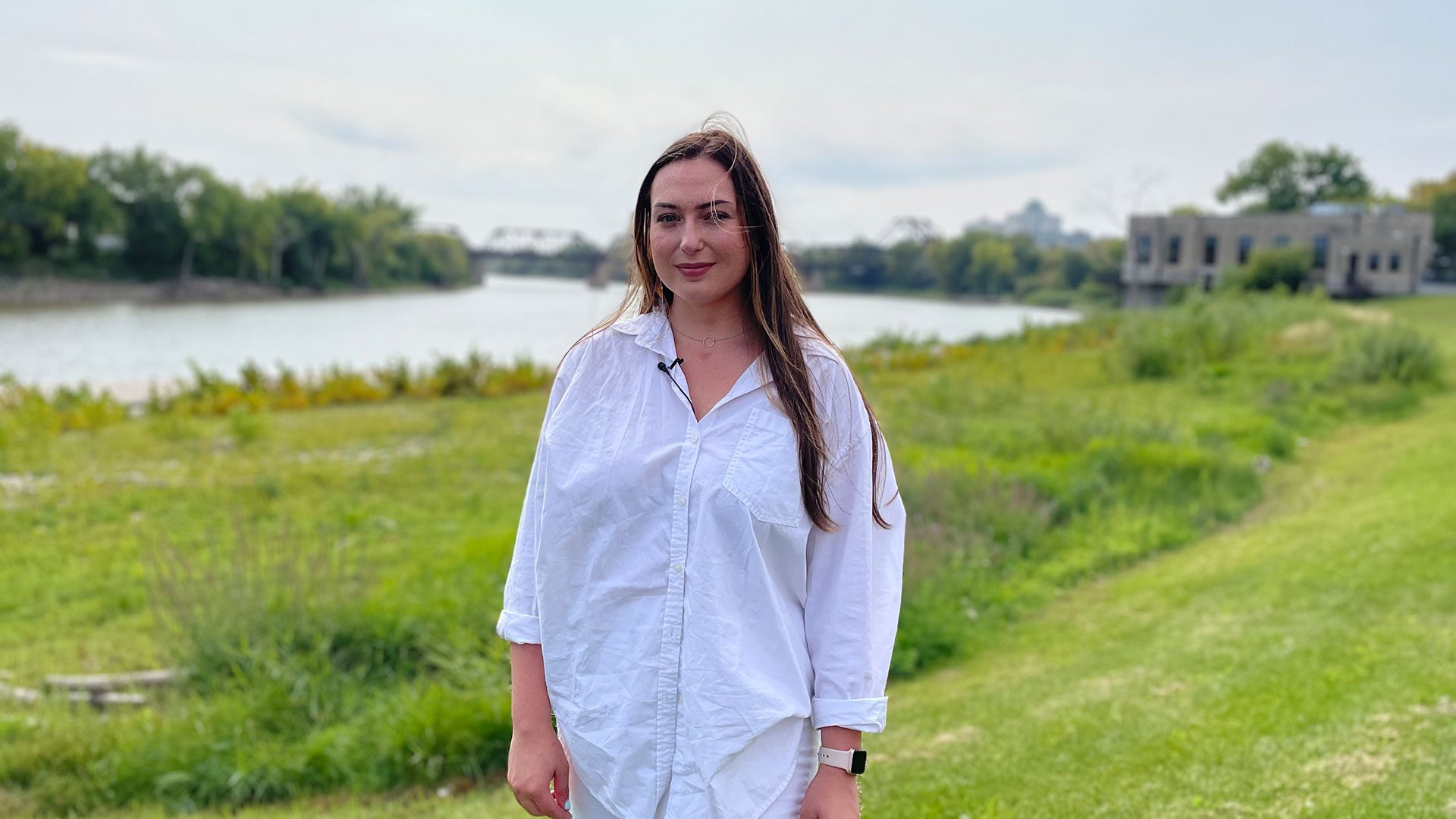 ---
Two years later her thesis was published under the title Red river women: A memorial for Missing and Murdered Indigenous Women and Girls (MMIWG2S) alongside Winnipeg's Red River – and with it, a roadmap for a safer space along the Red River.
---
With the help of family members of MMIWG, Thériault mapped the locations where women and girls went missing and where their bodies were found.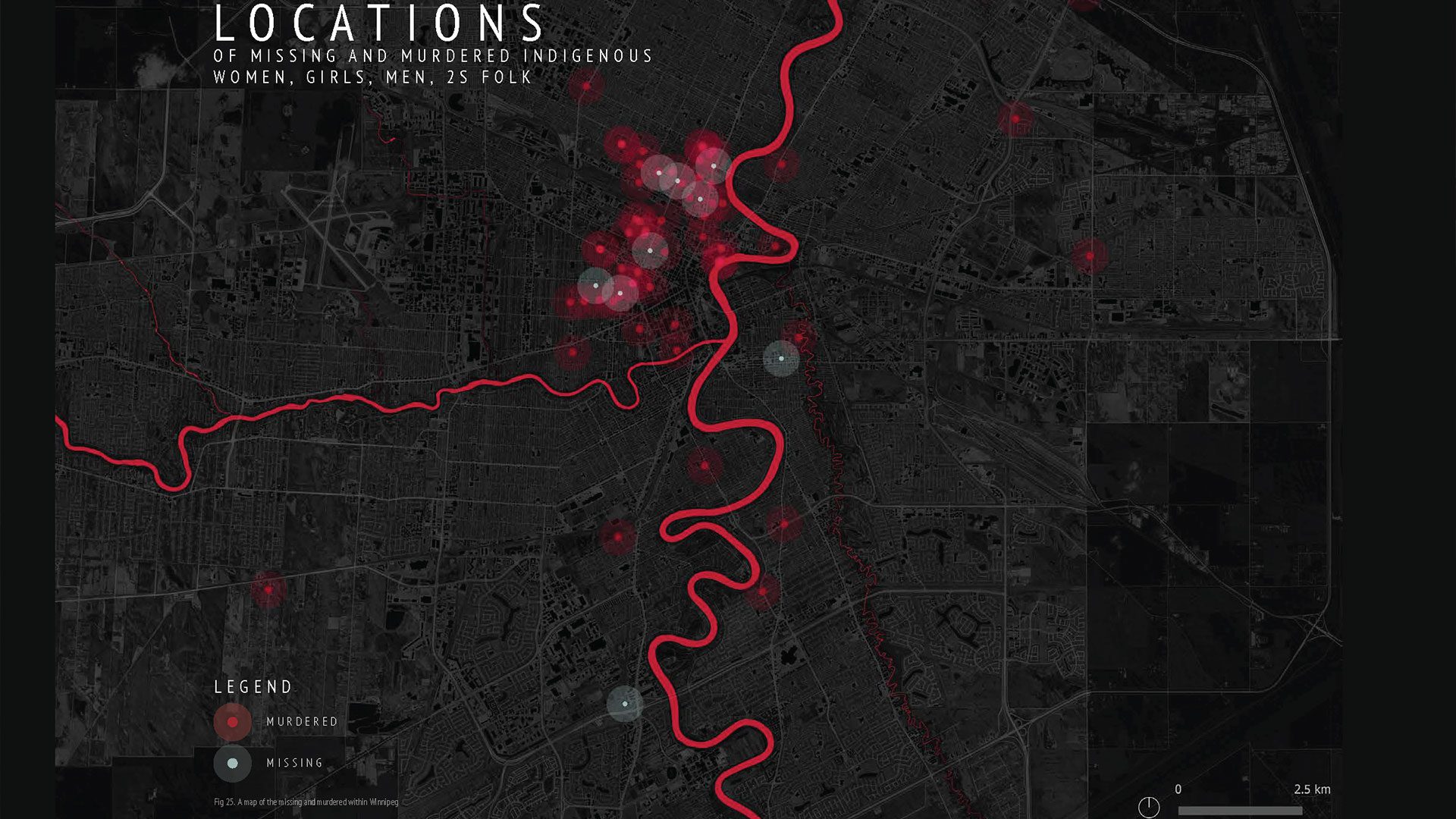 ---
"We started to look at different areas of the river that became almost these hot spots where a lot of women were found, and those became these critical places to tell a story," she said.
The Alexander Docks – a waterfront structure on the western bank of the Red River shuttered since 2015 over safety concerns – became a key location.
That's where Tina Fontaine's body was found in the water when she was murdered in 2014 – a tragedy that helped launch the National Inquiry into Missing and Murdered Indigenous Women and Girls.
---
"We're hoping to plant a forest – a healing forest of spirit trees – and these would be red sugar maples, because they turn red in the fall and red is one of the only colours a spirit can see," said Thériault.
The plan includes a flood-proofed path leading to The Forks, a public gathering space where the Red and Assiniboine rivers meet, a spirit forest, and a sacred fire that would be lit every time an Indigenous woman disappeared.
"The smoke of the sacred fire would not only alert everyone, but it would also mask the nearby human rights museum, because not only is it another stolen sister, but it is masking how the human rights, masking the rights of many Indigenous women, that are still going missing," said Thériault.
These are not just symbolic gestures: Thériault's plan also includes enhanced security along the river, like improved lighting and visibility.
Thériault submitted her plan to the City of Winnipeg, and a representative responded saying the project was in line with the city's plan to redevelop the docks, but concrete commitments haven't been made.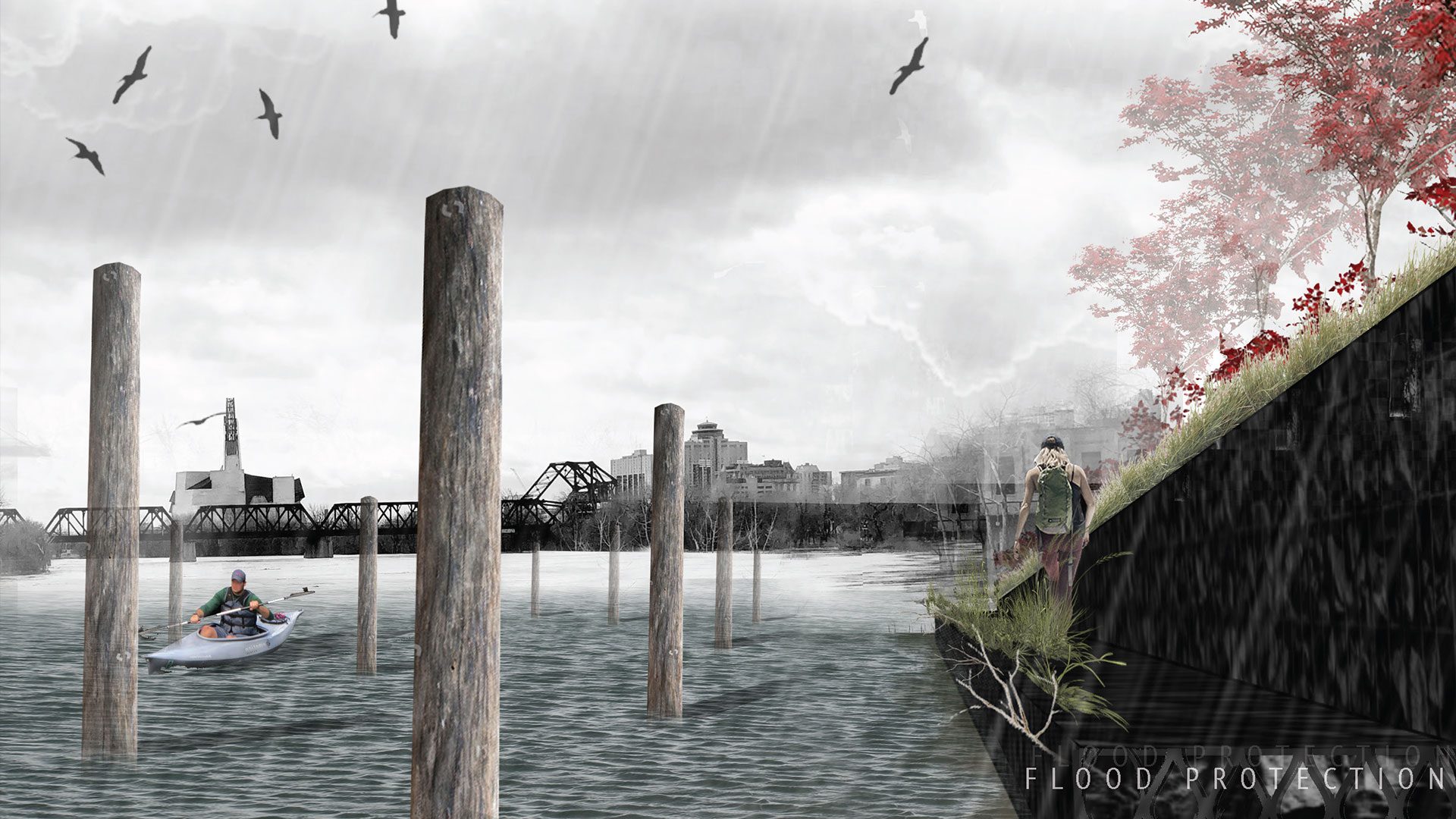 Thériault's plan includes enhanced security along the river and a new use for the Alexander Docks. Image credit: Desirée Thériault
---
"I'm working with [the committee to] Reimagine Alexander Docks, and I've also been outreaching to different political entities," she said.
"I worked a lot with Bernadette Smith throughout a lot of my thesis work who was one of the main organizers for the Coalition of Families of Missing and Murdered Indigenous Women and Girls."
Smith is a Manitoba MLA for Point Douglas (NDP), which includes the Alexander Docks, and an MMIWG family member.
Her sister, Claudette Osborne-Tyo, disappeared in Winnipeg more than 14 years ago. She is one of the co-founders of Drag the Red, a volunteer organization that regularly searches the Red River for human remains.
"The Red River, in particular, that is some place a lot of our folks here in Manitoba, in Winnipeg, like to go to," Smith said. "Certainly, I grew up playing in that river. I swam across that river on a piece of wood when I was younger. Many other people I know played and fished in that river.
---
"The Red [River] has been somewhere where people have – they're not feeling the same kind of connection that Indigenous people are – unfortunately, and they are putting people in there to hide evidence."
Smith said Thériault's project would be a way for Indigenous peoples to reclaim the river and raise more awareness about MMIWG.
"Groups still go to that space and tours come from all over Canada," she said. "And I think that's going to start a conversation, as well as educate people on the realities Indigenous people face – being discarded like they're nothing, being thrown into the Red River like they're garbage.
"The only way things are going to shift and change around the high violence against women and girls and Two-Spirit is us, as humanity, changing the way we treat and care for one another, and this is certainly a project from the heart, from Desirée, and she's helping the families along their healing journey."