Memorial pole raised on Highway of Tears in B.C. for families
---
A memorial pole has been raised near Terrace, B.C., in memory of Indigenous women who have been murdered or gone missing along Hwy 16, also known as the Highway of Tears.
According to organizers, the memorial pole stands as a place of healing for families and a reminder of the national issue.
The totem pole, created by Nisga'a and Tsimshian carver Mike Dangeli, had the blessing of the Kitsumkalum chiefs, a key group in raising the pole in their traditional territory.
The group marched along a section of Hwy 16, the 725 km stretch between Prince Rupert and Prince George that the Highway of Tears is named after because of the high number of people missing or have been found murdered dating back to the 1970s.
Many of the victims were Indigenous women. Advocates estimated over 50 people are missing on that stretch alone.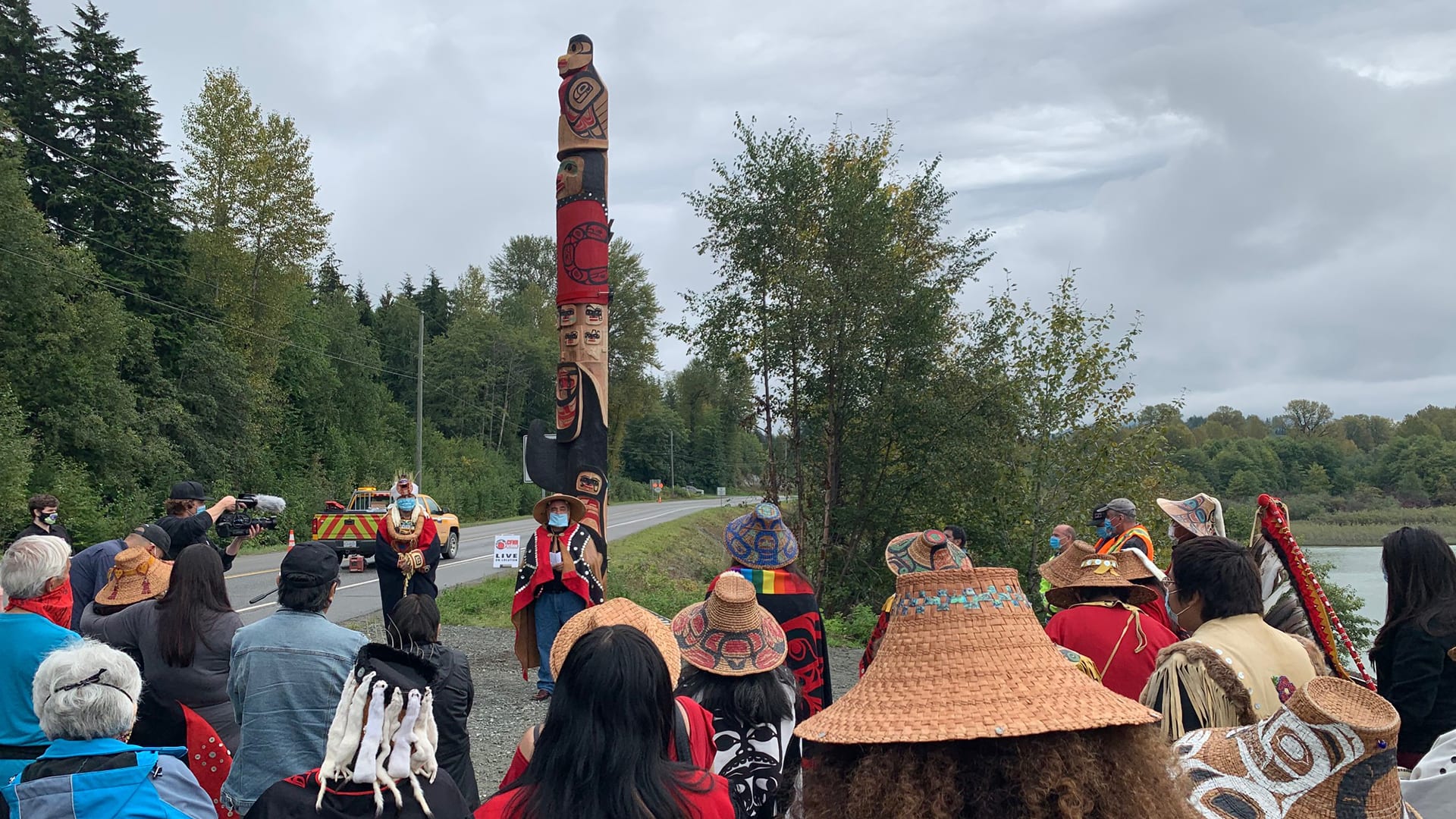 ---
Creating a place on the highway that families could visit has been a goal of long-time advocate Gladys Radek.
Her niece Tamara Lynn Chipman went missing along the route over 15 years ago and has not been found.
"I feel that our families needed something, and we accomplished getting something they needed getting commemoration and healing pole to honour their loved ones, " said Radek.
Fellow advocate and friend Wanda Good felt the presence of the pole would educate the public.
She was one organizers that made the day possible. She performed a song and ceremony.
Due to COVID-19, there was a limit on who old attended the ceremony, masks were mandatory, and a planned feast had to re-schedule.
---
Read More: 
Carvers endeavor to finish totem pole during pandemic
Missing and Murdered Indigenous Women and Girls 
---
Melissa Moses felt it was important to witness the pole raising ceremony.
"To support my friend Gladys Radek and witness this historical event," she told APTN News.
In 2018, Moses came back to Canada for the National Inquiry into Missing and Murdered Indigenous Women and Girls.
She currently teaches self-defence in Indigenous communities as a preventive measure with Nicola Valley Muay Thai.
As a teenager, her cousin Cherish Oppenheim was found murdered near Merritt, B.C.
"My family had closure, which I understand is a very big part in the healing process. When I meet other families such as one of my other cousin Monica Jack. They didn't find her murdered until 17 years later," Moses said.
Radek believes the commemoration memorial pole brings awareness to MMIWG in Canada.
She calls for more action to be taken to stop violence against women and girls.
The national inquiry, which wrapped up in 2018, concluded with 231 calls for justice.
She wants follow through on the national inquiry, where she provided supports to families.
"Right now, Canada needs to know that we need to hold the government accountable in bringing those 231 recommendations through the National Inquiry, bring them to life," she said.
"Time has come to stop violence against women."
---
According to Dangeli, he and his sons started working on the pole after the organizers secured funding from Women and Gender Equality Canada.
The Kitsumkalum chiefs were able to get help from the Ministry of Transportation in B.C.
The organizers thanked the ministry for building a structure that holds the pole in place on the highway and donating the machinery and workers to ensure the ceremony could finish.
Dangeli shared the importance of the low man on the totem pole which was a departure from common totem tradition.
"That didn't come from us, that is actually the most important figure as it holds all of the weight. It holds the reasonability of holding the story up," he said.
The ceremony competed with songs, gifts and thanks to all others who helped.
Carvings of a matriarch, children's faces and woman with a red dress are highlighted in the pole.
Which now stands over Highway 16 near the town of Terrace for families who are affected by violence.
"I just wanted to share with the families that this pole is for you; this is just a little insignia that you are not alone," said Radek.