Memorial pole for families to be raised along Highway of Tears in B.C.
The totem pole is expected to be raised in early September
---
A memorial pole will be raised on Hwy. 16 in British Columbia infamously known as the Highway of Tears.
The pole will honour missing and murdered Indigenous women who have disappeared along the highway that runs from the Alberta-B.C. border west to Prince Rupert on the coast.
According to Wanda Good, one of the organizers of the memorial pole, it will be a place for families to remember lost loved ones, including herself who lost two cousins.
"She is somebody, that is what we wanted to convey and that's exactly what family members all across the country wanted to convey is that she is somebody."
Good is of the Gitxsan people and grew up in Gitanyow.
In the late '80s and mid '90s, Good had two cousins go missing.
In 1989, Alberta Williams was found murdered along Hwy. 16 outside of Prince Rupert.
Lana Derrick has never been found since going missing from Terrace, B.C.
Since then, Good has spent years searching for justice along with other families.
"Nobody deserves to be killed, nobody deserved to be dumped off the road like a piece of trash," she said.
Good is an advocate with a message that all that have gone missing matter.
Good teamed up with Gladys Radek from Gitxsan Wet'suwet'en territory and whose niece, Tamara Chipman, went missing along Hwy. 16 in 2005, to start the memorial pole project.
"The reason Gladys and I have taken up this work not just because of our loss but to really tell the story of our sisters, our mothers, our granddaughter, our niece our cousin and tell the world know they women are somebody," said Good.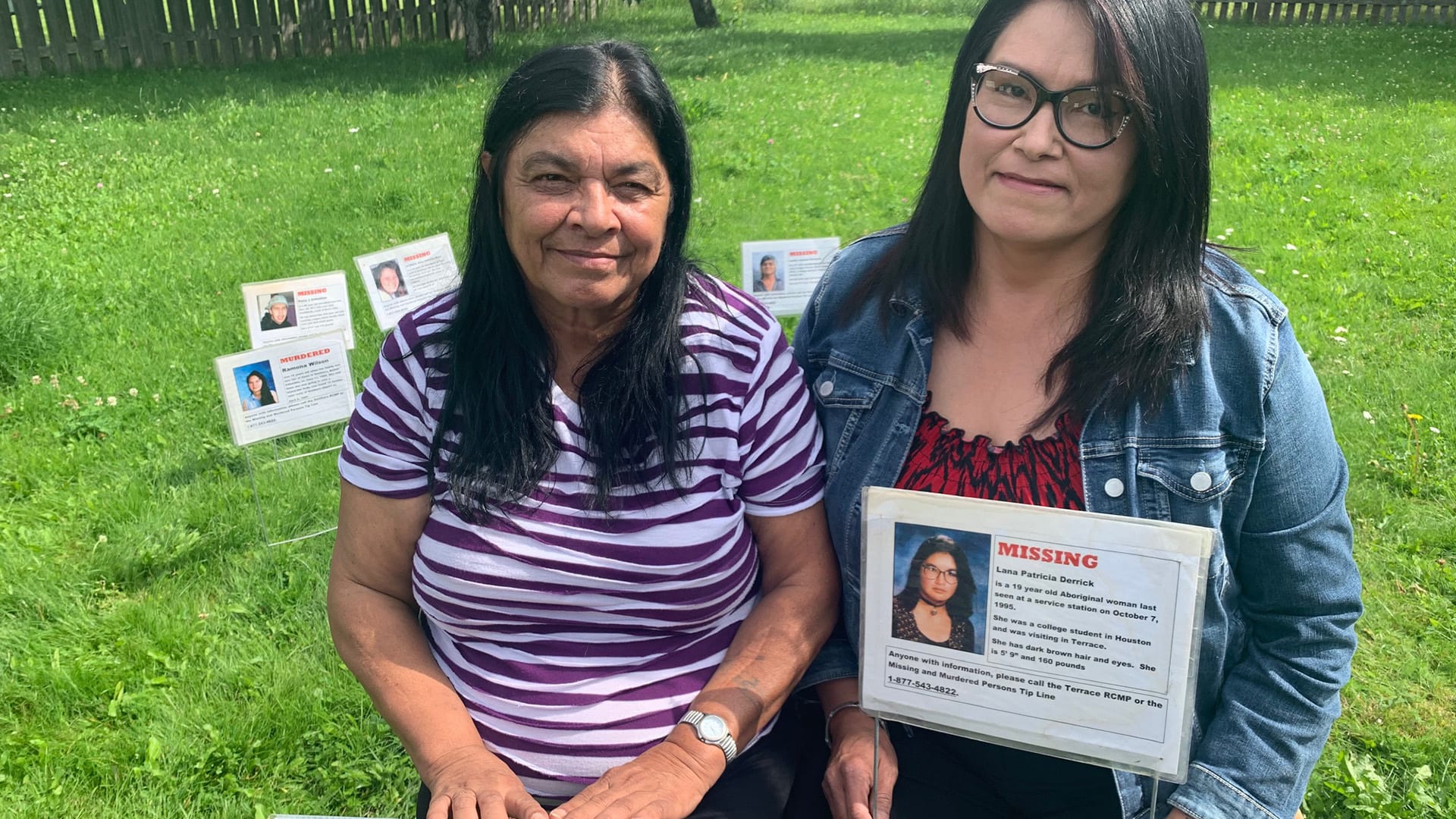 ---
Both have organized awareness walks throughout B.C., which eventually led to them to crossing Canada and have taken part in provincial and national inquiries.
Radek is known for Walk 4 Justice which took her from Vancouver to Ottawa, raising awareness for Canada's murdered and missing Indigenous women and girls.
The MMIW families form a network and strength and support for one another across the country.
"When my niece Tamara Lynn Chipman disappeared, it kind of knocked the breath out of me when other families started approaching me and telling me about their loved ones. We started compiling a database, and it was way higher than the police were saying," Radek said.
The family of Chipman, with the support of fishermen and firefighters, organized a search party along Hwy. 16 from Prince Rupert to Terrace for six days.
They searched under every bridge, path and place they could think of, but Chipman is still missing today.
Arlene Roberts has worked for the Indian Residential School Survivor Society for 20 years.
She volunteered from the home base in Terrace for the search party in 1995.
Roberts remembers the grief among those searching Hwy. 16 and how it earned its name.
"This is when we started calling it the Highway of Tears because when they were searching for Tamara, her family, the aunts and uncles and friends were crying," shared Roberts who is an organizer for the memorial pole.
Radek and Good estimate that 57 family members have gone missing along the highway.
The portion of Hwy. 16 that is called The Highway of Tears is a 737 km stretch of the highway which runs between Prince George, B.C. to Prince Rupert on the coast.
It was four years ago organizers started having discussions about a totem pole.
"The idea of the totem pole came to me because I wanted a place on the Highway of Tears where our families could go and visit this pole in a peaceful way, spending a little bit of time with prayers honour their loved ones, "said Radek.
In a meeting with Women and Gender Equality Canada, one of the groups providing money for the project, they found out they would need to have a carver on board.
The group put a call out to artists in hopes of finding one.
It was Arlene Robert's son, Mike Dangeli, who answered the call.
"Mike Dangeli was the only one who showed up, and we all went up and hugged him right as soon as he walked in the door," shared Roberts.
---
Read More: 
The Journey of Gladys Radek and her fight for human rights
APTN News: Missing and Murdered Indigenous Women and Girls 
---
Dangeli is a northwest artist who has carved over 20 totem poles.
He said he's proud of his diverse heritage with Nisga'a, Tsetsaut,  Tsimshian and Tlingit backgrounds.
He will have the support of his wife, who will take the lead in raising the pole.
His two adult sons have already helped with carving.
As a father, Dangeli said he felt it was important to get behind such a good cause.
"I'm learning to be a better human being so my sons can be good people in the community," he said. "That they can be called about when asked by the community. So I'm leading by example, I am working that for my children, but I also do that for my nieces and nephews by leading by example."
The seven metre pole has a killer whale carved base, acknowledging the pole will be raised in Kitsumkalum Killer whale territory.
There is a section that shows the face of children who Dangeli says will be our leaders one day. It will feature a matriarch in the middle.
"She represents our grandmothers; she represents our moms, our aunties and our sister's and cousins. So that is what this matriarch is on here," said Dangeli.
Co-organizer Marc Snelling and his family collected flat rocks that families can put the names of loved love ones on. They will be placed at the bottom of the totem pole.
The pole raising will take place off Hwy. 16 near Kitsumkalum, outside Terrace.
Organizers are grateful to the local First Nation community and B.C. Ministry of Transportation for providing a location.
The organizers felt finding a location was a challenge, but they said a totem pole is a statement.
"No more, we're taking responsibility for our own people. Meaning we're looking after them, they are not disposable, and we're saying all of this," said Dangeli.
---
The  totem pole will also honour LGBTQ, stolen sisters and brothers as well as non-Ingenious that have gone missing. It will be raised on Sept. 4 and 5 and blessed by Kitsumkalum chiefs and matriarchs.
Due to the pandemic, there will be a limit of 50 guests.
The event will be live-streamed by Terrace-based radio station CFNR.
Those who can't attend will still be able to hear the message through what organizers call a "virtual potlach."
"This is why we call it the commemoration, memorial and healing pole because it's to commemorate those that have gone before us. It's to acknowledge your soul and spirit and say we see you, we see you," said Roberts.
---
Editor's Note: The original story had March 4 Justice instead of Walk 4 Justice. APTN News apologizes for the error.
---