Louis Bull Nation signs agreement with federal government to begin delivering child services
'It was a dream, now it is a reality," says Wilton Littlechild.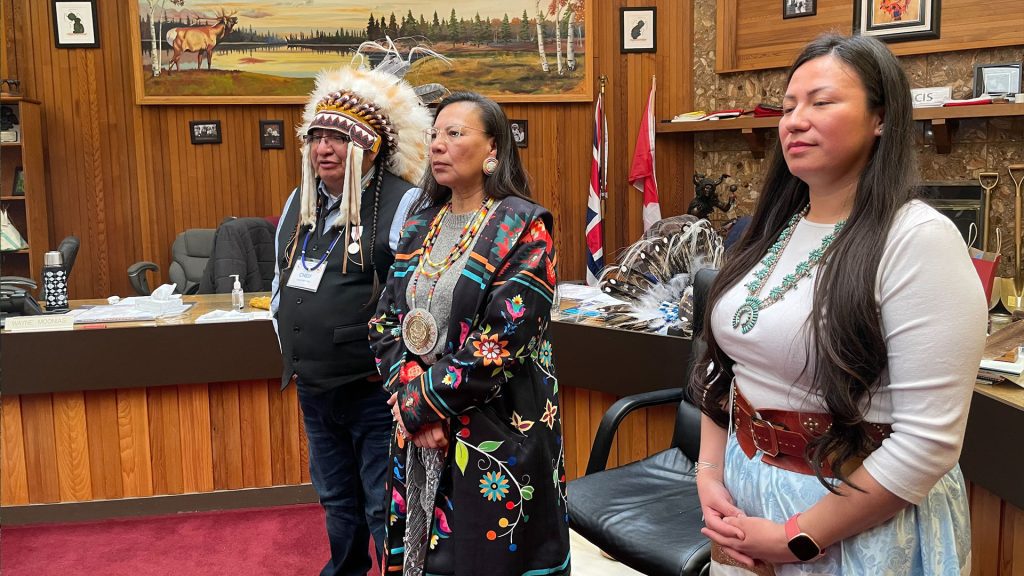 ---
Louis Bull First Nation, a part of Maskwacis Alta., about 100 km south of Edmonton is preparing to take over its child welfare system after signing an agreement with the federal government.
"This is an important day for Louis Bull tribe. Our children are safe here … In terms of reconciliation I feel this will also create pathways for other nations to bring their children home.
"Our children are sacred. The signing of this agreement with the government of Canada to support the Asikiw Mostos O'Pikinawasawin law will strengthen our communities," said Chief Desmond Bull.
Elder Henry Rain, who opened the press announcement with a prayer said that it had been a struggle to get where the nation is today, but they are now ready to help heal families.
"We know what to do to look after the children. It has been along struggle to get where we are. I appreciate the federal government working with us to bring our children home," said Rain.
The nation is one of four to sign on to an agreement after Bill C-92, the federal government's legislation aimed at giving First Nations, Métis and Inuit people more autonomy in providing child welfare services.
Louis Bull First Nation is the first Indigenous community in Alberta to take control of their child welfare program. The federal government will provide the Nation with $124.8 million over two-years to support the start up costs.
On Tuesday, Peguis First Nation in Manitoba also signed on to take control of child welfare. Cowessess First Nation in Saskatchewan signed on in 2021 and Wabaseemoong First Nation in northern Ontario signed on in March 2022.
Unlike the other three agreements, the agreement between Louis Bull First Nation and the federal government does not include coordination from the provincial government.
The two-year agreement is in place to allow time for Louis Bull Nation and Alberta to work together on their own child services agreement.
"Our laws and treaties transcend over three provinces so it doesn't make sense for us to go to an agreement which limits us within a jurisdiction," said Bull.
However, in January 2022 the Canadian Press reported on comments from Darin Keewatin, executive director of Asikiw Mostos O'pikinawasiwin (AMO) Society saying that Alberta would not recognize the agreement and struck a different tone from the Chief.
"(Alberta) won't recognize it at all. They won't sign coordination agreements,"
"As soon as a tribe steps up to take responsibility and case manage their children, suddenly the ministry is saying, 'Oh no, That's not going to happen,'" said Keewatin.
Children's Services Minister Rebecca Schulz was not available for an interview, but her office provided a statement.
"Throughout trilateral discussions with Louis Bull Tribe and the federal government, our primary goal continues to be ensuring the best possible care for Indigenous children and youth," she said in the statement."
A coordination agreement is critical to articulate roles and responsibilities to ensure service gaps are not created and that children are not put at risk."
Bull said that he is continuing conversations with the province.
Agreement a long time coming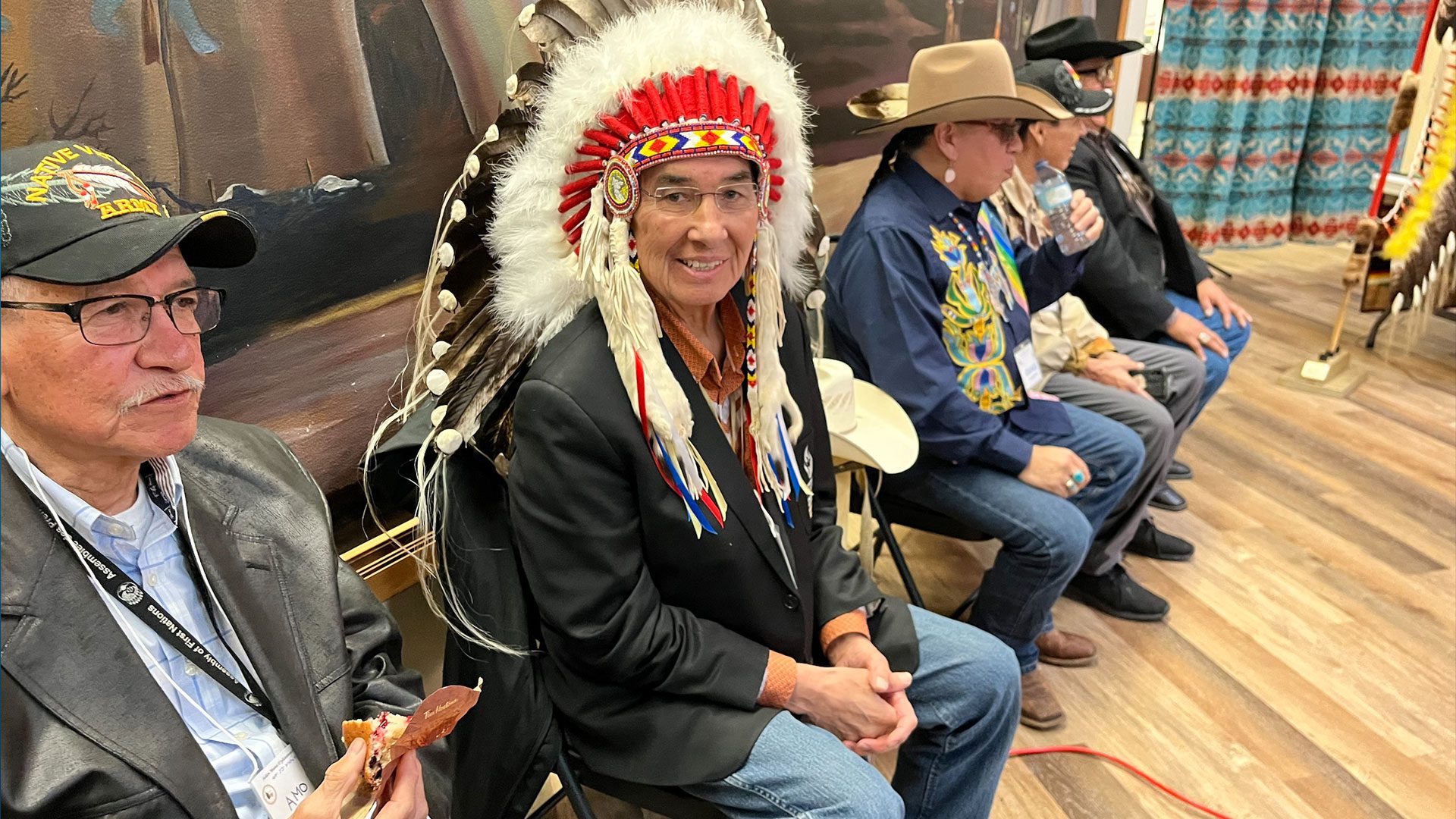 ---
The community had been working on the agreement for five years, according to Chief Wilton Littlechild, who also attended the event.
"It's also been 45 years for me since I lost my first case about child welfare," said Littlechild. The case was to argue on behalf of grandmother and mother who wanted to keep their child. In the Cree tradition grandparents can raise their grandchildren, according to Littlechild.
"On the stand I asked the mother what her wish was she said I want my mother to raise my children so they can learn our language, our culture and our way of life.
"The judge said to me Mr. Littlechild I agree with everything you say but I have to follow the Alberta Child welfare act and apprehend this child," he said.
Littlechild reflected on how things had changed in the years since he lost his first case, and spoke about the pain and the hopes of the community as they worked to create legislation that would aid to Louis Bull Nation members and their families.
"I was here in this building in the room with the elders when we drifted the law. You will notice it is in Cree because here in Maskwacis Cree is the official language.
"Many tears were shed because children were taken away from here. Now we have a welcoming ceremony to bring the children home," said Littlechild.
Over two dozen communities expressing interest
The three First Nations who have signed an agreement are a part of over three dozen communities that have notified Indigenous Services Canada that they intend to handle their own child and family services as outlined in the federal Act.
The Canadian government has a website that tracks the noticed to exercise legislative authority under the Act. There are currently 37 requests from different First Nations communities.
A spokesperson for the federal government Catherine Lappe was on hand to sign the documents in the place of Patty Hajdu, who was not able to attend.
"Canada's colonial reality has harmed too many people over generations, but today Canada and Louis Bull Tribe have a new path forward together," said Hajdu in a press release.
---
The AMO is taking over the responsibility for children and family services. The chair of the society and Louis Bull council member Barbara Laroque spoke about the work that it has taken to get to the point they are today.
Laroque's mother had helped First Nations families in court and she remembers her mother coming home discouraged some days after court.
"My father would comfort her and remind her to keep fighting for those children.
"Today, we can teach our children our culture, language history and everything that we believe in … our faith and medicines," said Laroque.
Littlechild thanked the government and Louis Bull for showing what reconciliation looks like when they sat together today.
"Treaties are an act of reconciliation…when people ask you what does it looks like, this is it.
"It was a dream…but now it is reality," said Littlechild.
New law focused on prevention and early intervention
Louis Bull law focuses on prevention and early intervention and will help them to preserve the treaty, language, custom and sovereign rights.
"Due to intergenerational trauma a certain amount of parenting skills has been lost on our people … part of the work we want to see is healing the family and environment … then we can start bringing our people home," said Bull.
Cayla Laroque-Wolf, the interim children's commissioner for AMO society told APTN News that unlike the current system, the focus of the children's services programs at Louis Bull First Nation are about working with families and providing a tailored approach to meet their needs.
"Our laws are preventative. We don't have legal authorities for temporary guardianship. We focus on less destructive measures.
"Overall we provide services to over 335 children. Not all of them are in care," said Laroque-Wolf.
Wayne Moonias, who is also a councillor for Louis Bull First Nation closed off the event with a message to community about what is next.
"Our prayers have been answered, our faith restored. This gathering is evidence. Our grandmothers have always said the most precious jewelry we can wear around our neck are our children's arms.
"To our community members you must make this place worthy of such a gift…we are in this together let's get to work," said Moonias.