Law society documents reveal how Crown avoided discipline in wrongful conviction of Metis man
Clayton Boucher was wrongfully convicted in 2017 after exonerating evidence withheld in Alberta
---
Federal Crown prosecutor Erwin Reinhard Schulz told the Law Society of Alberta that the wrongful conviction of Clayton Boucher was all an innocent mistake.
The mistake began when the RCMP told Schulz that two Health Canada tests on powder seized from Boucher by police came back negative for any sort of drug.
That's because Schulz said he kept believing there were drugs.
He somehow confused these samples of powder sent to Health Canada, which were clearly identified on the exhibit list as being sent to Health Canada, as different illicit street drugs that didn't need to be tested.
Never mind that Boucher had been adamant there were no drugs seized and kept demanding the test results for months, or that Schulz had been asking the RCMP for the results for several weeks, according to a timeline of events that Schulz provided the law society.
Schulz said he then told Boucher's lawyer, Leighton Grey, the test results were negative. Schulz said both he and Grey came to the same conclusion — these samples were somehow different drugs and qualified for a "summary disposition."
The only problem for Schulz is Grey has repeatedly denied this.
Grey said he was told "traces" of cocaine were found in the two samples sent to Health Canada. At least that's what Grey told the law society and APTN News and swore it to be true in court documents, since APTN first broke this story in October, 2017.
Grey said there was never any confusion in his mind over what was tested.
That's why, Grey said, Boucher pled guilty to simple drug possession and got time served — 177 days locked up at the Edmonton jail.
The mistake wasn't over, however.
Schulz had documented proof Boucher was innocent. The RCMP had also sent him one of two test results that came back from Health Canada, again according to Schulz's own account of what happened.
But he never shared that document with Boucher or Grey, confirmed by Schulz himself.
Not when negotiating the plea deal.
Or in court.
Schulz read into the record on May 30, 2017 in a Lac La Biche, Alta. courtroom that Boucher possessed a half gram each of cocaine and meth with no evidence to support it.
When Boucher pled guilty despite Schulz holding the exonerating evidence, the mistake had been completed.
And it was one the Public Prosecution Service of Canada (PPSC) quickly tried to fix, consenting to appeal and overturning Boucher's convictions in August, 2017.
The miscarriage of justice was officially corrected by the Court of Appeal of Alberta on Sept. 26, 2017.
But Boucher wasn't done.
He wanted everyone held accountable for what happened to him, accusing the RCMP and Schulz of racial discrimination because he was an Indigenous man with a criminal record.
This story is what happened after Boucher filed two complaints at the Alberta law society against Schulz and Grey.
The complaint process — spanning most of 2018 — happened entirely without public access.
And remained unknown to the public until now.
APTN has received documents filed at the law society, as well as internal RCMP discipline records. They are hyperlinked throughout this story, which also utilizes court documents as Boucher recently settled a lawsuit against Canada, Schulz and the RCMP.
But this story has another thing Boucher was never told about, something the law society was also kept in the dark about.
Right after Boucher had convinced a panel of three lawyers to move his complaint to the conduct committee, a federal Justice department lawyer named Bruce Hughson entered new evidence.
Suddenly there was a positive drug test.
But how?
---
Before Erwin Schulz allowed Clayton Boucher to plead guilty to possessing powder the RCMP told Schulz wasn't drugs, the RCMP had kept the tests results from Schulz for weeks.
Forty-three days to be exact.
During this time Schulz's office had specifically asked for the results on the two samples sent to Health Canada. Each time the RCMP said they weren't back yet.
Here is a timeline of what.
Boucher is arrested Jan. 22, 2017 in Lac La Biche and charged with two counts of trafficking.
The RCMP alleged several people had told them Boucher and his common-law wife, Phyllis Favel, were dealing drugs. Despite having both under surveillance neither were caught selling drugs.
Police searched an apartment both had been crashing at belonging to one of Boucher's friends.
Police found two large plastic bags of white powder in the apartment — one bag is in the kitchen cupboard, the other a black backpack. The exhibit list also shows a measuring cup, baking soda in a box, a burnt pop can, two scales, a pipe and several empty, and used, baggies were also seized.
Boucher told the RCMP no matter what they say they found he didn't have any drugs on him or at the friend's apartment.
On Feb. 2, 2017 the RCMP sent two 0.4 grams of powder in separate, distinct packaging to Health Canada which are received the following day.
By Feb. 24, 2017 both samples have tested negative.
Yet, according to the internal disciplinary records, the RCMP say they never received the test results back from Health Canada until Mar. 20, 2017.
They were put in an evidence folder and forgotten about by the RCMP, despite Schulz asking for them on April 3 and April 20.
Meanwhile, Boucher was calling Grey's office nearly every day for the test results.
Then the unthinkable happens.
Favel, who was on bail, tragically dies in a car collision on April 30, 2017. She was 34.
Boucher was forced to attend the funeral in a jail-issued orange jumpsuit and shackles.
He sat in the back in shame.
This happened on May 8, 2017.
Before the funeral Grey threatened Schulz on May 1, 2017 with a Stinchcombe application, meaning he was going to ask the courts to force the RCMP and Crown to give up the tests results. The Stinchcombe decision, handed down by the Supreme Court of Canada in 1995, ruled evidence in a criminal prosecution is not the property of the crown to be used to get convictions, but is the property of the public to be used in the pursuit of justice.
Schulz said the RCMP called him on May 3, 2017 to say the powder tested negative for drugs.
This was when Schulz claimed the aforementioned series of mistakes occurred.
The RCMP recently apologized for its role in the injustice, as part of the settlement agreement in Boucher's lawsuit.
Boucher was also given an undisclosed amount of money.
Of the five Mounties involved in his case, only one, Cpl. Daniel Fenton, faced discipline for neglect of duty.
Fenton was docked two days' pay, some leave time and he couldn't be promoted for a year.
But that discipline wasn't just for what happened to Boucher, but also included other internal matters that were not disclosed.
Another Mountie got a lecture for their role in the wrongful conviction.
And, in the end, as previously reported by APTN, the Mounties in their apology to Boucher spelled Favel's name wrong.
It's never explained why the RCMP only sent one of two certificates of analysis to Schulz on May 15, 2017.
---
Clayton Boucher's first complaint against Schulz and Grey at the Alberta law society didn't make it past the intake worker, who determined it didn't reach the necessary criteria to be seen by the conduct committee.
Then APTN did its first story on Boucher in October, 2017 and the law society quickly called in Allan Fineblit, a lawyer from Manitoba, to investigate Boucher's complaints as an independent counsel.
Fineblit put questions to both Grey and Schulz.
"Mr. Schulz told me on 15 May 2017 that trace amounts of cocaine and methamphetamine had been analyzed in the items found in Mr. Boucher's possession. He indicated that the source of this information was the investigating Lac La Biche RCMP Member," Grey wrote in an email in response to questions from Fineblit.
But Schulz said that call happened May 4, 2017.
"It's not clear exactly when Mr. Grey was told by the Crown that there were small amounts of cocaine seized but the best evidence I could find suggest that this happened during the May 4, 2017 conversation," said Fineblit in a letter to Boucher declining to forward Grey's complaint to the conduct committee.
But what about Grey not asking for the certificate of analysis from Health Canada?
Fineblit said he didn't find anything wrong with that as people are commonly convicted of drug crimes across Canada before test results are known.
About two weeks after Fineblit declined to forward the complaint against Grey, he did the same with the complaint against Schulz on Jan. 31, 2018.
"Mr. Schulz spoke to your lawyer on May 4, 2017 and advised him of the results, but also, incorrectly, advised that there had been small amounts of cocaine in your possession. It appears he relied on two entries on the exhibit list on small amounts of a substance wrapped in plastic which he incorrectly assumed were 'spitballs'," wrote Fineblit to Boucher.
"He assumed this even though the exhibit list clearly indicated that these were small samples from the larger package and needed testing."
But what about certificate of analysis from Health Canada?
Fineblit said Schulz told him on the phone what happened.
"[Schulz] said he did not send the Certificate of Analyst to your lawyer because they were in the process of resolving the matter when he received the first one," Fineblit wrote.
"I see nothing sinister in the circumstances in his failure to send the Certificate of Analyst."
It was all a mistake.
"It was certainly a mistake that resulted in a wrongful conviction. It was a mistake unsupported by the text of the document he relied upon. In the end however I conclude it was a mistake and nothing more. I see no evidence of a willful attempt to mislead your lawyer. There is no evidence of malice towards you," wrote Fineblit.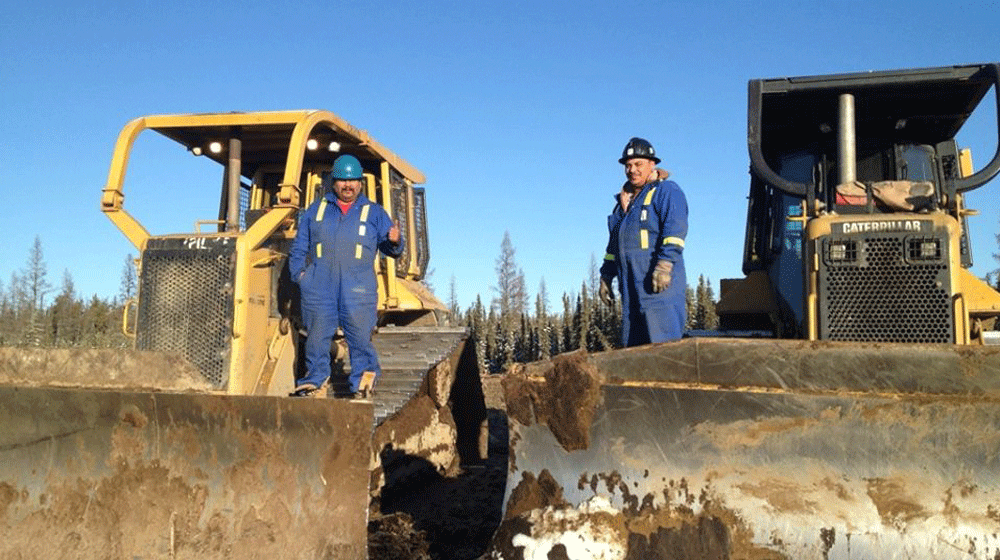 Up until this decision Boucher, a heavy machinery operator in the Alberta oil fields, had been representing himself but now had a new lawyer — John Kingman Phillips, best known as the lawyer behind the Stinchcombe ruling at the Supreme Court.
Phillips had one move left at the law society: Ask that an appeal panel find Fineblit was wrong and refer both complaints against Grey and Schulz to the conduct committee for a disciplinary hearing.
"It is incomprehensible that Mr. Fineblit was able to ignore Mr. Schulz's flagrant disregard for the overarching importance of a Crown Prosecutor to put a full and accurate record before a criminal court as a precondition to accepting a guilty plea and concluded that a disciplinary proceeding was unnecessary," Phillips wrote to the appeal panel Feb. 21, 2018.
"Mr. Schulz then misrepresented the contents of the Certificates of Analyst during a discussion with Mr. Boucher's counsel, stating with no foundation at all and with specifically contradictory evidence in his possession, that trace amounts of cocaine were found."
This time Schulz was no longer speaking for himself.
Federal Justice department lawyer Bruce Hughson had taken over.
Hughson argued Fineblit was right not allow Schulz's complaint to move forward and the panel should do the same.
"This is not to suggest that Mr. Schulz's handling of this prosecution is without criticism," wrote Hughson in an April 13, 2018 letter.
"Unfortunately, the prosecution proceeded from a misunderstanding that Mr. Schulz had of the evidence seized."
The appeal panel ruled Fineblit made the right call with Grey saying in its decision: "Mr. Grey's file records show a telephone discussion with Crown counsel wherein the Crown 'says that trace amounts of cocaine and meth were found.'"
"Mr. Grey relied on the information provided by the Crown and did not insist on receiving the actual certificates of analysis in May, 2017, nor were the certificates provided to him by the Crown."
On the face of the record before the Independent Counsel, there were no positive test results for pipe residue, or spitballs, or any other controlled substance.
Like Fineblit, the panel accepted it wasn't uncommon for a defense lawyer to trust the word of a Crown when it comes to drug tests.
"Mr. Grey relied on the Crown, who he knew to be ethical and competent. The Crown advised that trace or small amounts of a controlled substance had been found. As a result of this, it was not unethical or misconduct to fail to procure the Certificates before the guilty plea May 30," the panel wrote.
It then found Fineblit made mistakes of his own when it came to his view of the complaint against Schulz.
"It also appears that the Independent Counsel accepted as valid that the reason Mr. Schulz chose to hold back the Certificates that would have exonerated Mr. Boucher was because he was in the midst of plea negotiations with Mr. Boucher's counsel. This finding is unreasonable," the panel wrote.
"The Crown's duty of disclosure is not suspended during plea negotiations. To the contrary, the duty of disclosure is continuing."
This was even more important, the panel wrote, because Mr. Schulz had already told Grey that Boucher had been found with cocaine in his possession.
"The Certificates would have revealed that information to be incorrect. Even if Mr. Schulz misunderstood the test results when he first received them in early May, it appears that he should not have been under that misunderstanding as at May 30, 2017 when the guilty plea was entered," the panel said.
"On the face of the record before the Independent Counsel, there were no positive test results for pipe residue, or spitballs, or any other controlled substance."
It ruled that the conduct committee begin looking into Schulz's complaint.
It also refused to entertain new evidence that Hughson was trying to put on the record.
"Three of the exhibits (two scales and some empty baggies) ultimately tested positive for cocaine or drug residue," wrote Hughson in his April 13 letter.
This was the first time Boucher or the law society had heard of this.
Hughson didn't produce proof of this positive test until July 30, 2018 when the matter was before the conduct committee.
Hughson submitted to the committee a one-page fax between the RCMP and Schulz dated Nov. 27, 2017.
"As discussed, could we please have the Order brought before the court once again. Reason is the following exhibits were tested with positive results," wrote RCMP Sgt. Steve Genereaux to Schulz.
Only this was six months after Boucher was convicted.
Four months after he appealed the conviction.
Three months after Canada consented.
And two months after the appellate court made it official.
But it never came up then.
It also never came up during Fineblit's investigation.
It doesn't appear the actual tests were ever produced to the law society.
The law society documents don't say when the RCMP sent the items to Health Canada to be tested.
So where did these tests come from?
That's an especially important question considering the appellate court ordered all items seized from Boucher be immediately returned.
Boucher wouldn't get all the items back, including the scales, until several months later.
APTN called, and emailed, Schulz last week asking for clarification on the new tests, such as: Did he obtain an amended court order to send the items to Health Canada to be tested?
He never responded, but Hughson did.
Hughson told APTN his memory was foggy on details about the case, so APTN emailed him the July 30, 2018 letter he wrote to the law society and then, upon request, also emailed Hughson the court order to return all items.
The following day Hughson told APTN there had been no amended order but he was waiting for more information.
Meanwhile, APTN had also been asking the federal Crown's office, the PPSC, when these items were tested and if Health Canada certificates existed.
They didn't exist because the items were never sent to Health Canada.
"The RCMP independently conducted wipe tests of three exhibits which came back positive. The date of these tests is unclear. However, in a faxed message dated November 27, 2017 from an RCMP member to the Crown agent who had previously handled the matter, the member indicated that three of the seized items had tested positive and he asked for a variation in the order requiring return of exhibits," said PPSC spokesperson, Nathalie Houle, in a June 27 email to APTN.
"That request was forwarded to the Agent Supervisor of PPSC who advised the RCMP member that notwithstanding the positive results that he should ensure that the exhibits were cleaned prior to providing them to Mr. Boucher. As a result, no variation in the order was sought by PPSC."
APTN then asked if it was proper for Hughson to use this as a positive test result to defend Schulz by discrediting Boucher.
"The PPSC cannot speak to the Law Society complaint. As set out in s. 3(3)(e) of the Director of Public Prosecutions Act (DPP Act), the DPP may communicate with the media and the public on all matters that involve the initiation and conduct of prosecutions. The complaint itself is not part of the prosecution. You may wish to contact counsel who represented Mr. Schulz in the proceedings," wrote Houle.
"As for the legality of the wipe test, you will need to check with the RCMP as this falls under their purview."
APTN did contact Hughson again asking if he knew he provided wipe test evidence at the law society and, if he didn't, did he now regret it.
Hughson never responded.
It's unclear what impact the new evidence had on the conduct committee.
But Hughson didn't stop there.
Up until this point, Schulz had never contradicted Grey's statements that he was told traces of coke were found in the test.
But Hughson told the committee that Schulz never told Grey the original tests came back as positive.
"It is obvious that both Mssrs. Schulz and Grey drew the inference that the small amounts in the baggies were spitballs of cocaine. Again, Mr. Schulz never told Mr. Grey that he had evidence confirming the cocaine. They both drew the same inference of the presence and possession of controlled substances based on the disclosure that they had at the time," wrote Hughson to the conduct committee in his July 30, 2018 submissions.
"In hindsight Mr. Schulz certainly wishes he had read the exhibit list in a more careful fashion, but the error was entirely innocent."
Phillips ramped up his argument against Schulz.
"He sought to force Mr. Boucher into a conviction (possibly motivated by a concern that Mr. Boucher had been wrongfully imprisoned and that he could possibly be held accountable for this)," said Phillips in an Aug. 9, 2018 letter to the conduct committee.
"Crown prosecutors must be held to high standards and must not be allowed to railroad accused into convictions based only upon their personal suspicions and bias about particular individuals."
Hughson wrote again on Aug. 24 that Schulz always believed the RCMP was going to provide Boucher with copies of the Health Canada tests and that Schulz made a mistake.
"Mr. Schulz deeply regrets his misunderstanding of the evidence. He has had an exemplary career. He takes very seriously his role as a Crown Prosecutor. At no time did he agree to a guilty plea knowing that Mr. Boucher was not guilty of the charges," wrote Hughson.
In the end, the conduct committee dismissed the complaint against Schulz after Schulz met with a bencher appointed by the conduct committee to resolve the matter.
Boucher was notified by an email from the law society on Dec. 17, 2018.
"Mr. Schulz advised the Bencher that he has changed his practice so that he no longer relies on third parties to deliver copies of documents to opposing counsel and instead ensures that his office sends out any such required disclosure documents to the other counsel immediately upon receipt. The Bencher recommended that this matter be dismissed," the letter stated.
And the filed was closed.
There's one last question: Why did Boucher never seek bail after the drug arrest?
Boucher was on bail for a robbery charge at the time and the provincial Crown on that case agreed not to seek revocation of bail until they knew the results of the drugs tests.
The armed robbery charge was stayed by the Crown a year ago after the Mounties didn't subpoena the two store clerks, one of which couldn't positively identify Boucher from a photo lineup despite walking into the Lac La Biche RCMP detachment with a photo of Boucher found on Facebook.