Labrador Inuit turn up the heat on Muskrat Falls energy project
Protest outside Muskrat Falls construction site in Labrador. More planned Monday.
(Under ominous skies, demonstrators block the entrance to the Muskrat Falls construction site in Labrador. Photo courtesy Jacinda Beals)
Trina Roache
APTN National News
Around 30 people in Labrador, including Nunatsiavut President Johannes Lampe, have blockaded the construction site at Muskrat Falls, a massive $11.4 billion dollar hydroelectric project along the Lower Churchill River.
"We aren't huge numbers here in Labrador," said Inuk artist Billy Gauthier. "This here turnout shows how strong we are. There will be more. We will do more."
Gauthier, 38, began a hunger strike Thursday.
Gauthier and the Labrador Inuit are demanding the Government of Newfoundland and Labrador and the provincially owned energy company Nalcor fully clear the reservoir of all trees and topsoil before flooding begins.
"The government, I just don't understand why they don't step in and fix it?" said Gauthier. "Why waste time? Why put people in a position where they feel like they need to fight for their rights? For their culture?"
The main concern is methylmercury. A study by Harvard University predicts that trees, vegetation, and topsoil left in the flood zone will create the toxin and flow downstream, contaminating traditional food sources for the Inuit.
President of the Nunatsiavut Government Johannes Lampe, who is at the blockade now, released a statement Friday calling on the province to clear the reservoir.
"Despite our concerns, those who have the authority to make changes, including the Prime Minister and the Government of Canada, to the scope of the project are not willing to do so, and would rather stand by and allow our people to be poisoned and destroy a way of life," said the statement. "If this project proceeds without changes, there will never be true reconciliation in this country."
On Saturday, while Gauthier was at the blockade, he received a call from Vice-President of the Lower Churchill Project, Gilbert Bennett.
"He mentioned to me that he didn't believe that there is any proof that methylmercury was going to move through out ecosystem the way the Harvard studies prove," said Gauthier.
Gauthier said Bennett assured him flooding had not yet begun but was given no assurance that Nalcor would clear the flood zone first.
"I will starve myself," said Gauthier, hitting day three of his hunger strike. "I'm basically crying out to everybody, screaming that we need help. To get government the Nalcor to give us a safe project. To make it right. We need anybody and everybody to stand."
And momentum is building in what many are now calling an eleventh hour battle over a project many have called a boondoggle.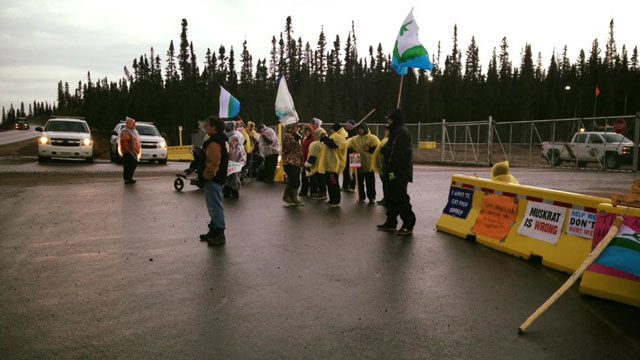 On Friday, the mayor of Cartwright sent a letter to federal and provincial leaders, including the Prime Minister.
"I write to you all today to add my voice and the voice of my community to the growing level of discontent with the Muskrat Falls Project as we approach the first flood of the reservoir," wrote Dwight Lethbridge. "My community of Cartwright, Labrador has decided to take a hard line stand on the methyl mercury issue, based on the concerns of our residents over the potential loss of country foods, culture, and an unknown impact on fish resources very important to our area."
And though the Muskrat Falls project falls under provincial jurisdiction, Lethbridge added that there is a role in this for the federal government.
"You are allowing the demolition of an Innu and Inuit food source and culture," wrote Lethbridge.
At a town meeting last week, residents were clear in the action they plan to take against Nalcor.
"Our community is to be used as a port for the delivery of transformers to Muskrat Falls," said Lethbridge. "As things sit right now, until this methyl mercury issue is addressed, that shipment will not be happening through here."
The blockade at Muskrat Falls continues. People have set up tents, with no plans to go anywhere, anytime soon.
RCMP are at the site, but no arrests reported so far.
Another rally is planned Monday outside Newfoundland and Labrador's legislature building in St. John's with the slogan, "Flood the steps, not the reservoir."
"My people will not be poisoned," said Gauthier. "It's crunch time and you know what? This is it. We're taking action now. We keep making more steps to make the right thing happen. Now we need Nalcor to make the right steps."
In an email response to APTN, Nalcor wrote, "The protesters prevented the buses with local workers on the day shift from upper Lake Melville from accessing the work site and getting to work this morning."
Nalcor confirms that flooding has not yet begun, but work is ongoing.
"It's important to note it is not one sole activity to create the reservoir. Much like the process for river diversion completed earlier this summer, creating the reservoir involves a number of steps over a period of time. Impoundment will take place when all facilities and equipment are ready for operation."
This is a process, Nalcor says, that could begin at any time and continue through 2016. Nalcor made no mention of stopping this work to clear the reservoir.
No word yet from the Government of Newfoundland and Labrador.
NunatuKavut President Todd Russell, will be holding a news conference Monday morning.
Russell represents the Southern Inuit of Labrador and was arrested along with several others at a Muskrat Falls protest in 2013.