Kashechewan expects ice breakup 'anytime' as water rises on Albany River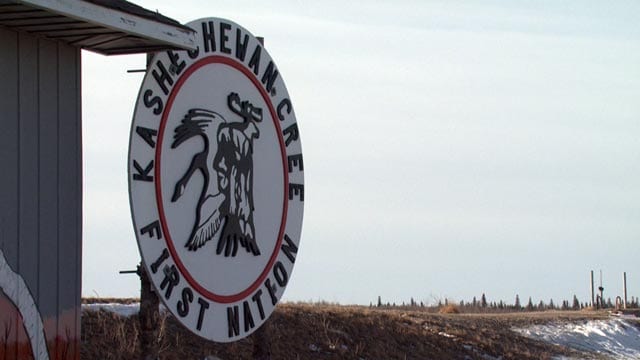 Kashechewan residents are bracing for the spring ice breakup and the risk of flooding it poses, which Chief Leo Friday expects to happen in the community "anytime."
He says they have their fingers crossed, as ice is moving upriver as well as in the nearby community of Fort Albany.
"We're just hoping for a good breakup and a good scenery for all the people that remain in the community because they've never seen it in a long time. This is going to be the first time in many years that they will see the breakup."
Kashechewan declared a state of emergency on May 1 due to risk of flooding. The declaration was sent to the Provincial Emergency Operations Centre (PEOC) and included a detailed request for support.
The community asked for emergency shelter, communications and logistical assistance to be provided by May 5 as well as for a hosting agreement with Fort Albany to be set up.
Friday didn't say whether this help arrived on time or not. Ottawa previously paid $2 million for residents to head onto the land.
Citizens of the Cree First Nation on the James Bay coast are usually evacuated to municipalities like Thunder Bay as a preventative measure prior to the annual spring thaw. The Albany River has overflowed its banks almost every year for the last decade. But the novel coronavirus has complicated matters. Thunder Bay said it can't take evacuees this year and Friday says many would prefer not to go south.
About 800 people have gone out onto the land for the spring goose hunt where they plan to wait out the flood, and 400 more are heading out soon, says deputy fire chief Raven Friday.
He said his team has been monitoring the water levels closely, and things are going well so far.
"Right now, I think everything is going smooth at this point, but we'll have to wait and see later on," Raven said. "People are working together. We're pulling together, working to keep our people safe."
Those out in the bush are  "doing good," he added.
"They're having a lot of fun. Shooting a lot of geese. Makes me wish I was out there."
Read more:
Military in talks with Kashechewan as municipalities say no to evacuees
Kashechewan asks PM to send in military as flood season approaches with COVID-19 preventing evacuations
Minister of Indigenous Services Marc Miller told APTN News that five Canadian Rangers from the community are in place and Ottawa "will bring all resources to bear should and when the need is there."
He said that the government has "identified a number of potential sites" for evacuation if it becomes necessary, but noted that community members are hesitant given the risk of contracting COVID-19.
In a previous statement emailed to APTN, Emergency Management Ontario said its "working with all stakeholders to ensure that if and or when an evacuation occurs that it is conducted in the safest way possible given the current circumstances."
Leo Friday says it's been challenging dealing with a both a potential flood and COVID-19. Though people don't want to evacuate, it's still on the table as a last resort.
"It's really hard to decide what to do. But I guess with the help of the community we are managing in the way that we wanted to move forward this season."
A deal for a permanent solution was struck last year when Kashechewan, the province and the federal government agreed to relocate the entire community to higher ground.
In a previous interview, Miller said the federal government is still committed to that plan.
"But it's a process that needs that work in community and the plan to be developed jointly with the community."