Joyce Echaquan's family describes seeing her 'tied up like an animal' in Joliette hospital bed
Mother of seven had her wrists and ankles in restraints when family arrived at hospital.
---
Warning: This story contains graphic descriptions of how Joyce Echaquan died.
---
Michele Audette heard her share of testimony as a commissioner during the MMIWG national inquiry – but she came to Trois-Rivieres, Que., to lend support as more revelations about Joyce Echaquan's death were made public during the first days of the coroner's inquest.
"We walk beside the family and we support them to understand how the system works, or how to walk through that system with them," Audette told APTN News outside the courthouse Friday morning.
Joyce Echaquan, from the community of Manawan north of Montreal, died on Sept. 28, 2020 after being transported to Joliette hospital with stomach pain.
The 37-year-old Atikamekw mother of seven went live on Facebook filming female staff insulting and mocking her. The video of her seeking help and being ridiculed circulated widely on social media and prompted widespread indignation across the country.
The inquiry, which began Thursday, has heard from family and relatives of the deceased woman, all of whom said Echaquan had reservations about going to the hospital.
---
She had a host of health problems including diabetes and heart issues that required regular treatment.
On Thursday, the inquest opened with emotional testimony from her widower, Carol Dube, her eldest daughter and her mother, who testified that Echaquan had feared going to hospital in Joliette.
Dube, Joyce's partner of 23 years, told coroner Gehane Kamel on Thursday that Joyce was an "exceptional" mother who deeply valued her culture's traditions
"I have to say I was very, very impressed by the strength, the courage, and the capacity," Audette added.
"Not that he wasn't capable, but because it's his wife. The mother of his children – the mother of a community."
Joyce's sister-in-law Jemima Dube prepared a written statement to deliver in open court on Friday, detailing what she experienced rushing to Joliette hospital after seeing the livestreamed video.
"Yes I knew that Joyce was fearful about frequenting the Joliette hospital," she told the inquest through an interpreter.
When Jemima became wrought with emotion, Audette stepped in to read the statement on her behalf.
APTN obtained a copy of the written statement read aloud in court.
On the morning of her death, Echaquan called Jemima using the hospital phone and asked her to come bring her home because she was scared.
But Jemima said she wasn't able to secure a ride immediately. Hours later, she saw the infamous Facebook Live video, where Echaquan complained about being overmedicated while staff are heard hurling insults at her.
When she arrived at Joliette hospital, Jemima alleges she was treated with indifference by staffers.
"I looked for Joyce and no one was helping me. I circulated until nurses saw me – it's like I was invisible," reads a passage from Jemima's statement. "I crossed two nurses leaving a room exchanging bizarre looks. I felt the fear.
"I knew Joyce was already dead."
---
Read More: 
'She didn't ask to end her life like that:' Public inquiry into Joyce Echaquan's death begins in Quebec
---
After Dube got to the hospital, she was taken to a family room while a team tried to resuscitate Echaquan. A doctor came to see her to say they tried to save Echaquan, including 45 minutes of cardiac massage.
"When I heard them say they hadn't succeeded, I ran out of the room like the wind, I was lost. I couldn't believe it, I didn't know what to do," the statement said.
She said several people, including cousins, stayed with Echaquan's body, which she said was restrained and covered in bruises.
In a video filmed by her daughter the day of her death, Joyce is shown lying in her hospital bed, unresponsive, wearing both wrist and waist restraints.
According to Jemima, Echaquan's hand was still warm but became cold over time. She said she held vigil with other community members while waiting for relatives to make the three-hour drive from Manawan.
"It was a shock for me. I asked where the exit was – like I'd been blinded," Jemima wrote in her statement.
"My breathing was weak, and when I got outside I started to cry before I even realized I was crying."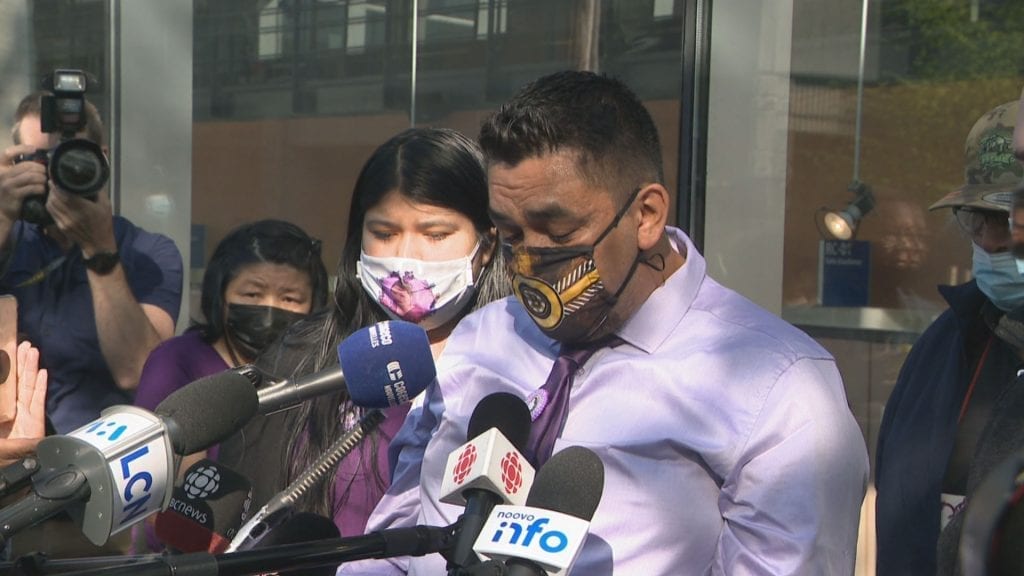 ---
Joyce's brother also testified Friday that he was shocked at her condition when he visited the medical facility last September.
Stephane Echaquan told the inquest his sister was bruised and shackled to the bed.
"It's inhuman, I never thought I'd see a member of my family being tied up like an animal," he told the inquiry.
By the time Stephane Echaquan arrived, his sister had already died. He documented her bruises in photos that will be shared with the inquest.
"Sometimes I'm confused," the brother said to conclude his testimony. "I have questions that are still without answers."
During Thursday's hearings, officers with the provincial police force told the courtroom they interviewed more than 20 people of interest at the time of Joyce's death – but did not have enough to lay criminal charges.
Audette feels the story is not over yet.
"Let's wait to see what the coroner will give us as recommendations, and what the family will say at the end of this process," Audette added.
"Because I think we should keep all the energy and support to them during the next couple of weeks."
Hearings will resume at the Trois-Rivieres courthouse on Monday, and will continue until June 2.
Next week, the nurses from Joliette hospital are expected to give their version of events in anonymous testimony.
-With files from The Canadian Press