'It's a right': Spiritual services in provincial jails far from standard across the country
A Mi'kmaw man was denied access to Indigenous spiritual services in a New Brunswick jail a year after winning a human rights settlement that was supposed to ensure it didn't happen again.
"Well, I was shocked and surprised. I thought for sure that I was going to be allowed to smudge," said Anthony Peter-Paul, "especially after what I just went through with the human rights complaint."
In 2018, Peter-Paul was in the Dalhousie Regional Correctional Centre on remand, waiting for a court date to face break and enter and robbery charges. He asked to smudge and see an Elder and was told those services were not available.
"We'd go to the chapel and they had a volunteer that came in and did church services," said Peter-Paul. "But there was nothing you could do for Native spirituality."
Peter-Paul is from the Pabineau First Nation in New Brunswick.
"A lot of trouble that I got into was living on the reserve, was trouble on the reserve," he said. "There's a lot of like, drug and alcohol and partying and getting in fights on the streets. A lot of my incarceration was because of that."
Anthony Peter-Paul says access to Indigenous cultural services is inconsistent across provincial jails.
In 2012, he was in the province's Southeast Regional Correctional Centre.
He had been denied access to Indigenous spiritual services so he filed a complaint with the New Brunswick Human Rights Commission.
In early 2017, he won a settlement of $1,000.
The jail, along with the Department of Public Safety that oversees all the jails in New Brunswick, was to follow its own policy to ensure reasonable access to spiritual services.
But when Peter-Paul landed back in jail in 2018, he found out little had changed.
After he was denied the right to smudge and see an Elder for the second time, he filed a second human rights complaint.
But this time, the commission rejected it, claiming he didn't have enough evidence.
Peter-Paul was sentenced to four years on break and enter and robbery charges. APTN Investigates interviewed him at the federal penitentiary in Springhill, Nova Scotia.
Peter-Paul said he has access to Elders on staff and sacred medicines with him in his cell so he can smudge whenever he wants to.
"Here in the federal system, you're allowed, it's a right," said Peter-Paul. "And they treat it as a right. But in the provincial system it almost seems like it's a privilege over a right."
In policy, provincial jails across Canada allow access to sacred medicines, ceremony, and an Elder. But in practice, it's inconsistent.
"It varies. There are contracts with Elders, and Elders are granted permission to work inside Ontario jails, but really, it's hit and miss," said Howard Sapers.
Howard Sapers says access to cultural services is not good overall.
Sapers is the former corrections watchdog for Canada. And more recently, he was the independent advisor on corrections reform for the Ontario government.
He issued a series of reports in 2017, in part, looking at how well Ontario jails do in providing access to Indigenous spiritual services and programming.
"While there are some very bright spots in Ontario – as there are in other jurisdictions across the country – overall, it's not a good news story," he said.
Chantell Barker is the Director of Justice for the Southern Chiefs' Organization in Manitoba. A year ago, she received a letter from inmates at the Winnipeg Remand Centre asking for help.
"They wanted access to Aboriginal spirituality. They wanted access to sweat lodges, they wanted access to education," she said.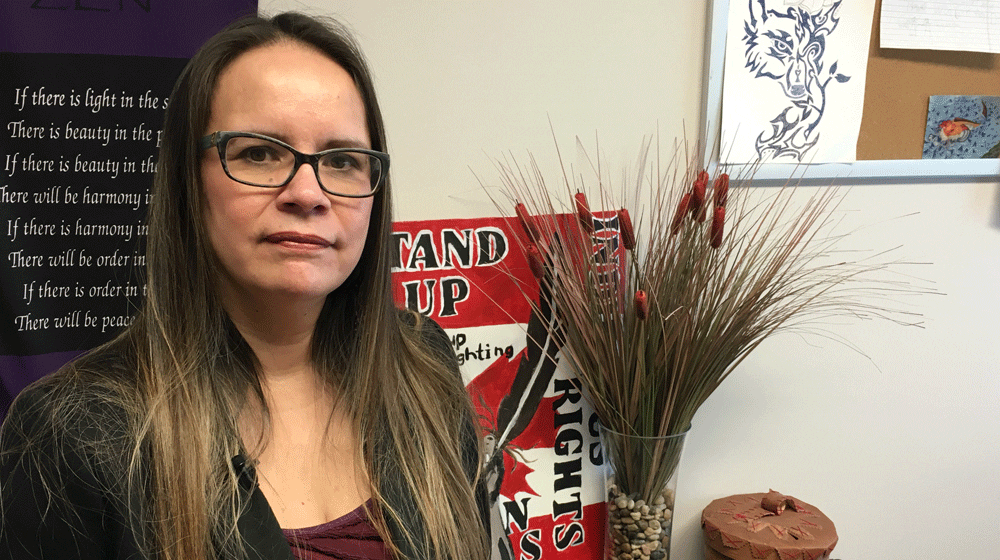 Chantell Barker
She spent 10 years working for Manitoba Justice and has visited every jail in the province.
Barker said resources, space, and security concerns are all big challenges for jails in providing services and programs. She said Elders on staff are often stretched thin, with requests from hundreds of inmates.
"And it's heartbreaking," she said. "I have family members, I have friends, I know people who are in the system who are not bad people – they just made bad choices."
Read the letter here: Winnipeg Remand Centre
The letter was also sent to Manitoba's Minister of Justice and the jail warden. Barker said no action was taken.
APTN asked Manitoba Justice about the letter, but didn't hear back.
In New Brunswick, the human rights commission won't comment on individual cases.
The province's Department of Justice and Public Safety said no one was available for an interview.
But in an email, it said it does provide smudge kits and other ceremonial resources in its jails.