'It's a beautiful thing': Indigenous healing camp gets lifeline extension in N.W.T.
'They could breathe and it gives them enough time to work on themselves,' says elder.
---
It's a delivery model Dene, Métis and Inuvialuit Elders of the Northwest Territories have suggested for years.
An Indigenous approach to emotional, mental, physical and spiritual wellness that Wilbert Menacho personally swears by, both in his own recovery and in the healing work, he shares with others.
"Our ancestors always talk about it, to go out on the land and heal ourselves," Menacho says. "It's working, this is the place to really connect with Nèwetsìne – Creator in Sahtúot'ı̨nę Yatı̨́."
Menacho is an Elder-in-residence at the new Aurora Village healing camp.
Located 20 minutes outside Yellowknife, the popular tourism attraction has been welcoming new guests – those experiencing homelessness and battling addictions.
The collaborative project is between the Dene Nation and local Indigenous partners such as the Arctic Indigenous Wellness Foundation, the Crazy Indians Brotherhood, and Aurora Village.
"It takes trust and honesty. Just to be with them is amazing, to visit them and listen to them, it's a beautiful thing," Menacho says.
The project has received over $1.3 million from the federal government, enough money to deliver the program for roughly two months from December 2021 through January 2022.
According to Trevor Teed, director of Lands and Environment for Dene Nation, the program is extended to March.
"A lot of the clients were thinking 'will I have to go back on the street?' But when they [Dene Nation] came back and said there was an extension, you could see the mood lift on those guys and women," Menacho says. "They could breathe and it gives them enough time to work on themselves."
Louis Nutaradlaluk has been working on himself at the camp since Dec. 21.
"We all knew each other on the streets and it's really amazing to see the differences we've all made out here it's really awesome," Nutaradlaluk says.
Originally, from Rankin Inlet, Nunavut, he says he stays at shelters, with friends and just about anywhere, he has to.
"I am learning more about myself than anything else. I know now in the city it is very distracting, it is no fun out there and I don't miss it," he says.
During his time at camp, he hopes to study for his driver's licence exam and to participate in a caribou hunt organized by the Dene Nation.
"It's very exhausting but it's worth it. I don't even know myself yet, I know I'm sober now but whatever I make of it will be positive," Nutaradlaluk says.
The camp focuses on connection through culture engaging clients in activities they may not have done in years, but remember from childhood.
Activities include, snaring rabbits, setting nets, dog sledding, sewing and more.
---
Marie Speakman brings nearly three decades of social work experience to camp. Having recently retired from her role as a victim service coordinator with the Native Women's Association of the N.W.T., she now works on weekends as a counsellor at the camp.
"Whenever they want to talk they come up and talk, it's not ridged or being documented," Speakman says.
She notices the benefits of sharing her sewing expertise with the clients and helping them with their projects.
"They say 'now I remember, I use to do this with my mum,' kind of like, it's coming back to them," she says.
Ben Wright, is a prime example of someone accessing lived knowledge and putting it into practice.
"We all have different jobs out here – it's having self-worth again and self-respect again," Wright says.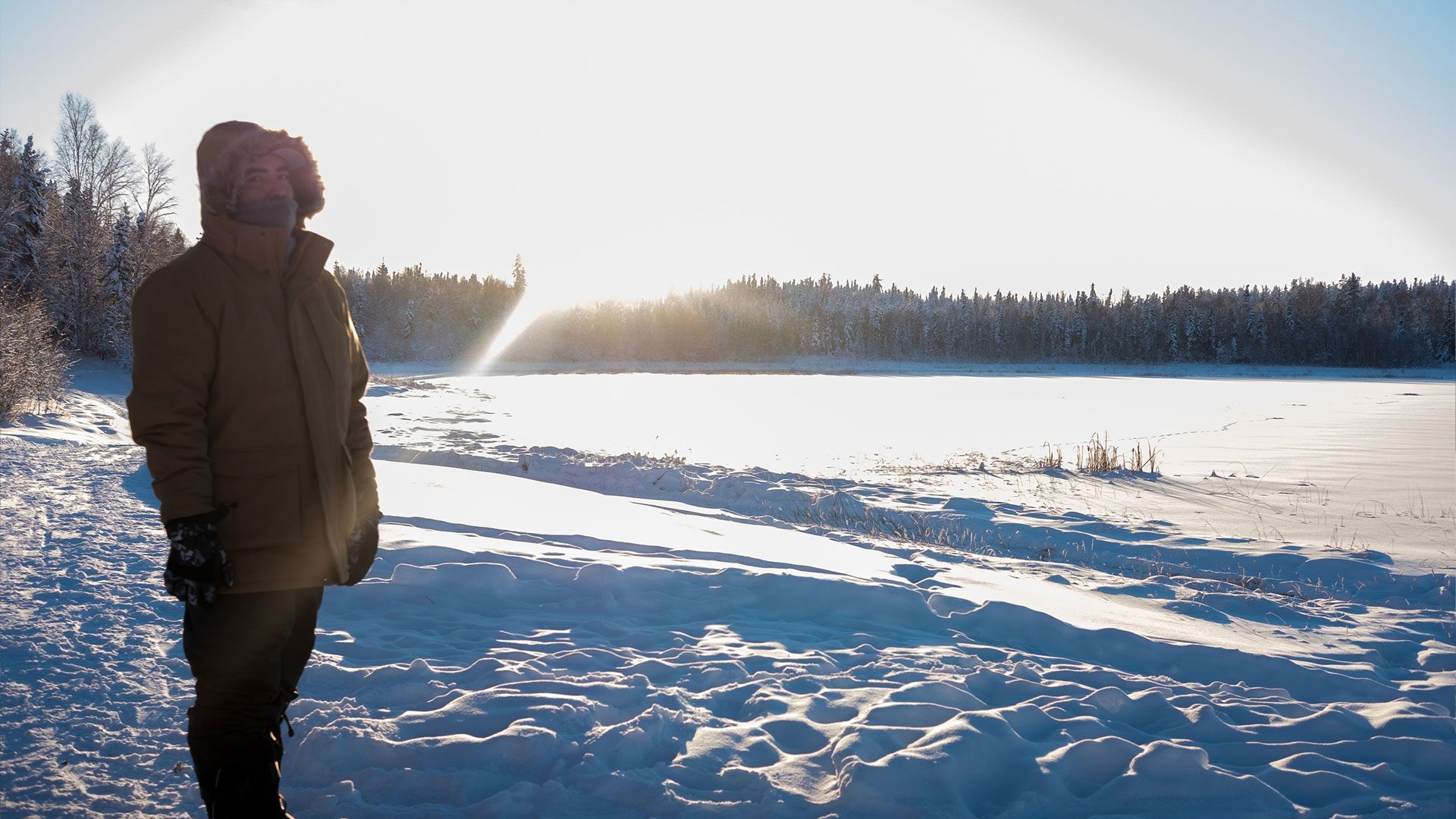 ---
He was staying at the Salvation Army in Yellowknife when he arrived at the camp with a single change of clothes, and running shoes. His gloves and neck warmer had been stolen days earlier.
"I didn't even know what this place was, but then I started seeing the other people who had been staying here a month. I saw how health they looked and it blew me away at how good this camp had been to them," he says.
While there are currently 17 clients at the camp – there are nearly 350 people under-housed in Yellowknife.
The N.W.T. does not have an in-patient residential treatment centre, but the territorial government says the construction of a permanent wellness and recovery center will begin in 2024.
Wright says the main concern with previous addiction supports he has accessed is the fact that they're based in Yellowknife's downtown core and in the heart of so many triggers for those living with addiction.
"I've been to treatment a few times but I was always missing something like they never went deep enough. Here they are going a little bit deeper, but they aren't telling me what to do they are just showing me, through the classes and one-on-one counselling," Wright says.
---
He's connecting with Elders Menacho, who has walked a mile in his shoes without a place to live.
Now in recovery, Menacho leads pathfinders (sober support staff with lived experience) in the delivery of a managed alcohol program.
"Now you see that it's stretched, it's not every three hours, it's every six hours or seven," Menacho says.
"A few of them, my friends, today don't drink and they are saying 'we don't want it any more we want to be on-the-land and reconnected with ourselves.'"
Clients also have a say in the camp environment and determine the necessary action when their peers step out of line and break camp rules.
"They don't like saying no but when it's a safety thing, it's a majority," Menacho says. "They will say 'you can come back,' other times they will say 'no' and it's very hard to deal with those things but they take responsibility."