IRC First Nations meet outside Calgary to discuss buying Trans Mountain pipeline project
Amid the on-going fight to stop the Trans Mountain Pipeline expansion from being built, some Indigenous leaders are discussing a plan that would potentially make them owners of the controversial project.
Members of the Indian Resource Council (IRC) are meeting at TsuuT'ina Nation, outside Calgary this week for the meeting.
IRC represents over 130 First Nations across Canada that have oil and gas interests.
"It's an opportunity to find ways that some of our communities can get out of poverty," says IRC CEO Stephen Buffalo.
Last summer the federal government bought the pipeline for $4.5 billion but says it does not want to be a long-term owner.
The project is now delayed after the Federal Court of Appeal stated there needs to be more consultation with Indigenous people.
Now, the IRC says most of its members want to buy the pipeline and make it 100 per cent Indigenous owned and operated, bringing in more jobs and economic opportunity.
"In saying that, we have to start consulting with each other," Buffalo said, "We definitely honour and respect the three tribes on the coast with their position as they brought to attention Kinder Morgan and the federal government. But now that's hurting our communities here."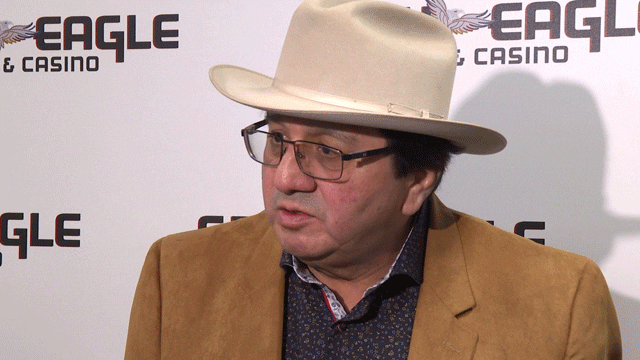 (Chief Roy Fox)
The Kainai Nation south of Calgary has been involved in the oil and gas industry for seven decades.
Chief Roy Fox is also an IRC board member. In a letter to Prime Minister Justin Trudeau, he stated the differential-related cuts and lack of pipeline capacity and proposed restrictive legislation such as Bill C-69 will cost every family on his reserve approximately $1,400 per year.
"If Bill C-69 and C-48 goes through, I don't think you will see any pipeline," Fox said. "If these two bills go through in their existing form, they're deal killers."
The federal bills were also attacked by Alberta Energy Minister Marg McCuaig-Boyd.
"I think Bill C-48 should just be put away until they can consult with First Nations," she said. "C-69 … as it stands now, it's not only insulting and ridiculous to Alberta, it just will not work, so there needs to be some changes."
But Indigenous communities interested in taking an equity stake in the pipeline are being warned they should wait until after its built to avoid risk, says Barrie Robb, a principal with Fivars Consulting Ltd. of Calgary.
Taking an ownership stake in a major energy project can deliver significant rewards, said the consultant who helped broker a $545-million investment by two northern Alberta Indigenous communities in a Suncor Energy Inc. tarands storage tank farm in 2017.
Industry is a more reliable partner than the government ever has been, he added.
"If First Nations don't take control of their lives, who will?" Robb said.
"If the CPP Investment Board, big pension funds, the big life insurance companies, are interested in that kind of a project, why shouldn't the First Nations be in there as well? It's the same objectives, the same concerns and the same kinds of returns."
(Anti-Trans Mountain Pipeline rally on Parliament Hill May 22, 2018)
Fox said he also wouldn't recommend buying equity in the pipeline now because of regulatory obstacles that could stand in the way of its expansion project.
"As it stands now, we would not invest. If it was a sure thing, maybe."
Trans Mountain CEO Ian Anderson said he is focused on getting the pipeline expansion built.
"There is no project to invest in at this point," he said in a speech. "I've got to get (regulatory) certificates, we've got to get to work. We've got to start building this national-interest project and that's what I remain singularly focused on."
Buffalo said he is committed to using energy resource development to support prosperity on Canadian reserves despite "Facebook warriors" who have branded him a "sell-out" on social media.
"You think you're trying to do good for the people but some people, they just don't understand this industry and they don't understand our end game," he said.
"Our end game is not to own a pipeline, it's Indigenous ownership (of resources)."
The last day of the meeting is Thursday, January 17. The best plan will be selected and presented to Ottawa in the coming months.
-with files from the Canadian Press