Inuk runner's trip on hold as Canada declines to accept Nunavik ID for passport application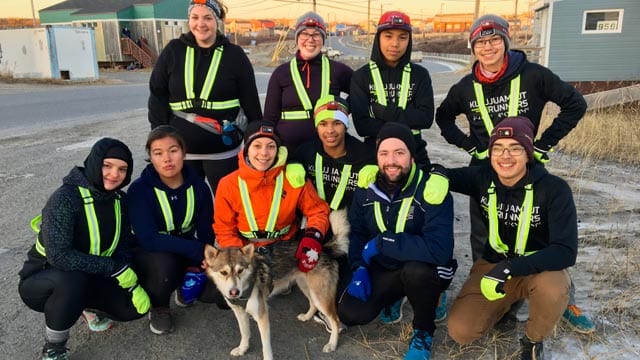 A 16 year old Inuk's trip to run a half marathon with her classmates in the Cayman Islands is on hold because her Makivik issued identification was not accepted by Citizen and Immigration Canada.
Sarah Angnatuk, from Kuujjuaq, Que., was denied a passport renewal last week because she used her beneficiary card as supporting documentation required to apply for an adult passport.
The beneficiary card is issued by Makivik Corporation, the legal representative of Inuit from Nunavik, their territory in subarctic Quebec.
Citizenship and Immigration Canada (CIC), the federal body responsible for issuing passports, demands a supporting document that is a photo ID  "issued by a federal, provincial/territorial/state government authority or equivalent abroad."
In an email to APTN News, Sarah Angnatuk expressed frustration over the situation.
"We are in a remote area and don't have any other ID's."
Kuujjuaq is a fly in village of a little under 3,000 people located 1,400 km north of Montreal near Ungava Bay.
There is no department of motor vehicles to get a driver license.
Angnatuk's provincial health card has no photo because she is not an adult yet and her previous passport was a children's passport, and according to CIC regulations cannot be used to apply for an adult passport.
What upsets Angnatuk the most is that the refusal of her passport might cost her a trip with her running club.
"I was sad thinking that I wasn't going to Cayman Islands," wrote Angnatuk.
Angnatuk and the Kuujjuaq Running Club are scheduled to run a half marathon in the Cayman Islands on December 2nd.
The Running Club is a successful Nunavik wide high school initiative that uses trips to exotic locations to encourage its participants to stay in school and lead healthy lifestyles.
Shannon Thompson is a local high school physical education teacher and has been the head of the club for the last three years.
She takes care of most of the travel arrangements and hasn't had problems using the Makivik card as the required photo ID in the past.
Thompson said she's been trying to sort out Angnatuk's passport issues by enlisting the help of Makivik Corporation.
She said having turned 16, Angnatuk now needs an adult passport, which is complicating the situation.
"Maybe the beneficiary card is acceptable for a child's application, but not an adult's application?," said Thompson in a phone call with APTN.
"But then if that's not the case, we still have the issue that some applications are being accepted and some are not."
A spokesperson for Makivik Corporation said that they have spoken with CIC and that Angnatuk's situation has been resolved. But Makivik declined to comment further about how CIC will deal with future adult passport applications using the Makivik beneficiary card.
CIC did not get back to APTN with comment in time for deadline.
Meanwhile Thompson said she was contacted by CIC Monday morning asking for Angnatuk's health card and was given the impression that once submitted the passport will be issued. What frustrates Thompson is that she says the health card was in the original application that was refused.
"Maybe they need to come up north and live it for a little bit, see the reality , so that they can help us better," said an exasperated Thompson "Or maybe training needs to be better, maybe mandatory training because it seems that the beneficiary card is sometimes accepted and sometimes not."