Inuit ask premier to halt imminent flooding of Muskrat Falls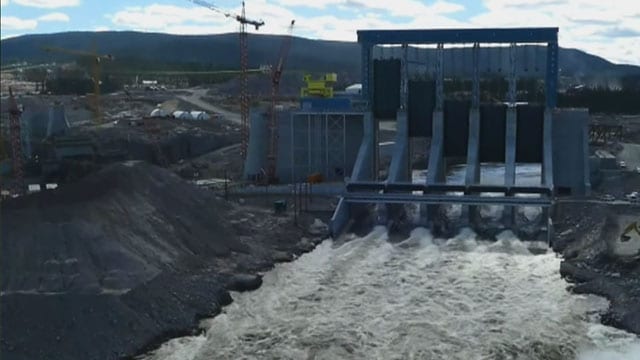 Inuit leadership in Labrador is calling on the province to halt the flooding of the Muskrat Falls hydro project reservoir until concerns around mercury contamination of fish and traditional foods are addressed.
On Monday, Nunatsiavut Government President Johannes Lampe issued a statement asking Newfoundland and Labrador Premier Dwight Ball to direct crown corporation Nalcor Energy to delay flooding the controversial dam's reservoir until mitigation measures recommended by experts are implemented.
Nalcor has stated that it intends to begin flooding on Aug. 7.
"Our concerns over methylmercury contamination are real and must be addressed before the reservoir is flooded," Lampe says in the statement.
"The Premier and the Government of Newfoundland and Labrador have done very little to ease our concerns over the potential impacts of Muskrat Falls on our health, culture and way of life."
Muskrat Falls has been contested by Innu and Inuit in Central Labrador. In 2016 protests against the project intensified to blockades and a four-day occupation of a worker's accommodations complex on the worksite.
While the Innu Nation, which represents the two Innu First Nations in Labrador, has signed agreements with the federal and provincial governments permitting the project to proceed, the province's two Inuit groups have opposed Muskrat Falls in the courts and on the ground.
Protests in 2013 and 2016 resulted in civil and criminal charges against dozens of Indigenous land protectors, including elders, youth and clergy members.
Elders and one grandmother were flown out of Labrador and jailed in a maximum security prison in 2017 after refusing to promise a judge they would stay away from the Muskrat Falls site.
Some land defenders are still fighting charges in the courts.
Ball convened an emergency meeting in October 2016 during the Muskrat Falls occupation, where he and Indigenous leaders agreed to form an Independent Expert Advisory Committee (IEAC) to review the project's proposed impacts on traditional foods and Indigenous peoples' health.
A 2016 peer-reviewed scientific study led by researchers from Harvard University projected that flooding of the dam's reservoir would lead to increased levels of methyl mercury in traditional foods like fish and seal, exposing Inuit to unsafe levels of the neurotoxin.
Nalcor's own research and some scientific advisors of the IEAC have disputed the scientists' findings.
The corporation projects only minor increases in methyl mercury and has pointed to results from the first stage of reservoir flooding, which it says shows no increases in methyl mercury levels, to dispute the Harvard science.
In April 2018 the IEAC issued a set of recommendations based on input from scientists and Indigenous knowledge keepers that included removing soil from the reservoir prior to flooding to reduce the risk of mercury contamination.
The committee also recommended wetland capping as another mitigation measure.
Despite pressure from Indigenous groups in Labrador, more than a year later Ball still has not announced his government's response to the recommendations.
Innu representatives on the IEAC voted against the soil removal option, citing scientific opinions that removing soil could in fact increase mercury output.
Ball has cited Innu opposition to the soil removal option in his hesitation to follow through on the recommendation.
But all Indigenous groups supported the wetland capping option, which Nalcor subsequently earmarked $30 million for.
Despite the consensus around wetland capping, government failed to approve an application by Nalcor in July 2018 to amend permits and approve the mitigation work.
During a hearing last month at a provincial public inquiry into Muskrat Falls, Ball admitted his government's failure.
Nalcor has said it's now too late to undertake the work prior to flooding the dam's reservoir.
Ball referred to the IEAC's prediction that wetland capping would produce minor results as "intangible," but noted he was prepared to approve the measure to alleviate anxiety among residents downstream of the dam.
"It's been increasingly frustrating for me when I found out we could not do wetland capping simply because that permit was not approved."
He said he was not made aware by officials of Nalcor's application to undertake wetland capping.
"We have asked the Premier repeatedly to respond to the recommendations," Lampe said Monday. "He has refused to do so, which leads one to believe that there was never any intention to follow through with the commitments that were agreed upon in October 2016."
Last week a spokesperson for the province's Department of Municipal Affairs and Environment, which was responsible for processing Nalcor's application for wetland capping, said in a statement to APTN News, "[r]egardless of any oversight, the priority has always been to ensure that we protect the health of local residents in Labrador."
The department said the results of water monitoring to date "have not demonstrated the type of risk that would necessitate physical mitigation (i.e. soil removal or wetland capping)."
But Lampe says monitoring is not enough.
"We are extremely disappointed with how the premier has handled the whole Muskrat Falls fiasco," he said.
"He has repeatedly betrayed our trust by refusing to address our concerns, opting instead to place the health, culture and way of life of Labrador Inuit at risk.
"In the spirit of reconciliation, we call on the Premier to do the right thing and direct Nalcor not to flood the reservoir until the concerns of Labrador Inuit are meaningfully addressed."
A request for comment from Ball on Nunatsiavut's letter was not returned by the time of publication.