People in Innu community of Pakua Shipu searching for clues about missing children
---
Mari Lalo has never been able to find the words to express her pain.
Instead, she puts her sadness into making baby moccasins for the son she lost.
"I never saw his body, they only told me that he had died," she tells APTN's Nouvelles Nationales in an Innu language interview. "They never brought him back to me."
Lalo isn't the only one to have lost a child after entrusting them to Quebec's health care system.
From the late 50's to the 70s, it's estimated that 200 First Nations children died or went missing after being transported to hospitals without being accompanied by their parents or guardians.
Going back to the 1960s, ten children from Pakua Shipu, a fly-in only community vanished after being sent to hospital.
Families are taking comfort by talking to each other.
Recently, the Atikamekw Nation hosted a healing gathering for First Nations families who lost a child who are known as "ghost babies."
Lalo wanted to attend the gathering, but her remote community of Pakua Shipu, located on the north shore of Quebec near the Labrador border is more than 1,000 km away.
She sent her daughter instead – along with the moccasins.
Thérèse was three when her younger brother Robert was flown from the community.
"This one time, I woke up abruptly… and I felt like, something was missing," she says.
Thérèse says she remembers there was an empty cradle.
That was back in June of 1972.
The only way to leave Pakua Shipu is by boat or plane. Robert was flown alone, 110 km east to Blanc Sablon alone after he caught pneumonia.
The family never saw him again.
As for the nine other stories in the community in this community of 300, the details occasionally differ but the end result is the same.
Jerome Mestenapeo and Agnes Mestenapeo were married in 1964.
Eight years later, in 1972, she gave birth to a girl in a traditional tent.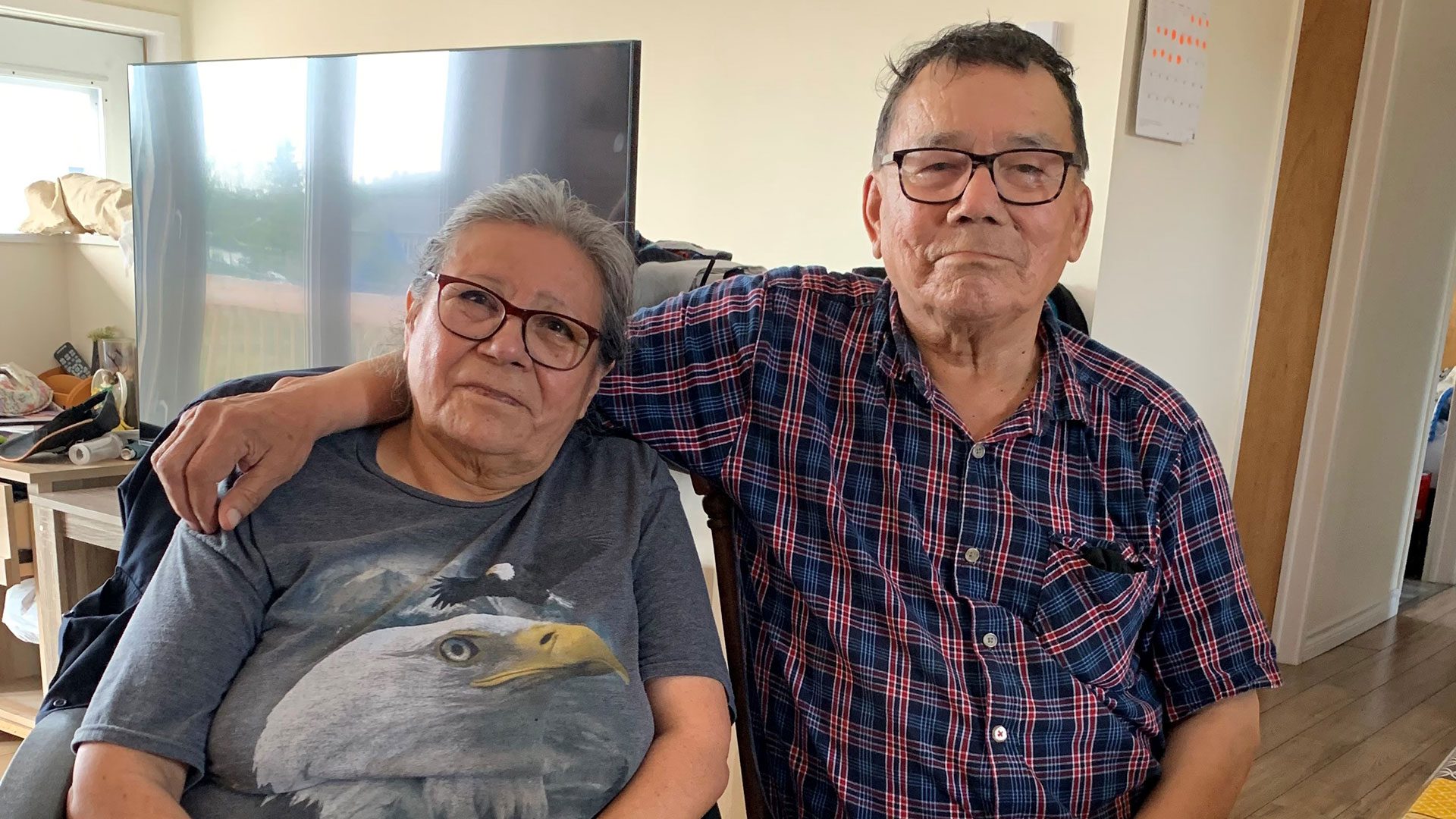 ---
A week after her daughter's birth, a nurse came to examine the newborn.
"So she's examining, she's touching her around the throat. She was doing fine, my daughter, after she was born, she slept well and ate well," says Agnes.
"The nurse left with my daughter to bring her to Blanc-Sablon."
Agnes says she had confidence in the nurse – who she saw as an authority figure.
"I wasn't able to stop them. I didn't understand what was going on. I'm not very educated, I only speak a bit of English," she says. "Today I regret letting her take my daughter."
Agnes says the nurse spoke harshly to her during the visit.
She suspects the nurse wasn't happy that she gave birth without the nurse's assistance.
Three months after the newborn was taken, Mestenapeo says she was told that her baby had died.
"They told me she died by choking on her own vomit, and I never saw her body, not even a photo of a funeral ceremony," she says.
But her loss doesn't end there – there was a second child.
This time she went to Blanc Sablon to give birth and says she was heavily medicated during labour.
When she woke, Agnes says hospital staff told her the girl died at birth – and was given the name Sophie by staff.
"For Sophie, they told me she died at birth, but I am unable to remember if she was alive or dead because they put me to sleep to give birth," she says.  "I am unable to remember properly.
"I find it shocking that they didn't show us or return the body or tell us [right away] that she was deceased."
---
Read More: 
Families of 'ghost babies' in Quebec vows to continue search when new law comes into effect
---
In 2017, the National Inquiry into Missing and Murdered Indigenous Women and Girls shed a light on many stories like these.
Without a death certificate or proof of burial, many are left asking if their child even died – or where they adopted into non-Indigenous families?
Dead or alive, families all want information about their missing children.
The province of Quebec is going to make it a little easier with the passage of what is called Bill 79, an "Act to authorize the communication of personal information to the families of Indigenous children who went missing or died after being admitted to an institution."
According to the government, the law will make access to medical documents easier – and puts the onus on Quebec health officials to assist with any requests families may have.
For now, the question for some is deceptively simple.
"This is how I feel, is he dead or is he still alive? Mari Lalo asks.
The law comes into force Sept. 1 and the search will truly begin for many of these families.