Inmates learn the ins and outs of trapping, skinning a pelt in North Slave jail
---
The last thing Roy Inuktalik skinned was a polar bear back home in the Inuvialuit community of Uluhoktuk, Northwest Territories.
Admittedly, skinning squirrels is a bit of an adjustment, but nonetheless, he enjoys the change of pace, bringing the outdoors – indoors to pass the time.
"I started hunting when I was five years old, and I have been on it ever since. I don't think I could ever stop. I can't live without native foods," Inuktalik says. "Foxes rabbits, muskox, caribou, seals, fish, anything with four legs and a heartbeat basically."
Inuktalik is one of half a dozen inmates attending drop-in land-based educational programming at the North Slave Correctional Complex in Yellowknife.
Carl Williams, a long-time trapper and program instructor shares outdoor stories of the past and the economics of trapping in the north since the 1970s.
As he expertly turns a fox pelt inside out, he makes suggestions on how to enhance revenue at auction by pinning the animal's ears back, brushing out the fur and sewing up any rips.
He's eager to pass along knowledge the same way it was provided to him, from trapper to trapper – tips and tricks folks one should know before going to auction
"This is a city fox, so it's fatty and it ate well," says Williams identifying the demonstrative pelt he tends to. "It also doesn't have guard hairs in its fur. Was probably living someplace warmer, like under a building."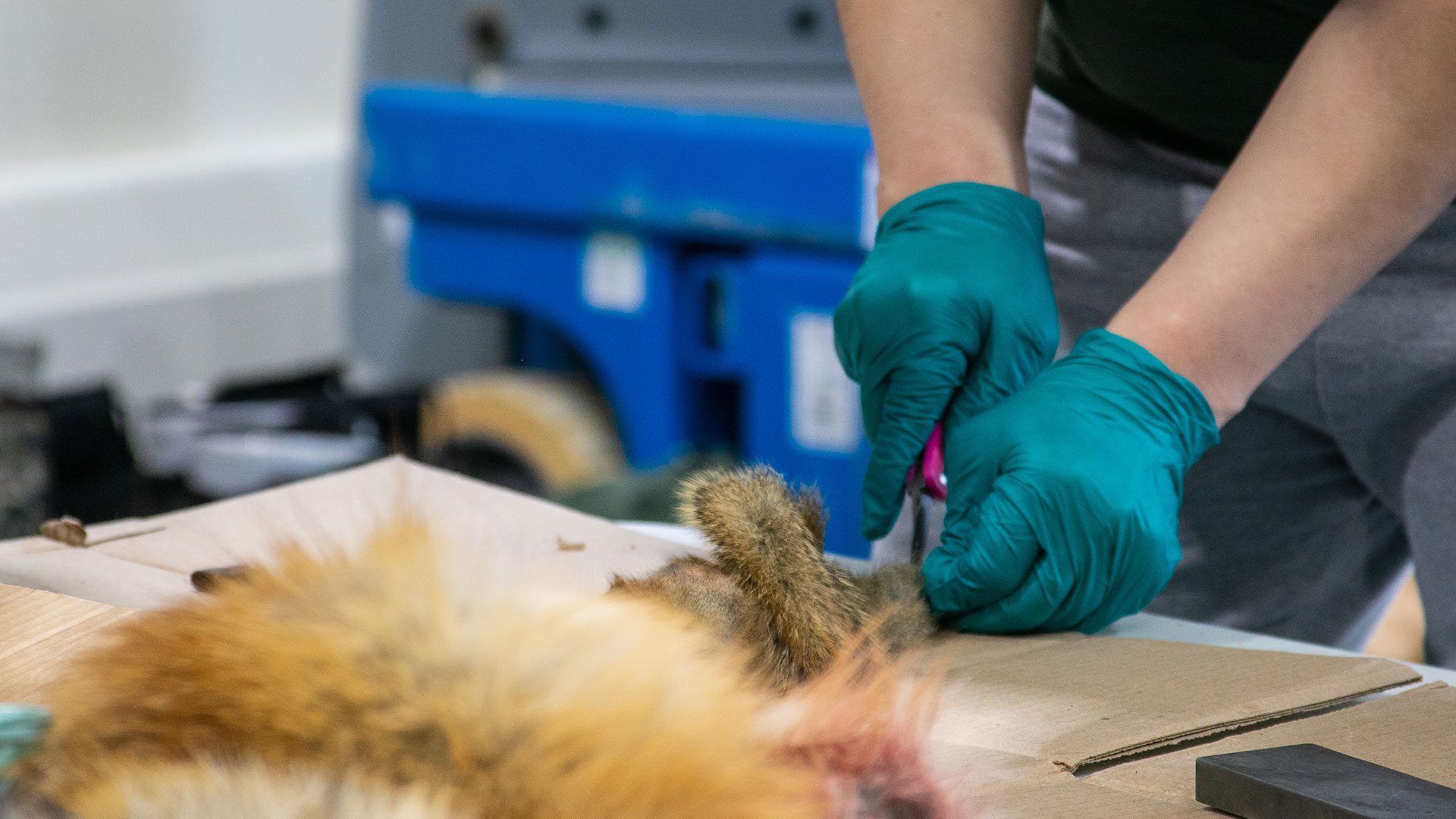 ---
The outdoor program has been in operation for more than a year at the jail.
It runs on a five-to-six-week cycle with in-class sessions on trip planning and survival and another on economics and regulation around trapping.
Then depending on the season there's the practical hands-on portion such as machine repair, shelter building and skinning animals and filleting fish.
It's also a chance for inmates to get some fresh air.
Inuktalik volunteers to build a fire for students to make bannock on a stick, and almost everyone jumps at the opportunity for the lighthearted lunch.
"I'm helping our traditional counsellor set up all the events like this. We shovel out in the front and get snow off the walkway there and we make fires for making tea and coffee," Inuktalik says.
Many of the participants are Indigenous, a demographic overrepresented in northern institutions.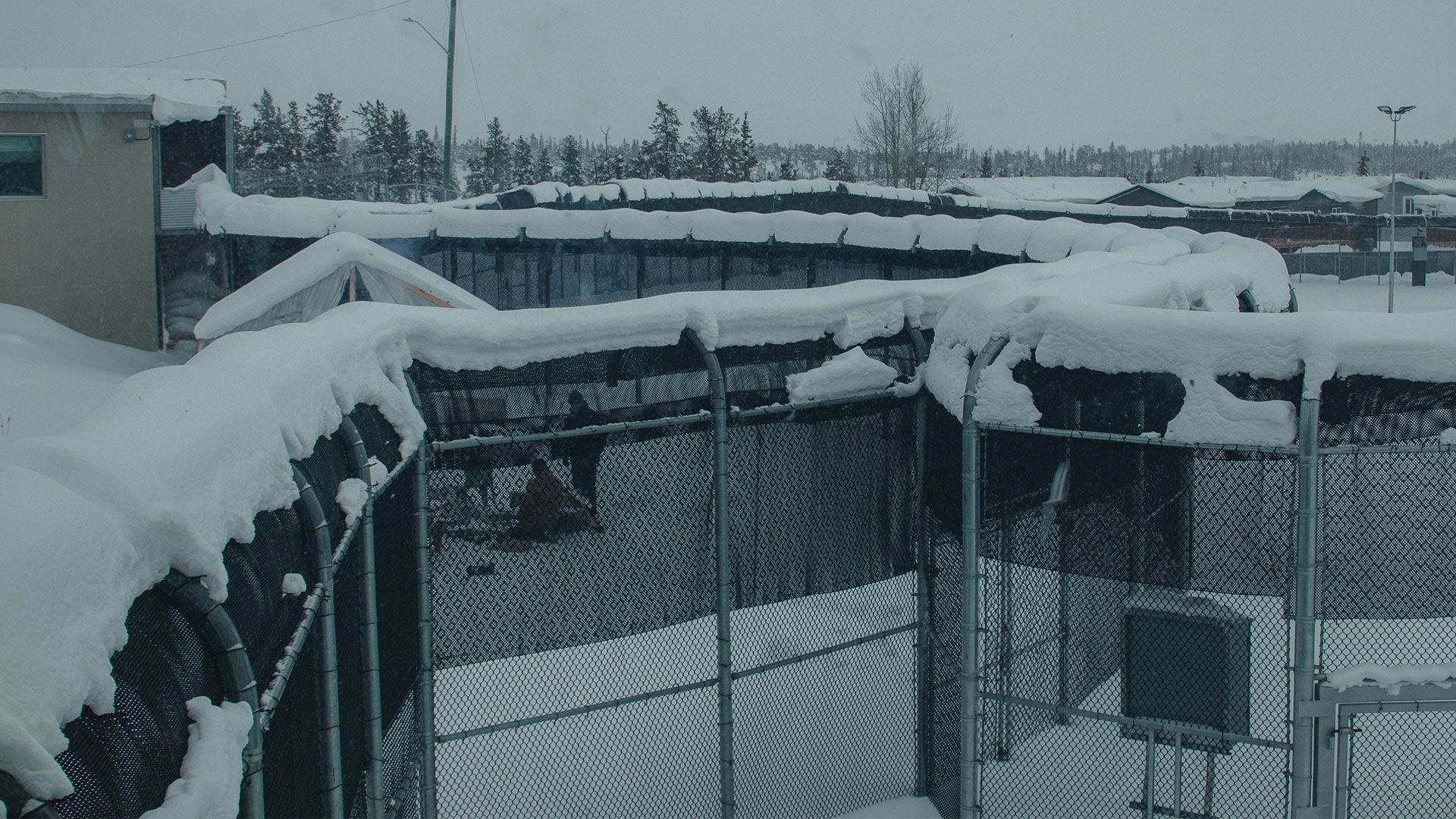 ---
According to a 2020 annual report by the territory's Department of Justice, 83 per cent of men incarcerated in the N.W.T. are Indigenous, despite only making up 50 per cent of the territory's population.
That number dropped during the COVID-19 pandemic as jails released "low-risk" offenders nearing the end of their sentences.
In the N.W.T. there are no federal prisons, instead, there are three jails. One in Yellowknife, Hay River and Fort Smith. Most of the people behind bars are in remand custody, awaiting trial or sentencing.
Dean McNeely, of Fort Good Hope, N.W.T. didn't grow up on a trap line, but he says his dene roots include a history of being involved in the fur trade.
As he concentrates on skinning, he says the program feels reminds him of home.
"It wasn't really hard, I was actually helping someone else after and it was pretty easy," McNeely says. "Learning my culture and having a good experience, I liked it and I would still try it back home too."
The program is also facilitated by Environment and Natural Resources (ENR) Instructors including Danny Beaulieu, a seasoned trapper from Fort Resolution.
"You can legally dispose of fur-bearing animal carcasses, but we use to just keep the carcasses of marten and would get close to 300, because when you're catching that amount of animal you start running out of your common bait like rotten fish," Beaulieu said.
---
The department offers support to trappers through the Genuine Mackenzie Valley Fur Program which brings N.W.T. hunters and trappers' goods to the international fur auction market.
Vincent Casey, education outreach coordinator with ENR has been teaching at the jail for the last 12 years and says the hope is to provide inmates with a potential source of income upon release.
"It's a low barrier to entry and if you can get some help with traps and get out and go then if it's a source of income for people, especially when you first get out," Casey says,
Equally as important, Casey says the program is geared towards building confidence, as participants with trapping experience teach those picking it up for the first time.
"They think 'I am an expert at something. I can do this better than a lot of people and I can share my knowledge,' and I think that can be filled very empowering for the individual," he says
Inuktalik says he's grateful to keep his skills sharp and when he is released later this year he plans to trap for some income while reconnecting with family by bringing his three daughters on the land with him.
"It keeps me calm and actually makes me feel like I'm worthy again," Inuktalik says. "I enjoy anything out on the land because it helps keep the tradition alive and pass on knowledge from generation to generation."