Indigenous woman asks AMC to investigate grand chief's behaviour; chief denies claim
"If we don't come forward, we're enabling them."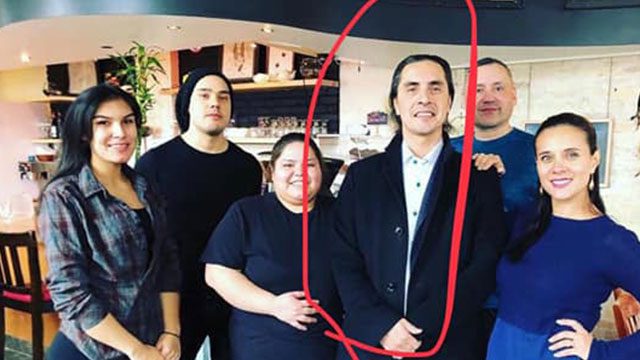 An Indigenous leader who praised the #MeToo movement for exposing sexual predators has been accused of sending unwanted messages to a young Indigenous woman.
The allegations surfaced on Facebook against Arlen Dumas, grand chief of the Assembly of Manitoba Chiefs (AMC), a lobby group representing all 63 First Nations in the province.
Dumas denied the allegation.
"These posts are not mine and appear to have originated from a fake Facebook account," he said in a statement emailed to APTN News.
"Posts of a screenshot appearing to show some texts from my cellphone are also not mine, but a spoof text."
However, Bethany Maytwayashing said she believed it was Dumas who texted her.
The 22-year-old said she first met Dumas at the downtown Winnipeg restaurant Feast in February 2018, where she worked as a waitress.
She said they posed for a photo.
She said he connected with her on Facebook afterwards using his personal account and they chatted about her job.
Then last week, she said she received a message from someone called Charles Forbes asking playful questions.
"Hello my friend. I'm trying this thing out, how are you?" said the first message, which she ignored.
The next day, another message said: "Bethany."
(Bethany Maytwayashing in an interview with APTN News July 9. Photo: Holly Moore/APTN)
---
It was hours later when Maytwayashing, the mother of a 12-month-old boy, responded, "Who's this?" and "Idk (slang for 'I don't know') who you are."
Forbes then provided clues to his identity.
"You totally do…Sometimes I have feathers in my hair…I might have been on the news once or twice."
---
Maytwayashing guessed two names, including that of her boyfriend, Matthew Shorting.
Then Forbes reminded her about the meeting at the restaurant.
"OK, when we first met at Feast you were a student. And we took a selfie," he wrote. "So you still don't know?"
"Arlen?" she answers.
"Yes," the poster responds, adding, "Man you are good haha."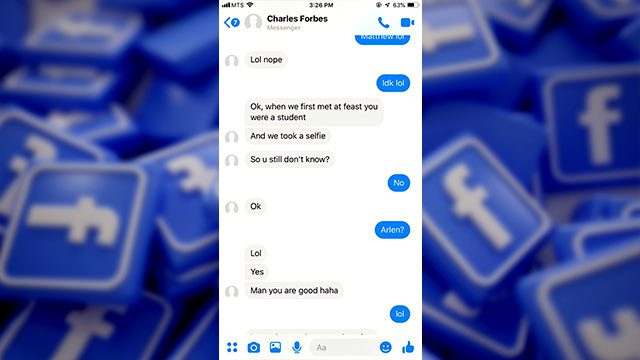 ---
"Forbes", the sender, asked for her number and promed to follow up with a text.
Later, on July 4, he messaged again, asking, "When can we meet up?"
Maytwayashing said she didn't reply.
---
She told APTN she received more texts later to a phone number visible on her Facebook Messenger account she believed came from Dumas.
An anonymous source confirmed to APTN the texts came from a phone number used by Dumas.
She said the texts made her feel "uncomfortable" because it appeared Dumas wanted to meet privately – and she "doesn't even want to think about what for."
Her boyfriend, Matthew Shorting, posted the unsolicited exchange on Facebook this week.
"This is your Grand Cheif. Messaging my girlfriend after hours, asking to hang out. Right after the National Inquiry Into MMIW," Shorting wrote.
"He's double her age. Is this not luring to exploit our young indigenous woman? You tell me?"
APTN found two Charles Forbes' accounts on Facebook without a profile picture, locked down in privacy mode so as not to reveal their friends or activities.
Dumas is in his mid-40s and the third year of his term as grand chief.
He said in the statement to APTN Wednesday the posts to Maytwayashing were not from him.
"I want to condemn whoever has created this false account," he said.
"By attacking my credibility as the Grand Chief and reaching out to this young lady in this manner, they have caused unwarranted stress for her, her family and her partner. It is a cowardly attempt to discredit my reputation. This account was not my account nor was it created by me; neither were these comments from me."
Dumas declined to be interviewed in person or over the phone.
He noted the posting and sharing of the messages "is defamatory" and vowed to "get to the bottom of who is behind this," adding he has sought legal advice.
Meanwhile, the AMC and Dumas have been vocal about the growing number of missing and murdered Indigenous women and girls in Canada.
He invoked the #MeToo movement and disgraced Hollywood mogul Harvey Weinstein when he welcomed the National Inquiry into Missing and Murdered Indigenous Women and Girls to Winnipeg on Oct. 16, 2017.
"It's alleged that he has spent his whole career sexually harassing and assaulting young women," Dumas said of the movie director.
"It has dominated the weekend's news cycles. And, on Twitter, men have started to hashtag '#ibelieveyou'.
(Arlen Dumas appearing before the House of Commons' Indigenous Affairs committee in May 2019)
---
"Well, I believe you," he added in his speech.
"I believe the stories that are going to be shared here this week from the families and survivors," Dumas continued, "and it is my hope that together we can change what it happening in Canada to our sisters, mothers, daughters, aunties, grandmothers, nieces, cousins and friends.
"It's up to all of us to stand together and protect our women and girls, so we won't have another inquiry like this one," he said.
The inquiry, which was established by the Trudeau government, wrapped up June 3 after spending nearly three years and $100 million investigating the root cause of violence against Indigenous women and girls.
It concluded colonization – perpetuated by Canada's social and justice systems – is a genocide on female members of the Indigenous race.
The inquiry's commissioners said they could not tally an official number of missing and murdered Indigenous women and girls, which stands at a minimum of 1,200.
Maytwayashing called on AMC to investigate the grand chief's behaviour.
"I was hesitant to come forward," she said, noting some people have already accused her of lying on Shorting's Facebook post.
"If we don't come forward, we're enabling them," she added in an interview, "and they'll continue doing what they're doing."
It's similar to what a Toronto-area doula said happened to her.
Shannon Jennifer said Dumas contacted her through Facebook in 2016.
According to divorce files, Dumas was staying part-time in Toronto at that time and was chief of Mathias Colomb First Nation in northern Manitoba.
"I'd never met him," she said. "He asked me if I wanted to go see a movie. I never replied. I was married."
Jennifer said for about a year she would get random occasional messages from Arlen Dumas' Facebook account on Messenger. Things like  "beautiful pics" or simply "have a good day."
"He repeatedly messaged me without reply from me, that was the creepy part," said Jennifer, who was 37 at the time and wasn't offended by anything he said, just that a man unknown to her was persistent in reaching out to her despite her not replying.
"I kept deleting the messages because I wasn't interested," she said. "My now-ex saw the messages and it caused quite a problem at the time."
The messages stopped, she said, when he became AMC grand chief in 2017 and deleted his personal Facebook account.
---
Marilyn Courchene, a former band councillor on Sagkeeng First Nation, said Dumas should resign.
"Geez yet here we are struggling for Justice on the #MMIW," she said on her Facebook page.
"Shame on the Grand Chief. He needs to step down from public office of AMC. ASAP !!"
Courchene said the AMC Women's Council should meet to discuss the allegation.
Francine Meeches, chief of Swan Lake First Nation who chairs the council, agreed.
"This drama thats been put out there puts people such as leadership in tough situations," she said in a message to APTN.
"I can't make an opinion about it because we have to have facts. Not going on hear say.
"Im not making excuses for anyone," Meeches added. "Until i have an opportunity to meet with our female leadership then i will have to put forth our statement if need be. However i need to discuss this with them first n foremost."
Meeches said the Women's Council planned to meet Wednesday afternoon.
READ MORE:
#Metoo movement in Indian country is out there – but it's under cover
Actor Duane Howard admits to sex with teenager – she says it was violence, he says there was consent
With files from Dennis Ward, Beverly Andrews, Holly Moore and Melissa Ridgen