Wet'suwet'en chief wants Nation to come up with own solution in pipeline dispute
Indigenous peoples and their allies are reminding Canada they are a force to be reckoned with.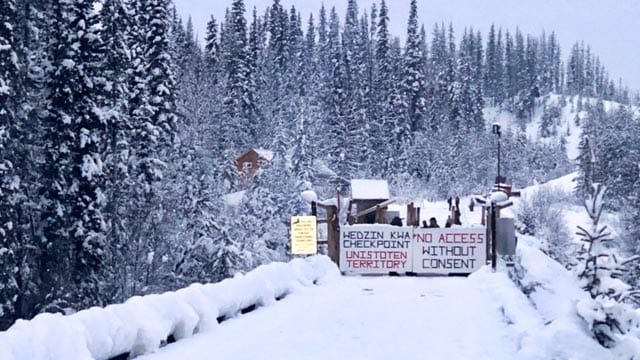 A hereditary wing chief is continuing to speak out about the impact on the Wet'suwet'en people in the wake of a pipeline dispute.
Despite solidarity actions blocking rail lines, government offices and road intersections across Canada, Andrew George remains concerned.
"The recent conflict between the RCMP and the professional protesters, who wrongfully use Wet'suwet'en ancestry as the means to advance their agenda, are putting Wet'suwet'en community members at risk," said George, of the Gidimt'en Grizzly House within the Wet'suwet'en Bear Clan.
George proposed an all-clans meeting at the beginning of the week to resolve the ongoing crisis in Wet'suwet'en traditional territory.
News spread quickly that a meeting was being arranged for mid-week but various spokespeople described it as a feast instead of an all-clans meeting.
"Wet'suwet'en people have strong cultural values," George added in a release to APTN News Friday.
"We stand together, all clans, and work together when there is a threat to peace, safety and security."
George said he wants to see the clans come together and resolve the disagreement themselves rather than have a solution imposed upon them.

(Andrew George is a hereditary wing chief of the Gidimt'en, Grizzly House, within Wet'suwet'en Bear Clan. APTN file)
"The effects of this conflict have spread far beyond Wet'suwet'en territory throughout British Columbia and Canada," agreed former area NDP-MP Nathan Cullen, who was appointed a provincial liaison for the hereditary chiefs who oppose the pipeline.
He said their two days of talks that broke off before the RCMP moved in to enforce the pipeline company's court injunction on Feb. 6 bore some fruit.
"The talks were unsuccessful in the larger goal but maybe laid the foundation for something the province and the Wet'suwet'en can work on right now."
Already a meeting is set between area hereditary chiefs of the Wet'suwet'en and neighbouring Gitxsan nations and provincial and federal ministers through the long weekend, said a letter from the prime minister's office.
"As you know, our government has been clear that there is no more important relationship to me and to Canada than the one with Indigenous peoples," Justin Trudeau wrote.
"In this spirit, I can confirm our government's participation at a joint meeting …to engage in dialogue on how the current impasse over pipeline development arose, to discuss the current situation and to seek a process that avoids such situations in the future."
RCMP are more than a week into enforcing a court injunction to clear Gidimt'en and Unistot'en people and their supporters from protest camps in pipeline construction areas south of Houston, B.C.
Calgary-based TC Energy Corp. is building the $6.2-billion Coastal GasLink (CGL) across northern B.C. The pipeline will transport fracked natural gas from northeastern B.C. along a 670-km route to the $40-billion LNG Canada liquefied natural gas export terminal under construction at Kitimat on the West Coast.
"We're extremely disappointed enforcement was required to reopen the Morice River forest service road," CEO Russ Girling said in a conference call Thursday.
"But we will continue our efforts to attempt to engage with the hereditary chiefs…in search of a peaceful long-term resolution that benefits all of the people in that community."
The company has met regulatory and environmental guidelines and signed pipeline benefit agreements with all 20 elected First Nation band councils along the route – including with five of six elected councils in Wet'suwet'en Nation.
But Cullen said those chiefs and councillors have been shut out of the present debate in exchange for money and jobs.
"Typically, in these agreements with band councils, the company or the province – depending on who's doing the negotiating – also include what we refer to as a non-disclosure clause. That means, once signed, the band council can't talk about it."
Cullen said it's wrong to view their silence has approval.
"The agreements are also often portrayed as being those band councils in support of the project itself," he added.
"Sometimes that's true. Often times, though, there is an understanding at the table that the band council or the nation might be opposed to a particular project – a mine or a pipeline – yet the company and the province will say, 'Well, it's good responsible government to negotiate any kind of benefits regardless of your opposition in case the project goes ahead.'"
In this case, he said those agreements have been used to sow or portray division between elected and hereditary members of the nation.
Meanwhile, Ry Moran of the National Centre for Truth and Reconciliation in Winnipeg said the country is going through necessary growing pains when it comes decolonizing its approach to Indigenous rights.
"This is really what reconciliation looks like," he said Friday, referring to the blueprint outlined by the final report of the Truth and Reconciliation Commission of Canada in 2016.
"Reconciliation is not easy. It is frequently messy. And what we are trying to do, of course, is recognize and reconcile Canada's occupation of Indigenous lands."
Moran said Indigenous peoples and their allies are reminding Canada they are a force to be reckoned with.
And while the country is struggling to get its bearings, he said a framework already exists in the United Nations Declaration of Rights of Indigenous Peoples, which has been endorsed but not adopted by Canada and formally implemented by B.C. 

(Dale Swampy is president of the National Coalition of Chiefs. APTN file)
"That's really at the heart of this current matter," he said. "Recognizing and affirming different levels of governance, ensuring that the right parties are talking to one another, and ensuring that Indigenous rights are being upheld."
Dale Swampy, president of the National Coalition of Chiefs, suggests this isn't the first and likely won't be the last dispute of this kind.
"We believe there are as many as 400 chiefs across the country that want to work with the natural resource industry – including alongside the CGL pipeline right-of-way," he said from Alberta.
"People who are opposed to the project – even though we respect their position on the matter – should respect the fact that the majority of the First Nations support the project through their elected officials."
There are 634 First Nations in Canada.
But Swampy expressed doubts it's First Nations people who comprise the majority of pipeline protesters.
"I don't think they're Indigenous," he said. "People in our communities around Calgary have been offered money to protest on the streets of Calgary and the streets of Vancouver."
APTN has not been able to verify this claim.
Swampy said some were promised $300 a day and up to $500 if they wore a headdress.
"They choose people who are disenfranchised, who have no job, no education, are in poverty, collecting welfare," he said.
"It's a real concern for us that these corrupt environmentalists are taking advantage of our poor people, putting them in front of RCMP."
With files from Dennis Ward
Correction: A previous version of this article used the words "Gidimt'en clan" to refer to the neighboring nation. It is Gitxsan.