'Indigenous peoples must be able to thrive,' Trudeau says on International Day of the World's Indigenous Peoples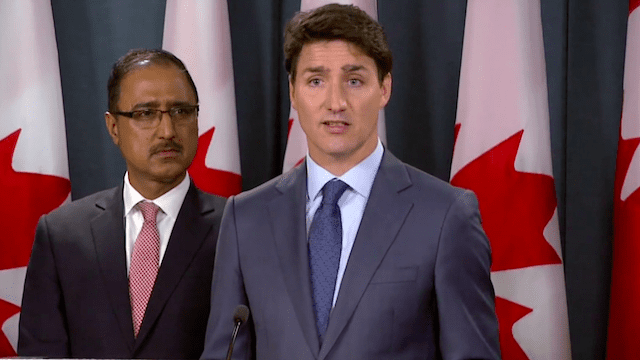 Justin Trudeau is marking International Day of the World's Indigenous Peoples with a message to Canadians that they should "learn more about the cultures and languages of Indigenous peoples" in Canada and elsewhere.
In a statement released Friday morning the prime minister touts his government's policy and legislative track record related to issues impacting Inuit, Métis and First Nations peoples.
"Working with Indigenous partners, the Government of Canada has taken steps to close the gaps in housing, health, education, and opportunity for Indigenous communities across the country," he says.
"Since 2015, we've lifted 87 long-term drinking water advisories in First Nations communities. We've made important investments to make sure Métis Nation citizens have the housing they need. We're also supporting Inuit-led approaches to eliminating tuberculosis across Inuit Nunangat by 2030. Together, we are building a better Canada, where everyone's rights are recognized and respected."
In June the National Inquiry into Missing and Murdered Indigenous Women and Girls (MMIWG) released its final report, detailing the historic and ongoing genocide of Indigenous women, girls and 2SLGBTQQIA peoples.
Trudeau has said that he "accepts" the inquiry's findings of genocide but has not yet explicitly stated that Canada is responsible for ongoing direct or systemic violence amounting to genocide in the present day.
In Friday's statement the prime minister is remains vague about who is responsible for ongoing discrimination and violence against Indigenous peoples.
Trudeau says Canada recognizes "the injustices Indigenous peoples have faced in Canada and continue to face around the world. While we cannot change history, we are working to right persisting historic wrongs."
In 2016 the Canadian Human Rights Tribunal ruled that Canada discriminates against First Nations children living on reserve by not providing the same services available to children elsewhere in the country.
Since that time the tribunal has issued the Trudeau government seven non-compliance orders for failing to adequately address the situation.
Trudeau also came under fire from First Nations leaders and grassroots people last year, who said the Liberals did not meaningfully engage them as part of the government's effort to overhaul legislation related to First Nations' rights.
First Nations also said the government's approach to recognizing and implementing Indigenous rights would "domesticate" inherent rights that pre-exist Canada.
Following his government's purchase of the Trans Mountain Pipeline expansion project (TMX) last year amid a climate emergency and significant opposition from First Nations, in April Trudeau announced Canada will proceed with the project.
At the core of First Nations' fight against the pipeline are the issues of self-determination and consent.
At home and at the United Nations General Assembly in New York, the Liberal government has committed to implementing the United Nations Declaration on the Rights of Indigenous Peoples (UNDRIP), which includes provisions that protect Indigenous peoples from harmful and unwanted encroachment on their lands and resources without their free, prior and informed consent.
In its decision to purchase and proceed with TMX the government has used Canada's current legal standards around the duty to consult Indigenous peoples on matters that will negatively impact them, rather than the minimum human rights standards laid out in the UNDRIP.
Asked by APTN News in June for the definition of free, prior and informed consent (FPIC) his government used in making a final decision on TMX, Trudeau said FPIC "is what we engaged in doing with Indigenous communities over the past number of months.
"It is engaging, looking with them, listening to the issues they have, and responding meaningfully to the concerns they have wherever possible," he explained.
Cree MP Romeo Saganash's private member's bill, C-262, would have required Canada to review its laws and align them with the UNDRIP.
But the legislation died on the order paper earlier this summer after being stalled in the upper chamber by Conservative senators.
As the bill's death became apparent, the Liberals promised that if re-elected in the fall election they would put forth government legislation that will enshrine UNDRIP in Canadian law.
They made the same promise during the 2015 federal election campaign but did not follow through in their mandate.
On Wednesday Trudeau was in St. John's for the city's annual Royal St. John's Regatta, at the same time the province had begun flooding the Muskrat Falls hydroelectric project reservoir in Labrador.
Innu and Inuit have brought their concerns over Canada's financial support for the project to the United Nations.
Amid legal challenges by Indigenous groups, and following scientific research projecting Muskrat Falls would contaminate traditional foods people in Labrador depend on, the Liberals issued a second federal loan guarantee to the province to ensure the project's completion. The financial support was not contingent on the province's respecting of Indigenous rights.
As flooding got underway this week Nunatsiavut President Johannes Lampe said in a statement Thursday that "the time bomb is ticking on the future of those who depend on the Churchill River and Lake Melville for sustenance, and on the health, culture and way of life of many Labrador Inuit."
Before the end of the spring parliamentary session, the Liberals managed to pass two key pieces of Indigenous-related legislation — Bills C-91 and C-92.
C-91, An Act respecting Indigenous languages, promises to provide additional support to Indigenous peoples trying to preserve their languages, many of which are on the cusp of being lost.
The legislation did not receive unanimous support from Indigenous leaders and groups.
Inuit Tapiriit Kanatami (ITK) President Natan Obed blasted the Liberals for excluding a section specifically dedicated to Inuit rights and their language, Inuktut, which is widely spoken across Inuit Nunangat and deserves official language status in certain regions, Obed has argued.
C-92, the Liberals' anticipated child welfare legislation, promises to return jurisdiction over child welfare to Indigenous communities.
At present more than half of all children in foster care in Canada are Indigenous, though Indigenous children account for only 7.7 per cent of the country's child population, according to Canada's 2016 census.
In provinces like Manitoba and Saskatchewan, the overwhelming majority of children in state care are Indigenous.
It is estimated that each day in these provinces, an Indigenous child is apprehended by the state in what many refer to as the Millennium Scoop.
"In the spirit of reconciliation, we will continue to work with Indigenous peoples toward a renewed relationship based on the recognition of rights, respect, cooperation, and partnership," Trudeau says.
According to the United Nations' website, the Aug. 9 International Day of the World's Indigenous Peoples was created "in order to raise awareness of the needs of [Indigenous Peoples]."
The U.N. says there are around 370 million Indigenous people in the world, living in 90 countries.
As holders of traditional and ancient knowledge of the land and biosphere, Indigenous peoples' rights and sovereignty are widely regarded as a prerequisite for an adequate global-scale response to the climate emergency.
"On behalf of the Government of Canada, I encourage everyone to learn more about the cultures and languages of Indigenous peoples, here in Canada and around the world," Trudeau concludes in Friday's statement.