Indigenous friendship centres, service providers scramble to provide programming amid COVID-19 shutdown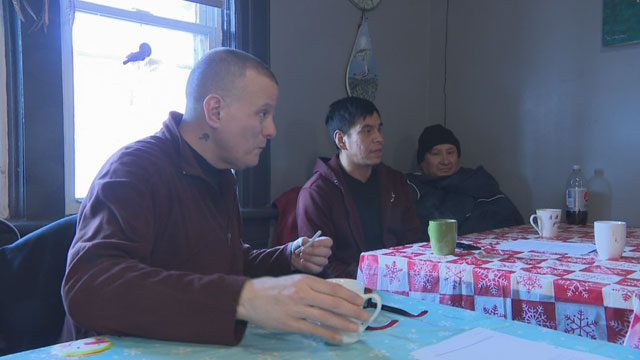 Indigenous friendship and support centres in Ottawa are cancelling non-essential services and programs while scrambling to find ways to serve their clients as the city braces for the COVID-19 pandemic to hit at-risk people who may be on the street, homeless or vulnerable in other ways.
"Many of the clients are certainly facing a lot of hardships now that our services are being impacted," said Amy Nahwegahbow, president at the Odawa Native Friendship Centre.
"I think that a lot are stressed, fearful. We're getting a lot of calls. Although what we're seeing too is communities are pulling together and they're trying to keep positive."
Odawa's food bank and daycare are closed. Their drop-in centre for those who may be homeless, known as 510 Rideau, is closed. Childcare service providers aren't working and so aren't being paid. Duties are being shuffled to keep staff employed and many are working from home.
Odawa is based out of an old high school, Nahwegahbow said, which means the building is still under the jurisdiction of the local school board.
"Because the school boards have closed all schools, the centre still has to follow under that as well. So the whole building is shut down. Staff are now working from home."
Ontario Premier Doug Ford declared a provincial state of emergency on March 17. On Monday, he declared that many non-essential business will also close.
Read more:
City of Ottawa declares 'historic' affordable housing and homelessness emergency
Indigenous agencies say they can't be an 'afterthought' when dealing with homelessness in Ottawa
Other providers that serve urban Indigenous people are cancelling programs too.
Tungasuvvingat Inuit, a provincial Inuit-specific service provider, has closed all programming except for the food bank and the Mamisarvik Healing Centre, a cultural wellness and trauma treatment facility.
"Although our programming and buildings are currently shut down, I can tell you that our teams are heavily activated and working behind the scenes to provide supports to our most vulnerable," Joël Lamoureux, Tungasuvvingat Inuit communications manager, said in an email.
The Minwaashin Lodge women's support centre provides services to Indigenous women and children who may be survivors of domestic violence or residential schools. They too suspended all programming until April 5, at which point the centre will reassess the situation.
"Ottawa has a very large urban Indigenous community," Nahwegahbow pointed out. "We have a lot of clients that come through our centre accessing services."
Now they must find creative solutions to support their clients and make sure the most vulnerable aren't overlooked.
"We're still at the early stages and we're trying to brainstorm and think outside the box," said Nawehgahbow.
"We're trying to find alternate ways to get the food to the families that need it."
But they also have to balance this with staff safety.
"You've got staff who are afraid, are fearful of contracting COVID-19. For those who are able and willing and who aren't sick we need to have enough gloves and masks in order to be able to do the outreach. If you're handing coffee to the homeless there could be some contact as opposed to just placing food and items beside them."
Funding has not been cut. The government's COVID-19 economic relief package includes $50 million for women's centres and sexual assault centres. It also includes $157.5 million to support those who may be dealing with homelessness.
Thinking outside the box
While the federal government has offered economic support, the municipal government is prepping as well.
There were zero confirmed COVID-19 cases within the Ottawa homeless shelter system as of Friday according to Deirdre Freiheit, CEO of the Shepherds of Good Hope.
But frontline workers expect that to change.
"We were aware that with the numbers that we're being told to expect, and with our population being so vulnerable, we needed to have a pretty robust system in place," Wendy Muckle, CEO of Ottawa Inner City Health, told APTN News.
So Muckle, Freiheit and others worked to convert a now-empty community centre in downtown Ottawa into a self-isolation facility for those who may be homeless, couch surfing, on the street, or otherwise in need of a place to go.
(Wendy Muckle, CEO at Ottawa Inner City Health. Supplied Photo.)
"All of those people who sadly don't have any place to self-isolate will be able to be there," she said.
The facility will sleep 40 with separate rooms for men and women. The Ottawa Mission is supplying meals and mattresses. The facility has a mobile assessment centre that tests people to see if they need to self-isolate and then refers those people to the facility.
Muckle said the facility, called the Routhier Centre, would free up hospital beds and take a little strain off the healthcare system if an outbreak hits the homeless population.
Indigenous people are disproportionately represented among the homeless population in Ottawa, which factored in to the planning.
While a 2018 study found 25 per cent of the homeless population was Indigenous, frontline workers like Muckle estimate that number is somewhere between 33 to 40 per cent.
"As we speak right now one of our staff is smudging the whole spot," Muckle told APTN.
"We have a population where many people have experienced incarceration through the criminal justice system. Many of our clients who are most vulnerable are residential school survivors. We have a very large Inuit population and the issue of infectious disease, isolation, quarantine – those are trigger issues in our population," she said.
"We can't make it perfect for anybody but we can make an effort to say, 'We've thought of you. You're important. We respect you.' Obviously those kinds of things open the door to at least giving space for people to say what they want or what would make them feel better."
Community centres like Routhier sit vacant across the city and the country. Muckle said they didn't have extra funding – but that didn't stop them from setting up the isolation centre.
"Money is the last thing I'm worried about today," she said. "I'm worried about the welfare of our clients and the welfare of our staff and the welfare of the larger community"