Indigenous fishers in N.W.T. focus on industry revival
---
Ten kilometres from shore, and 17 metres deep is where Marius McCallum makes a living.
"You use to have to go 11 miles out but DFO changed the quota because of all the Coney (fish) coming in," McCallum said as he quickly fillets and fills bins with his fresh catch from the back of the bombardier.
He's commercially fished the waters of Great Slave Lake, Northwest Territories after he moved to the area in the 1970s from a community northern Saskatchewan, but expertise-aside, McCallum credits his success to setting his own prices as a business owner.
"I got lots of customers; all these companies buy fish here. Fort Providence, Fort Simpson, Jean Marie River, and some use to even come from Fort Liard, Fort Smith and Fort Resolution too," he said.
McCallum is the only fisher in Hay River, N.W.T. with his own fish plant, where he processes, packages and keeps his catch in the north selling to local restaurants and private customers.
He built the small plant on his property shortly after 2005 when the Hay River commercial fish plant suspended its operation for the winter commercial fishery season.
"It was because of the lack of fishermen who could not fill the 100lbs-a-day quota to keep the plant running," McCallum said.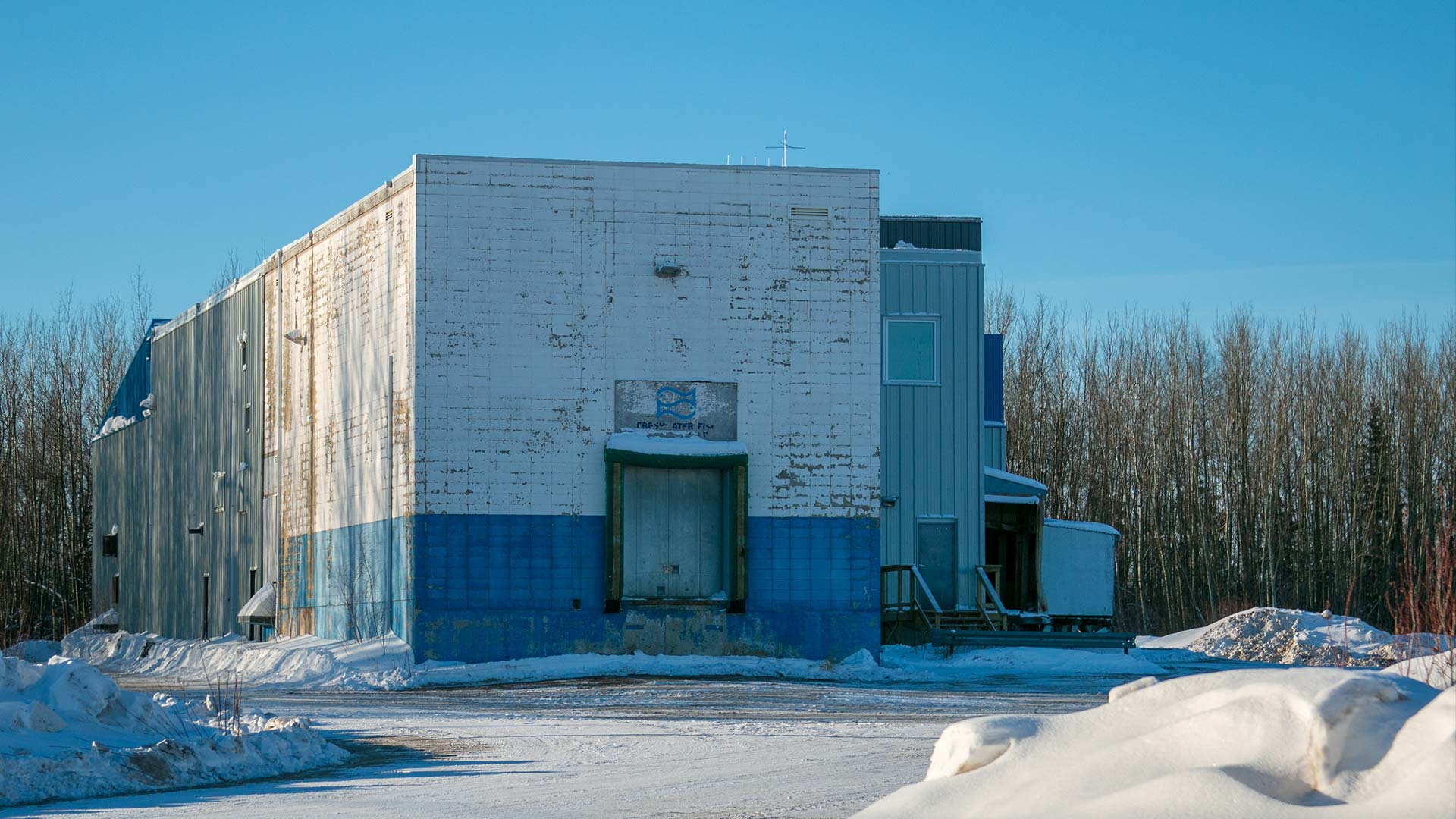 ---
The plant, built in 1971 by Freshwater Fish Marketing Corp., a Crown corporation based in Winnipeg, has been the sole owner of the plant.
According to McCallum, when the number of fishers was good, the industry boomed and Freshwater had a reason to invest in the plant.
"This place [Hay River] was full of fishermen when I first came here. Fresh Water had a big freighter boat and it use to carry 2000 lb of fish… Use to make two to three trips a week and never stopped," McCallum said.
Today, McCallum is one of the oldest Indigenous fishers in Hay River. With plans of retirement one day, he said he hopes to pass the torch to the next generation.
---
For the last seven years Herb Wickert, has been his right-hand-man on the lake pulling nets in all weather conditions.
"If you want to get into fishing you're going to have to like what you do. When it's really cold I just keep chugging." Wicket said.
Originally from Gull Bay First Nation, he's been fishing since 1997 and decided to relocate north for work and mentorship opportunities after DFO lowered the quota on commercial fish in northern Ontario.
"I've learned different ways of fishing, and to get more people out fishing it will take somebody with patience willing to take new fishers out to train them," he said.
Attracting and training the next generation of fishers is a top priority, according to the N.W.T.'s plan to revitalize the commercial fishing industry.
In July 2020, the territorial department of Industry, Tourism and Investment signed a memorandum of agreement with Tu'cho' Fishers' Co-operative, an Indigenous-fishing cooperative, to take over management of the current Hay River fish plant and run operations of a new plant expected to be build and operational by 2022.
The first order of business, opening the Hay River fish plant for winter fishing for the first time in 15 years.
Robert Bouchard – a business advisor for Tu'cho' told APTN News that the cooperative saw the potential of opening the plant over the winter even if the number of commercial fishers contributing was low.
"In order to get out of Freshwater, you need a viable operation to get into. This is a transition period and in order to feed a brand new plant, you have to crawl before you walk – and get a few fishers going," Bouchard said.
This winter, Tu'cho' has offered various commercial fishing training for communities members around Great Slave Lake.
"For some, they're just doing sustainability fishing, feeding family and friends, but if there's a place for them to drop their fish off readily, maybe they will do more. Maybe put in ten nets and then that person will build to a certain point and want to buy new gear," Bouchard said.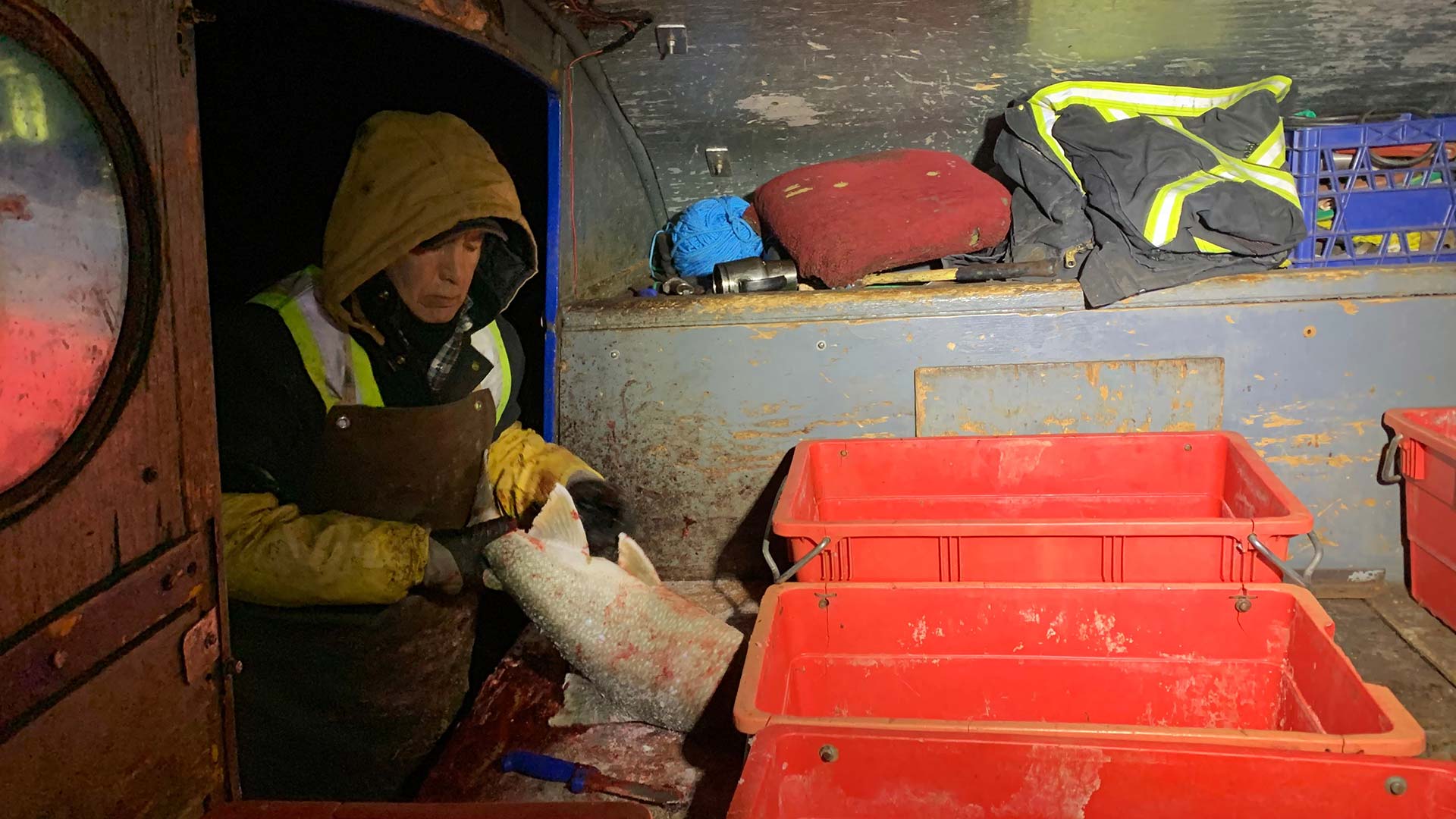 ---
Tu'cho' is confident the homegrown approach to selling products will attract more fishers and heed profitable returns.
In the current Hay River fish plant, N.W.T. fish are shipping to Manitoba and mixed in with fish caught from other parts of the country and sold as Canadian fish. This will be a stark contrast to the new fish plant, where Tu'cho' will process, set the price and market their own product allowing fishers to stand out from the crowd.
While some N.W.T. fishers continue with their own business model, even veterans like McCallum are willing to work with new buyers – the fish plant being the newest customer.
"I sell all my fish for the same price," he said as he pulled out a vacuum-sealed package from his deep freeze. "I'll sell the trout, white fish, pickerel, but the Coneys aren't as big a seller here so I'll bring them to the plant for $1.20 per-pound."