Indigenous communities need to be prepared for COVID-19 pandemic says physician
A Manitoba doctor is warning the fast-spreading COVID-19 coronavirus will cut through the heart of Indigenous life in Canada.
But Dr. Barry Lavallee knows people living in First Nations, Métis and Inuit communities can adapt.
"It's only for a short time schools will be closed, gatherings, bingo," the Indigenous family physician said Thursday.
"It's not part of our culture to be alone but we can think of new ways of engaging at the community level."
Already major sporting events – like the Arctic Winter Games in Whitehorse – and cultural events – like the annual Gathering Our Voices in Kamloops, B.C. – have been cancelled.
And while games at the Jr. All Native Basketball Tournament in Kelowna, B.C. are still scheduled, the opening ceremonies, feast and dance are cancelled.
Both the National Basketball Association and National Hockey League have suspended their seasons over COVID-19 concerns.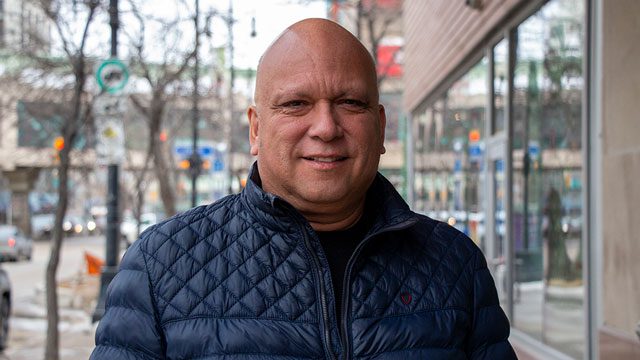 Dr. Barry Lavallee (Photo: APTN)
Lavallee, who is based in Winnipeg but has practised medicine in northern First Nations, said even funerals will be affected.
"Only small groups (of mourners) should go in at a time," he advised.
Making these adjustments will go a long way to helping small and under-resourced communities cope when the flu-like virus hits, Lavallee said.
And it will hit because the federal government is predicting up to 26 million Canadians will get COVID-19. That's between 30 per cent and 70 per cent of the population.
The fatality rate is around two per cent, experts say.
Canada has 138 cases so far and one person in B.C. has died as of this posting.
According to Health Canada, 53 per cent of cases are female, 67  per cent of the cases are people over the age of 40, 13 per cent of the people have been hospitalized and 80 per cent are people who have travelled and another 10 per cent are people who were in contact with those travellers.
I know I shouldn't be panicked over COVID-19, but I'm really concerned for:

• Elders on the Rez
• Native college students being evicted
• Native ppl living paycheck to paycheck
• Native ppl having access to proper hygiene as privileged ppl are hoarding necessities

— diné (@honaghaahnii) March 11, 2020
Lavallee said older people with underlying health conditions are at the greatest risk of contracting the virus that originated in Wuhan, China in December 2019.
About 80 per cent recover while one in six fall seriously ill.
People living in First Nations, Métis and Inuit communities are already at a disadvantage when it comes to buying supplies, being seen by a doctor and self-isolating in over-crowded homes, Lavallee said.
That's why he's advocating "social distancing" by eliminating gatherings and advising Indigenous communities entire families need to self-isolate instead of single individuals.
Chief Louie Mercredi, of Fond du Lac Denesuline First Nation in northern Saskatchewan, said the risk should not be under-played.
"Should this virus strike our community, as it has in so many other locations worldwide, given our very limited access to air transportation, our community members would face enormous challenges to defend ourselves against its devastating effects," he said in a release Thursday.
"Given the potential spread of this terrible virus I have been forced to cancel two annual events at Fond du Lac that have never been cancelled in our history."
The two events are the Athabasca Sector Gathering and the Winter Carnival – mainly to practice "social distancing" to protect Elders in the communities, Mercedi added.
"The best way to stop the spread of coronavirus is staying at home when you are sick…This includes not going out in public to the store, not sending your kids to school and not going to work.
"As the elected leader of Fond du Lac Denesuline First Nation, I must give the top priority to keeping our community members safe and healthy."
Of course, Indigenous health is also the responsibility of the federal government.
Lavallee said contact is ongoing between Ottawa and Indigenous organizations as they work to prepare their people mentally, physically and spiritually.
"That's our first goal – to support the family at home. That's our theme," he said.
Right now, the risk of contracting COVID-19 in Northern Manitoba is low, noted Garrison Settee, grand chief of Manitoba Keewatinowi Okimakanak Inc.
"To help protect yourself and your family, I encourage everyone to wash their hands thoroughly on a regular basis and remind others to do the same," he said in a release.
"Travel is a concern at this time so be diligent in making travel plans; you may wish to reconsider travelling at a later date. You can also consider practicing social distancing, which can include staying away from crowds and large public events."
Valerie Gideon, assistant deputy minister of Indigenous Services says travel is a concern.
Speaking to the House of Commons Indigenous and Northern Affairs Committee in Ottawa Thursday, Gideon said that anyone travelling should take precautions.
"Like H1N1, that was the source of the first exposure particularly in remote and isolated communities where people travelled out and they went to urban centres and then they came back home and they had contracted H1N1," Gideon told the committee. "So what's important for us is to ensure that particularly those more vulnerable clients will be able to access private transportation and private accommodation measures so that they're avoiding, to the extent possible, more group settings.
Gideon pressed the government's message that washing hands and being vigilant about interacting with others will help keep people safe.