Indigenous candidates in federal election race meet the chiefs at AFN forum in Vancouver
A number of the Indigenous candidates running in the federal election in British Columbia joined chiefs from across the province at an Assembly of First Nations Annual General Assembly.
Jody Wilson Raybould, who is running as an independent in the riding of Vancouver-Granville, said this an important time for Indigenous people.
"When I look around the room and I see people from right across the country that come from nations that have been here since time lost in memorial," she said.
"I see the resilience of our people and I see how important it is that the teachings of our people and the solutions that we know we have to advance aboriginal title and rights," she said.
(A number of Indigenous candidates running in the federal election met with chiefs at an AFN forum in Vancouver. Photo: Tina House/APTN)
Wilson Raybould was joined by Bob Chamberlin who is running for the NDP the riding of Nanaimo-Ladysmith and Michelle Corfield who is running against Chamberlain for the Liberals. Also on hand was Lydia Hwitsum who is running for the Green Party in Cowichan – Malahat – Langford riding and Joan Phillip is running for the NDP for the  Central Okanagan-Similkameen–Nicola.
Green Party Leader Elizabeth May was also there to lend her support to the candidates.
"I'm so honoured  that so many First Nations and Metis and Inuk candidates have stepped up to say they will run with me in the green party," said May.
"Although we want to work across party lines with everyone."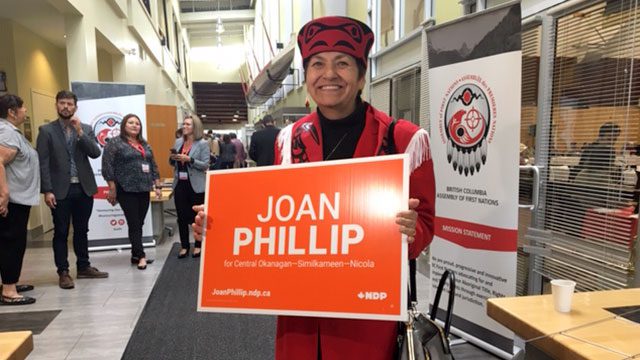 (Joan Phillip campaigns at the AFN AGA. Photo: Tina House/APTN)
Phillip, who is the wife of Union of British Columbia Indian Chiefs Grand Chief Stewart Phillip, also addressed the assembly.
"I'm willing to work with anyone, we need to ensure that our children and our communities are treated fairly and equitably and that has not happened," she said.
"We need to hold Canada's feet to the fire in order to make that happen."
It also wouldn't be a political forum if the issue of Justin Trudeau's black and brown face photos didn't come up.
Lydia Hwitsum was quite blunt with her view of what happened.
"We can't wash the colour of our skin off this is who we are," she said. "So to have leaders set the example and that was a really bad one and when you think about we as Indigenous people have battled discrimination and all of the harms and hurts that have happened because the colour of our skin and the values we have?
"It's just frustrating to see a leader who can't set the sort of example that this country deserves," said Hwitsum.
Wilson Raybould agreed with her colleague adding that "the voices of Indigenous peoples in this election are incredibly important."