How two First Nation communities with positive cases are fighting COVID-19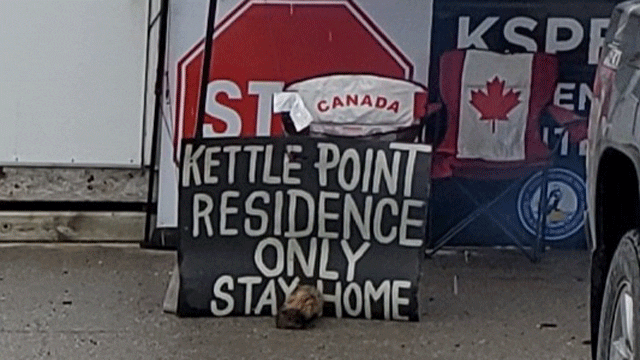 ---
On March 11, the World Health Organization (WHO) declared COVID-19 a pandemic. APTN News is reporting from across the country on the viral outbreak and how it is impacting Indigenous communities. For more information including a FAQ click here: COVID-19
---
Though separated by thousands of kilometres, two First Nations communities with positive COVID-19 cases are battling the pandemic in similar ways by monitoring borders, relying on traditional harvesting and medicines, and working together to support the vulnerable.
The community of Southend, one of eight that make up the Peter Ballantyne Cree Nation in Saskatchewan, has two cases, while the Chippewas of Kettle and Stony Point in southwestern Ontario has one.
"We have a great grassroots movement here in the community of people that are gathering food, gathering natural medicines, buying food and sharing it. Our community has really come together. Many staff have put their time in to volunteer at our food distribution network," said Kettle and Stony Point Chief Jason Henry.
"Those are really good Indigenous, Anishinaabe values. Those are values that we should all have, not just Indigenous people. Those should be human values."
The community member who tested positive has been released from hospital to a safe location, Henry said.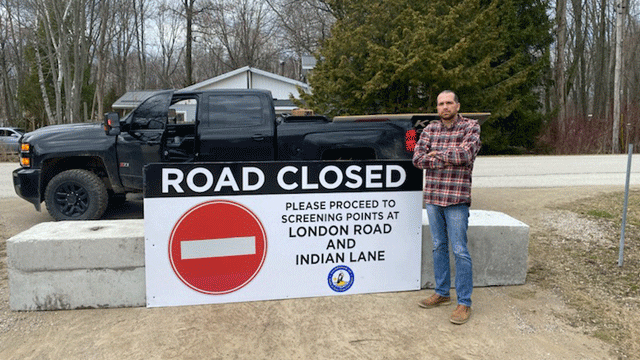 (Chippewas of Kettle and Stony Point Chief Jason Henry as the community restricts access to visitors. Photo courtesy: Jason Henry)
Jumping from southern Ontario to northern Saskatchewan, Southend is pulling together too, according to Ballantyne Chief Peter Beatty.
Southend was the first known Indigenous community to have a positive COVID case.
"They're very strong people and they adapt very quickly because that's what has to happen when you're living in a semi-remote or a remote community," he told APTN News.
"They send out maybe one or two people to either go set a net for fish or traditional food, or they get a moose or a caribou. They carry on with that. Of course, that has to be delivered house to house. There's also grocery deliveries for people that want them to each house."
As of this posting, there are more than two dozen confirmed COVID-19 cases in Indigenous communities across the country.
On Friday, the Ontario government predicted COVID-19 could kill 3,000 to 15,000 people over a period as long as 18 months to two years, depending on what sorts of measures are in place.
Read more:
Six Nations, Akwesasne, Chippewas of Kettle and Stony Point confirm first COVID-19 cases
Saskatchewan First Nation has presumptive case of COVID-19
The prediction is highly variable, the province's top doctor, Peter Donnelly added.
Beatty said he expects Saskatchewan to reveal its predictions next week.
Southend's experience with the novel coronavirus shows how contagious the pathogen is but also how contact tracing and stringent isolation measures help contain spread.
A community nurse who travelled internationally was the first person to test positive.
Beatty said the nurse worked a few hours to half-a-day in the local clinic before developing symptoms. She was immediately tested and sent into self-isolation. Everyone was contacted, tested and isolated – including all healthcare staff and their contacts.
The second case?
The taxi driver her who brought her back after she travelled.
That three-hour, 222-kilometre drive north from Lac La Ronge to Southend in a small enclosed space was enough to spread the virus.
But Beatty reports no new cases since. He says rigorous contact tracing and quarantine measures were critical to containing the spread.
"The driver of the taxi that brought her in tested positive. He was contacted and he was isolated. And of course, the rest of the healthcare staff, meaning the rest of the nurses and support staff, were isolating at home and they were all swabbed."
"The biggest thing is that all of the contacts, after the initial case, they were all found and were contained. So that was a really big help."
Beatty said they're using as many "safeguards" as possible. Along with standard hand hygiene and physical distancing, they've set up road checkpoints to monitor traffic in and out.
(Peter Ballantyne Cree Nation Chief Peter Beatty)
Kettle and Stony Point did the same, as have other communities who don't have any confirmed cases.
Henry said the response has been generally positive but a few people have been turned back.
"One person was right off of an infected cruise ship, came here to try and quarantine for their 14 days. They got asked to go somewhere else. Somebody else came in from another place. They were mandated by customs to self-isolate. They wanted to self-isolate in the community. They were turned around."
He estimated about 65 per cent of the residences in the Lake Huron community are seasonal cottages.
The rural healthcare infrastructure will be overwhelmed if masses of people move to self-isolate in cottage country, he said, which is why he asked them to stay home.
But both chiefs are concerned with the rising number of cases, fewer healthcare staff, shortages of personal protective equipment (PPE) and the challenge of obtaining test kits.
"Everyone is worried about the risk including our healthcare staff. If they don't have the proper equipment to deal with a COVID patient, they're going to get it. And then what happens? Because it's sometimes very difficult to get nursing staff and doctors into our communities," said Beatty.
"There's so much overcrowding in all of our communities that it would be a disaster if it were to become an outbreak."
Henry agreed.
"This has the potential to cripple First Nations if we don't get ahead of it."
Which is why he asked the military to set up a regional field hospital to serve the eight local first nations as well as three to four more in the extended vicinity.
"I asked them to put jurisdictional boundaries and politics aside and work together to combat this. That's the only way we'll succeed in my belief," said Henry.
"The only way we're going to win is by thinking out of the box."