How a Vietnam vet says he prayed Elder back from death's edge during #NoDAPL battle of Backwater Bridge
Vietnam veteran Robert "Black Eagle" Costa said he held another veteran, an Elder, in his arms and felt him begin to die.
(North Dakota law enforcement fortify barricade north of Backwater Bridge. Francine Compton/APTN)
Jorge Barrera
APTN National News
While police blasted demonstrators with a firehose mounted on a gun turret and launched barrages of tear gas on Backwater Bridge, Vietnam veteran Robert "Black Eagle" Costa said he held another veteran, an Elder, in his arms and felt him begin to die.
Costa said he cradled his "warrior brother" in the medical area of the Oceti Sakowin Camp while it faced an overwhelming stream of injured demonstrators, known as water protectors, from the frontline of the police assault launched from behind a concrete and concertina wire barricade north of Backwater Bridge, a few hundred meters from the camp.
"I watched him as his eyes glazed over and he began to point in circles and speak in his Native language—I know enough to know he was speaking with the ancestors," said Costa, a Creek and Muscogee Nation tribal member who provides mental health and spiritual counseling at the camp. "As I was holding him I felt his spirit leave his body and he fell back into my arms."
At that moment, as he felt the Elder's body begin to go limp, Costa said he started to pray to the Creator asking to be the "hollow bone" through which to transmit the right words as life hung on the edge.
"I whispered in his ear and said, 'The ancestors have not come for you. What they have come to tell you is to take courage, come back and be the warrior that you were created to be, teach, tell the people what you have seen here, speak the truth," said Costa, during a small press conference Tuesday held by the Standing Rock Medic and Healer Council on the edge of Backwater Bridge.
"And in that moment, it was a very ethereal moment, I felt fire come through my body and into the hand cradling his back and I felt the man's spirit come back into his body," said Costa. "He lifted up, mumbled and complained, 'Get me out of here.'"
The Elder had suffered a cardiac arrest.
As Costa spoke, a large crane operated by law enforcement reinforced the concrete barriers north of Backwater Bridge where, over several hours between Sunday and Monday, water protectors faced the full force of the state which employed weapons just short of the bullet.
The press conference was held by a charred and mangled truck initially set on fire during another day of chaos on Oct. 27 when police officers, clad in riot gear, swept down Hwy 1806 to dismantle a camp set up north of the bridge from where water protectors launched rolling blockades in an effort to stop construction of a $3.78 billion four-state pipeline called Dakota Access.
The Standing Rock Sioux Tribe triggered the now continent-wide opposition to the pipeline over fears it threatens the area's water supply because it will travel beneath Lake Oahe, a reservoir on the Missouri River.
Pipeline construction has also destroyed sacred Sioux areas and burial grounds.
The Army Corp of Engineers is currently contemplating whether to grant the easement for the pipeline to Houston-based Energy Transfer Partners. The Army Corp is expected to hold one last round of discussions with Standing Rock and the Cheyanne River Sioux Tribe before making a final decision.
While law enforcement was widely criticized after the Oct. 27 operation over the use of excessive force while employing batons, pepper spray and a sound cannon, the events which began Sunday triggered similar outrage in response to the seemingly gratuitousness of the violence.
Law enforcement deployed tear gas and a Jerry-rigged water cannon—a firehose affixed to the gun turret of an armoured personnel carrier—for the first time against the water protectors despite never facing any real threat to the integrity of the barricade north of the bridge on a night that saw temperatures dip below freezing.
"What we encountered here on Sunday night was nothing short of war, and many people could have died," said Costa.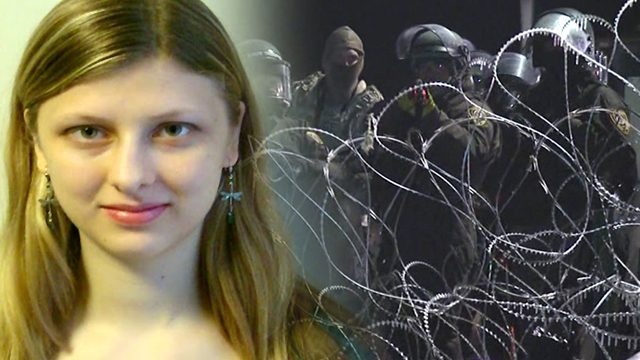 One of the water protectors, a 21 year-old Williams College graduate from New York City, is currently in a Minneapolis hospital where surgeons are fighting to save her left arm which, according to her father, was injured after it was hit by a concussion grenade.
Sophia Wilansky will never regain the full use of her arm, said her father Wayne Wilansky while he spoke to reporters outside the hospital on Tuesday.
She will need about 20 more surgeries over many months if there is any chance of saving her arm and hand, he said.
"The force of the explosion blew the bone out of her arm, all of the arteries, all of the muscles," said the elder Wilansky.
Wilansky said his daughter could be faced with a daunting choice of a barely functioning real arm or an artificial limb that could prove more useful.
"It is unbelievable that governments are violently attacking citizens," said Wilansky, a Bronx, New York City lawyer. "Not to control the protest, not to save property, but to intentionally damage people on purpose so other people won't come."
Wilansky also blasted the Morton County Sheriff's Department for suggesting his daughter's injury was caused by the premature detonation of a small propane tank rigged to be an improvised explosive device.
"That is ridiculous," said Wilansky. "They threw a grenade right at her. She saw them throw it right at her, there is no question as to what happened….It wasn't caused by a fire. It was a grenade. This is a weapon of war."
Wilansky said the shrapnel removed from his daughter's arm will be preserved as evidence for future legal action against North Dakota and state law enforcement.
Wilansky said his daughter was shot 14 times by rubber bullets.
(Unicorn Riot journalists Chris and Pat describe items recovered following the events at Backwater Bridge)
Medical personnel with the Standing Rock Medic and Healer Council also dismissed the suggestion from North Dakota authorities.
"We have no reason to believe any sort of propane canister was involved in Sophia's case," said Michael Knudsen, a spokesperson for the council. "The information we have from talking to the hospital was there was shrapnel found in her arm. No chance it came from a propane tank.
Jasmine, a doctor with the council who did not want to provide her last name, said the medical team at the camp did not treat any burn injuries after 3 a.m. when authorities claim an exploding propane canister injured a woman who was pulled out from behind a burned-out military transport truck left at the barricade following the events of Oct. 27.
Water protectors managed to pull out a second charred military transport truck, known as a deuce-and-a-half, early Sunday evening which triggered the assault from law enforcement.
"These statements are refuted by Sophia's testimony, and by several witnesses," said Jasmine. "And the lack of charring of the flesh at wound side."
Medical personnel with the Standing Rock Medic and Healer Council treated 300 injuries between Sunday night and Monday morning. About 26 people were taken by ambulance to three area hospitals in Bismarck and Fort Yates over the course of 10 hours.
The Morton County Sheriff's Department has claimed it's received no information about any injuries, but said one of its helmeted officers was hit in the head by a rock.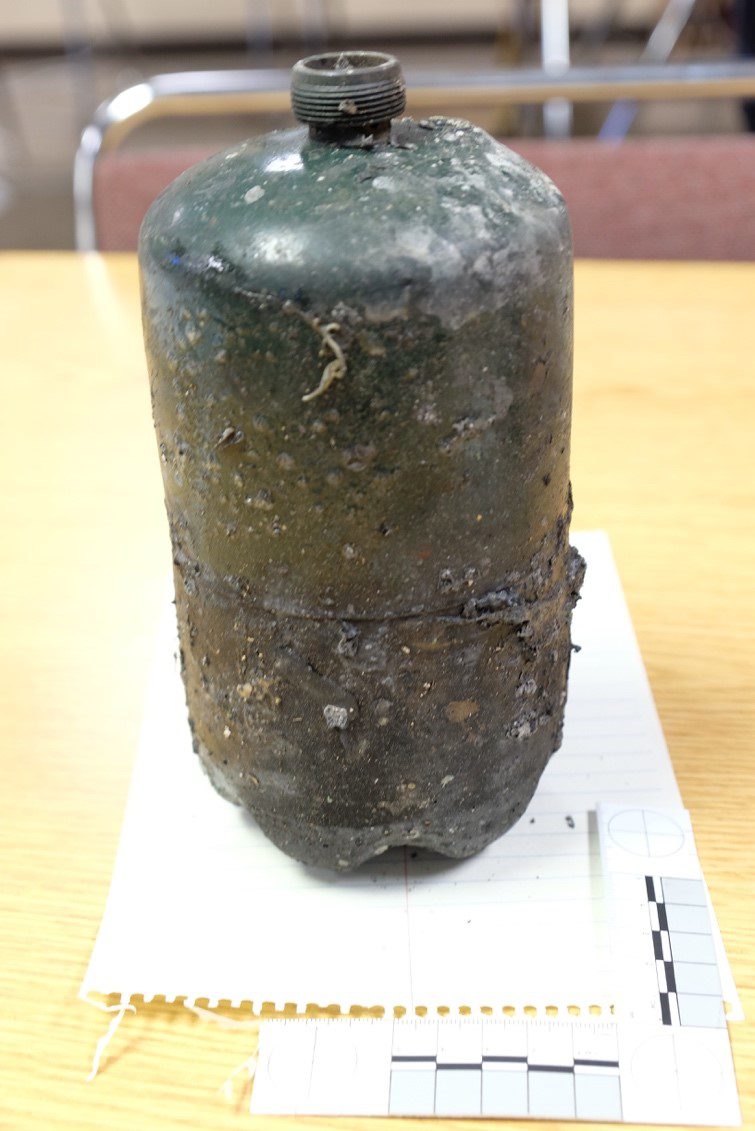 A spokesperson for the Morton County Sheriff's Department suggested to the Los Angeles Times Sophia's injuries may have been caused by an exploding propane canister.
The North Dakota Highway Patrol issued a statement Tuesday saying police spotted three demonstrators, two men, and a woman, hide behind a barricade of plywood wrapped in a blue tarp beside the burned-out deuce-and-a-half.
The statement said while police fired bean bag and sponge rounds at the plywood barricade they noticed a separate group of individuals approach the area "where one of them rolled multiple metallic cylinder objects" toward the three demonstrators.
"After the cylinders were rolled near the burned vehicle, an explosion, witnessed by law enforcement, occurred and several protesters ran to the area, pulled a female from under the burned vehicle and fled the scene," said the statement, which added the events occurred after 3 a.m.
Wilansky said in a statement his daughter was hit after 4:30 a.m.
"We are aware of the information about the woman on social media who has claimed she sustained injuries to her arm due to law enforcement tactics," said the statement, quoting Lieut. Tom Iverson with the North Dakota Highway Patrol. "The injuries sustained are inconsistent with any resources utilized by law enforcement and are not a direct result of any tools or weapons used by law enforcement."
Police did use at least two different types of tear gas canisters, including a type that explodes, according to items recovered from the area by Unicorn Riot journalist Chris Thomas.
Thomas also recovered the remains of a grenade that releases balls filled with pepper spray.
The statement said the Federal Bureau of Alcohol, Tobacco and Firearms recovered three propane canisters at the scene and is continuing to investigate the issue along with the North Dakota Bureau of Criminal Investigation.
For Costa, the events are now seared into his memory.
"I have seen strong men weep, terrified, all are asking the question: how can this happen?" he said. "Not only are we seeing things with emotional stress and emotional trauma, we are seeing people struggling with, what I would call, an existential question. I am struggling with that."