Homeless in Montreal fighting COVID-19, freezing temperatures and police
Having to play 'cat and mouse games' with authorities won't keep homeless people alive says advocate.
---
For the second time in one month, a person experiencing homelessness was found dead on the streets of Montreal during a particularly harsh cold snap.
It's the fifth such death reported among the homeless of Montreal since January 2021, when Raphael Andre – an Innu-Naskapi man from Matimekush-Lac John in Northern Quebec – was found dead in a port-a-potty near the closed shelter he normally frequented.
On Thursday morning, paramedics received a call about a woman in cardiopulmonary distress near a downtown metro station. She was pronounced dead shortly after.
An ambulance service spokesperson said the 64-year-old woman was wearing several layers of clothing for protection against the extreme temperature, which had dropped to colder than -20 C with the wind chill.
The Quebec coroner's office is now investigating. They are also looking into the death of a 74-year-old homeless man on Jan. 10 who was found in a makeshift camp under a downtown overpass.
"What happened last night is so unfortunate. It is tragic," stated Montreal Mayor Valerie Plante in response to the most recent death during a press conference Friday morning.
"If you're looking at the City of Montreal, we're doing everything we can do, as fast as we can, based on the needs that are being expressed to us."
Frontline workers, however, see gaps that aren't being filled fast enough.
'Extreme' but 'real': Shelters struggling through COVID-19 restrictions 
---
A discarded cedar tree, a pallet, some cardboard, and an iron stairwell.
Together, these elements constitute one of the makeshift 'shelters' David Chapman has found in the alley behind the Resilience Montreal shelter in the city's west end in recent weeks.
"It's been a couple of days since someone's been here, but in the last month, someone has stayed under these stairs," Chapman told APTN News.
Resilience Montreal operates in the Cabot Square area – a well-known hub for the urban Indigenous population.
But since the onset of the COVID-19 pandemic, the shelter has drastically reduced its operating capacity – and its opening hours – to abide by public health measures.
The only port in the storm in the Cabot Square area is the warming tent named for Raphael Andre, but it's been operating over capacity, and with an unstable funding model, for almost a year now.
"In the first days, first weeks, we were welcoming 30-something people per night," Alexandra Ambroise, coordinator of the Raphael Andre warming tent, explained during the recent one-year commemoration of his death.
"Right now, I can say we've had a night – December 14th I think – where we received 611 people during the night. And that's a lot."
Under the current public health restrictions, the warming tent can only accommodate 15 people per night.
According to Chapman, without consistent, reliable resources, the urban Indigenous population of Montreal is forced to play a "cat and mouse game" with local authorities, all while trying to stave off the effects of sub-zero temperatures.
"When people are hard-pressed or being kicked out of the metro, they'll come and they'll sort of sleep up against the heat vents," Chapman explained.
"Often people don't believe it when you tell them 'I saw someone sleeping outside by a heat vent in -18 [temperatures] – it sounds a little extreme, and eccentric, and perhaps like an exaggeration. But it's real."
Complications caused by COVID-19 outbreaks 
---
Aside from the cold, further complicating matters is the recent surge in Omicron variant infections reported among the homeless population by Montreal public health.
In an email to APTN, a public health spokesperson confirmed at least 23 active outbreaks, and a total of over 250 cases of COVID-19, within the city's homeless population.
Despite having to reduce services in the first four waves of the COVID-19 pandemic, Chapman says Resilience Montreal – and other shelter spaces – are now facing pressure from public health officials to welcome in more clients than they are equipped to handle.
"One minute you're encouraged to limit your numbers within your facility because of COVID – and then literally, within a week's time, the temperature changes and all of a sudden you're encouraged to bring in a lot more people so that people don't freeze to death," Chapman added.
In response to the COVID-19 outbreaks, the City of Montreal requisitioned a number of hotels, and even a soccer stadium in the city's East end, to temporarily house the infected.
According to Plante, more than 1,900 beds were freed up in recent weeks to help counter the effects of both the cold snap, and the surge of infections.
Though Montreal's last official homelessness count was conducted in 2018, it's estimated that more than 4,000 people are living on the street in 2022.
Photos circulating on social media show homeless folks – some Indigenous – huddled up together for warmth on the street at night, begging the question: why aren't emergency shelters being used?
"If those beds are in a location of the city that the homeless don't travel to, then essentially – they're irrelevant," Chapman explained.
"What you need are beds near where the homeless population is. And spaces that allow them in as they are – intoxicated, or in whatever state they come."
New 24/7 'wet shelter' to provide some relief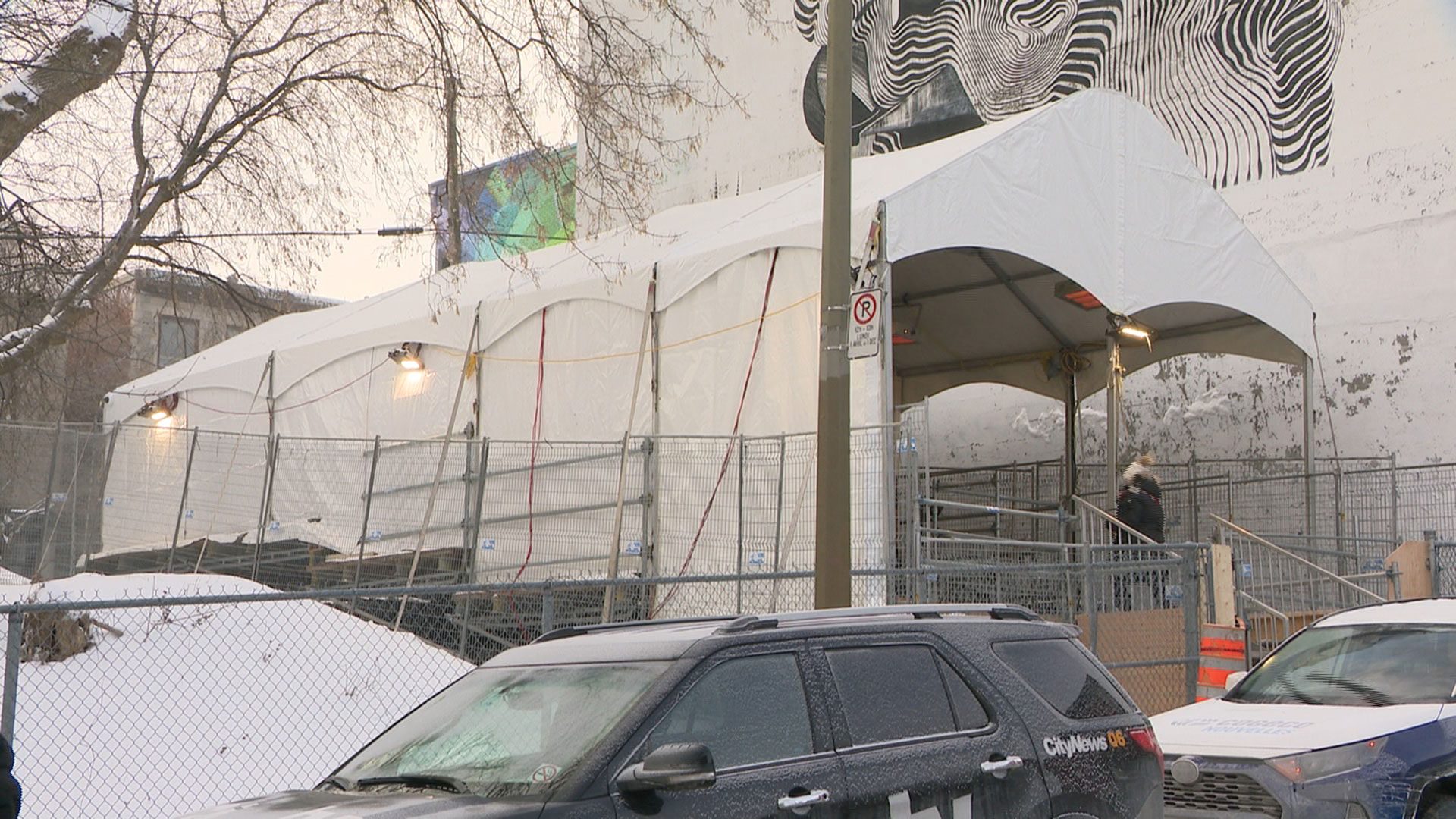 ---
Friday's inauguration of a 24/7 "wet shelter" for the urban Indigenous population in Montreal's downtown core will provide some additional relief.
The shelter space, run by Projets Autochtones du Quebec – or 'PAQ' – can sleep up to 50 people, and includes a heated outdoor terrace where clients can consume alcohol and cannabis with supervision.
"There are spaces, but sometimes I think some people don't feel safe there, they don't want to be there – and I think this latest Covid wave is just heightening the sense of insecurity in the shelter system," explained Heather Johnston, PAQ's executive director.
"[This new space] won't close, people can stay during the day, we'll be offering three meals a day, people will have private or semi-private rooms with their own bathroom – and we're hoping that will allow people to stabilize a little bit, to get into a space and into a routine," she added.
"And hopefully from there we can work on some longer-term health and housing issues for people in the community."
The demand for a space where clients can consume, or can stay after they've consumed, has been reiterated by frontline workers for years.
Montreal has a significant number of post-pandemic building vacancies – a fact which often frustrates community organizers who've long-searched for a workable space to claim.
But Johnston told APTN that the process of opening such spaces is more complicated than one would think.
"We were blocked for several months because of zoning issues because there's no zone that really allows for a shelter without special permits, and those special permits could take months and months," Johnston explained.
"It was only when the City of Montreal reinstated the state of emergency in November [2021] that they were able to requisition a hotel. Meaning the city comes in and says 'because of the state of emergency, we're going to take your hotel and use it for homelessness services."
While Montreal's ongoing state of emergency does allow for some urgent mobilization to help the homeless, Plante told reporters that it is also, in many ways, limiting.
"The strategy itself has to come from the government of Quebec. It's their mandate. How do they envision homelessness?" Plante said.
"What we've been asking for a long time, and community organizations are saying the same thing – we need more 24/7, but really we need to come out of the emergency system. The seasonal approach – like 'okay, more resources during winter, less resources during summer.'"
Quebec's minister of Indigenous affairs, also present during Friday's unveiling, insists the province is working on long-term solutions.
"Having services 24 hours a day – this is extremely important. As a former police officer, I can tell you when services were closing at 4 p.m. and the other shelter only opens at 8 o'clock at night, during that period of time, it was a problem for people facing homelessness," Minister Ian Lafreniere explained.
"The goal, our ultimate goal, is to take people out of homelessness. So different resources, different reactions – it's not a one-size-fits-all."
According to Plante, the "easy" answer to countering homelessness is to provide housing.
But Chapman says municipal and provincial officials both have a responsibility to ensure the homeless are safe and well-protected before they can realistically be housed.
"Raphael Andre will never be housed. There's a reason for that. The reason he won't be housed is because he's dead. And the reason he's dead is because the emergency services weren't adequate. And he died in a port-a-potty," Chapman told APTN News.  
"So what we'd like to see… we'd like to see that pattern change."
With files from the Canadian Press