Group of three to walk from Whitehorse to Kamloops in honour of residential school site discoveries
'I want to honour anybody that's been through this,' says walk organizer Jamie Henyu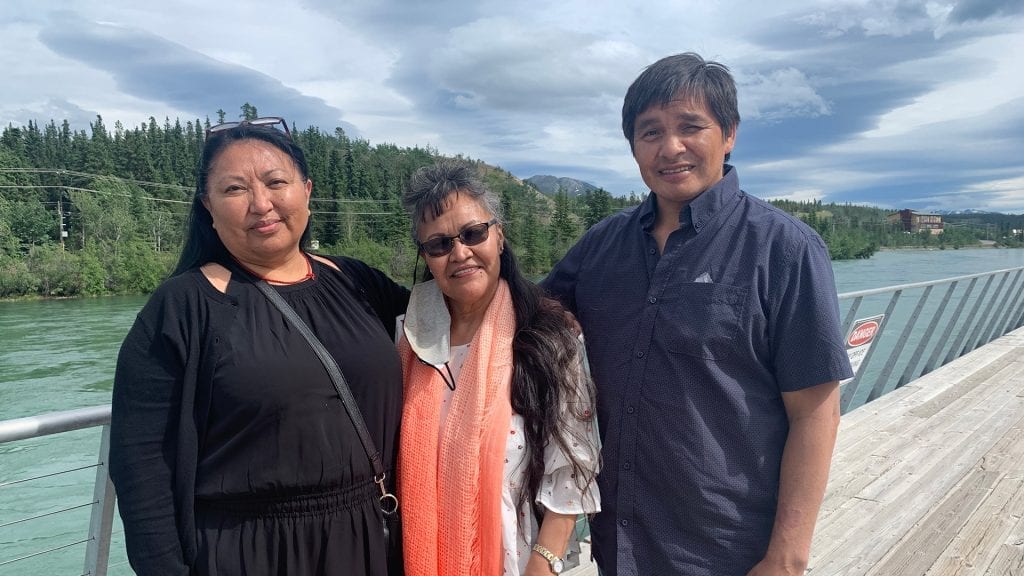 ---
2,200 kilometers.
It's a daunting number but three friends are preparing to walk that exact distance.
Jamie Henyu, who is Tahltan from Telegraph Creek in B.C., Lorraine Netro, who is from Vuntut Gwitchin First Nation in Old Crow in northern Yukon, and Jacqueline Shorty who is from Kwanlin Dün First Nation in Whitehorse will walk over 2,000 kilometres from Whitehorse to Kamloops in honour of the growing number of recent discoveries of children's remains at former residential school sites.
"I put myself in those kids' shoes who never survived…and all the survivors who went through this pain. (This) walk is nothing compared to what they had to endure," says Henyu.
The trio will start their walk on June 26 at the former site of Yukon Hall in Whitehorse, which was a student residence for Indigenous students.
They plan to end their journey at the Kamloops Indian residential school on Aug. 9.
Henyu says there's no plan in place for when they arrive, like possibly walking on to Saskatchewan where 751 unmarked graves belonging to children connected to the Marieval Indian Residential School were recently located.
"Everything's up in the air," he says.
The walk will be done in partnership with Northern Nations Alliance, a not-for-profit group which does volunteer crisis response work in northern B.C. and the Yukon of which Henyu and Shorty are both members.
Shorty says the walk has received several donations, including from organizations like the Assembly of First Nations office in Ottawa and the Public Service Alliance of Canada.
Though Henyu's not a residential school survivor, he says he's been hurting from the discovery of 215 children's remains at the former Kamloops Indian residential school last month.
"Hearing and seeing all the people that's in pain, I felt it deep inside," he says.
For Netro, the walk is personal.
She's a residential school survivor along with most of her sisters.
She recalls how her uncle, her mother's brother,  was stolen as a child from her grandparents and taken to Fort Yukon, Alaska. He later attended the Choutla Indian Residential School in Carcross, Yukon, and was separated from the family for many years well into Netro's adulthood.
She says his absence greatly impacted her mother.
"She always mourned his absence and she kept him alive by telling stories about him, and just his name, because they we're separated all her life. She wanted to keep him alive, with us, her children."
She's walking for "everyone impacted by residential schools and future generations."
"We got to continue standing up together with one another and love one another and hold each other up."
Shorty's mother is a residential school survivor and the discoveries have hit close to home.
Through the Northern Nations Alliance she helped organize the placement of hundreds of children's shoes on the steps of the Sacred Heart Cathedral in Whitehorse as well as a four-day sacred fire event at the Kwanlin Dun Cultural Centre earlier this month which thousands of people attended.
She says getting involved in the project helped her in the healing process.
"It was acknowledging the pain. Moving it from a place of pain and victimization to a place of healing."
She says the success of that project was a sign for her to join the walk.
"It was natural for us and (Jamie) is a member (of the Northern Nations Alliance) so I said 'yes, of course.'"
Preparing for the journey
Henyu says the idea for a walk was sparked by Robin Mercer, an Okanagan man who walked 215 kilometres from Kelowna to Kamloops earlier this month in support of Tk'em lúps te Se Secwépemc First Nation and to raise money for residential school survivors' organizations.
Henyu was originally going to walk solo from Telegraph Creek to Kamloops. After telling Shorty about his idea, she invited him to start in Whitehorse as there were many previous residential schools in the Yukon.
He says people have been supportive, if not a little worried.
"A lot of people are shocked and question if I'm crazy but in their mind and heart they know what it means…It's kind of worrisome but we got lots of prayers and backing," he says.
Henyu says Netro and Shorty joined the walk last Friday and have only had one week to prepare for the journey. The trio are scrambling to find support vehicles and motorhomes to sleep in. As their route will be fairly isolated, there's also concern about bears. He says they'll sleep in tents or vehicles if they have to, though it's not ideal.
Another concern is finding fellow walkers. Henyu says there are some people lined up in Whitehorse, the community of Teslin in southern Yukon and Lower Post in northern B.C., but beyond that it will just be the three of them that have committed to going the entire distance so far.
He says anyone is welcome to join.
"If they want to join us on the way and walk all the way they're more than welcome with open arms," he says.
Henyu is hoping his group can visit First Nations along the way and interact with survivors and their families, though he's realistic the walkers' presence and their message might be too much to bare with the recent discoveries.
He says the group is currently reaching out to First Nations to let them know they're coming.
"I want to mingle and sit and pray with them, anybody that wants to and is willing too," he says.
"I want to honour anybody that's been through this, even the kids that's never been through it like myself, I want to honor them 'cause they went through lots of hard times."
Netro says she's realistic about the journey and admits she's not a long distance walker, though she'll try to do as much as she can. She says her belief in the journey will help her push through.
"I believe in our journey. I believe we were called to do this. I believe each one of us walking the whole distance. I know there's going to be challenges. I'm taking this one day at a time," she says.
Shorty says the walk isn't about sorrow, it's about healing.
"This movement is just a continuation of the healing process that we feel strongly about," she says.
"It may create a feeling of hurt in people, but the idea is to work through that together with love and kindness."