From a Nunavik day school to Rideau Hall: Governor General Mary Simon reflects on reconciliation journey
The first Indigenous person to serve as Canada's governor general hopes she can help heal the country's deep wounds
---
Reconciliation isn't something with a finish line for Governor General Mary Simon.
"It's not a project. It's a way of life," she says. "Reconciliation to me is a life-long experience. It doesn't end."
Sitting comfortably in the luxurious lodgings of Ottawa's Rideau Hall, Simon reflects on her own life-long reconciliation journey. The story, which she recounted in a feature-length interview with APTN's Nation to Nation, is one with humble beginnings.
Simon was born in the subarctic region of Quebec known as Nunavik in 1947. There she attended an English-speaking federal day school for Grades 1 through 6.
The pupils, like those in residential schools, were banned from speaking their mother tongue: Inuktitut.
"We were punished if we were caught speaking that. So even outside of residential schools, this policy was implemented," she remembers. "It was a difficult period of my life. It taught me that things weren't always equal in Canada."
---
As students at non-residential schools studied history and arithmetic, Simon learned about colonialism and racial inequity. It was a hard lesson, and it stayed with her. Like a lodestar, she says it helped guide her work as an Inuk political advocate, negotiator and diplomat.
"It's one of those things that you never really forget," says the 74-year-old-old mother, grandmother and great-grandmother. "It had a stamp on your life."
After Grade 6, many of her friends were sent to residential school, but, because her father was white from Manitoba and her mother a unilingual Inuk, they were told she wasn't eligible.
Instead, her father became her teacher and home-schooled her. He came to the North as a young man to work for the Hudson's Bay Company, learned to speak the language fluently, and never left.
"During that time, it was difficult," she says. "But in hindsight, it's probably the best thing that's happened to me."
A distinguished career
Simon went on to have a distinguished and internationally recognized career, which was launched in an era of furious political advocacy and activism.
In 1969, then-prime minister Pierre Trudeau and Indian Affairs minister Jean Chrétien tabled their much-hated statement on Indian policy known today as the White Paper.
The policy proposed to abolish the Indian Act, reserves, treaties and refused to recognize Aboriginal rights. Indigenous leaders resisted with a vigorous push to acknowledge those rights, and Simon was among them.
She helped negotiate and implement the James Bay and Northern Quebec Agreement — often hailed as Canada's first modern treaty — in the 1970s. She was one of three Inuk negotiators during the patriation of the Constitution during the following decade.
Video of Simon fiercely debating the elder Trudeau during those talks re-emerged after her governor general appointment. It shows Trudeau listening closely as an impassioned Simon speaks.
"I just felt that I needed to speak up and, because we started having an exchange, I just kept responding," she tells N2N, adding, "We never did have to accept that proposal in the end."
---
Read more:
Leaders criticize language complaints against Mary Simon, express pride in installation
Governor General Mary May Simon reflects on state visit to Germany
---
She served two terms as president of the Inuit Circumpolar Council followed by a stint as Canadian ambassador for circumpolar affairs and two terms as president of the national advocacy organization called Inuit Tapiriit Kanatami.
Now, as the queen's representative in Canada, she is the constitutional head of state and commander in chief of the armed forces. Even a brief glimpse into the governor general's daily life suggests it entails plenty of ceremony, protocol and bureaucracy.
Simon has already dissolved Parliament for an election, signed her first bill into law, read a throne speech and conducted a state visit to Germany. She's met different foreign dignitaries like New Zealand's governor general, the first Māori woman to serve in that role.
She's also made low-key public appearances at events in the capital like a ceremony honouring Indigenous veterans and the renaming of a park after Annie Pootoogook, a renowned Inuk artist found dead in the Rideau River in 2016.
"People want to see reconciliation happening," she says, "and reconciliation will happen in many different ways."
Healing and reconciliation
While she talks, a large necklace made from beluga whale vertebrae dangles around her neck. It's a symbol of Inuit culture, she says, and wearing the piece offers an opportunity to educate.
Communities depend on whales for food, and when a hunter nabs one everybody shares in the feast. It's doubly important given the high cost of living in the Arctic and of food, in particular, she explains.
The symbol is a notable departure in Rideau Hall where colonial imagery is everywhere — from the architecture and decor to the portrait of Queen Victoria greeting visitors in the pink-and-white-striped "tent room" where state events occur.
Simon has earned a reputation for navigating smoothly between these two worlds. She attributes the skill to lessons learned during her youth.
"I can live in the Inuit world when I go North. And then here, at Rideau Hall, I can live in a different world," she says. "I see myself as being a bridge between different people."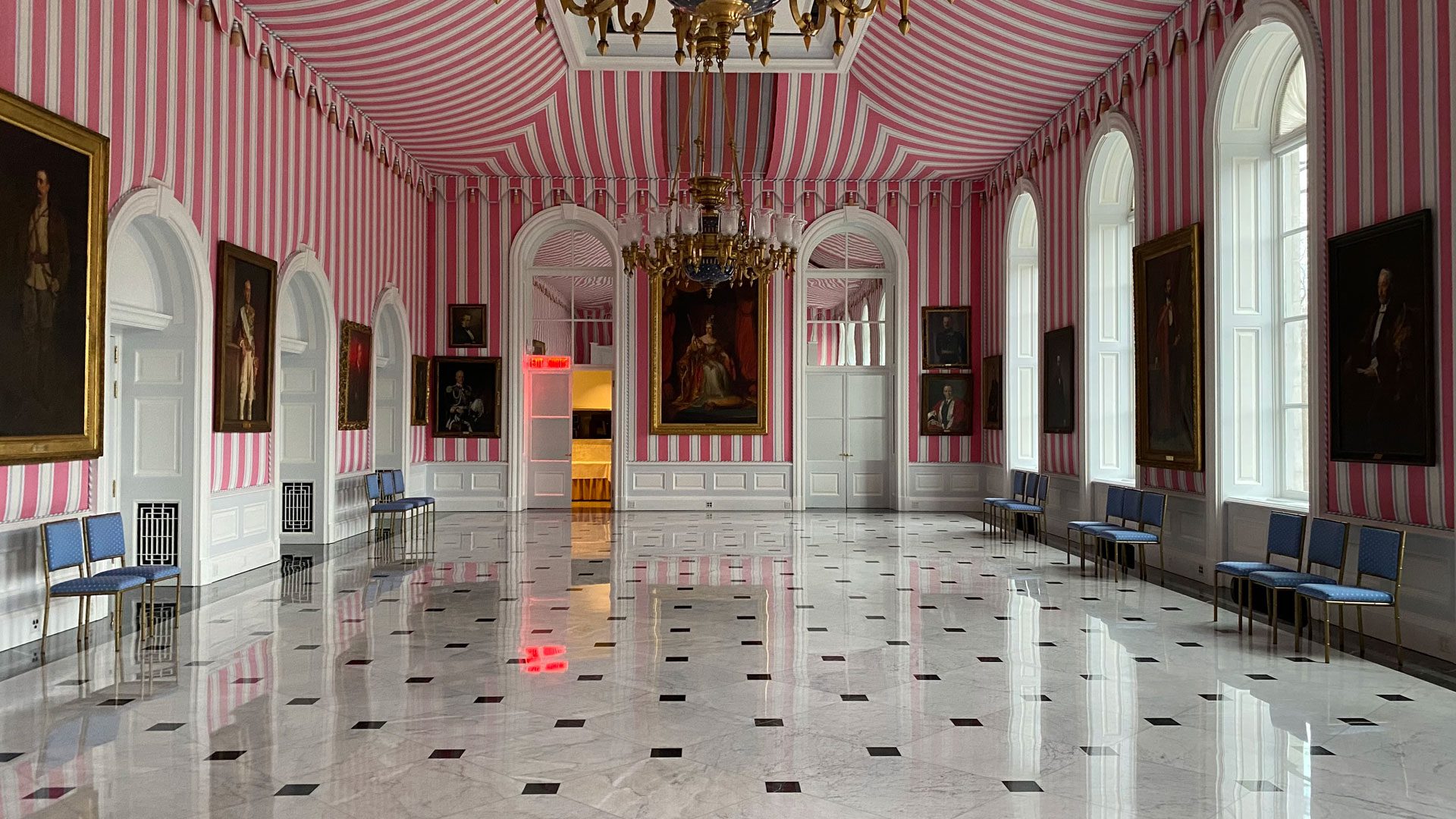 ---
Prime Minister Justin Trudeau touted her dexterity as a cultural bridge-builder when he announced the appointment, and she's already had opportunities to employ the skills.
She took over Rideau Hall during a controversial time. Its bureaucracy was roiled in allegations of a toxic work environment while her appointment prompted hundreds of complaints about her inability to speak French. It all happened amid the traumatic atmosphere following the confirmation of hundreds of unmarked graves at residential schools.
"It was really heartbreaking" to see the wounds of residential schools reopened, she says. "I see myself as a person that is going to help bring some closure to these issues and some healing."
Among her top priorities for 2022 are improving access to programs for mental health, diversity and inclusion, climate and nature, reconciliation, and youth.
Simon also looks forward — when not busy tapping elbows with international notables — to meeting regular people in small Indigenous communities country-wide.
"It is important to talk to leaders as well, don't get me wrong," she says. "It's just that I think we also have to hear from the grassroots."
Watch the full interview above.