Former Native Women's Association president living in a tent outside Edmonton
(Former NWAC President Marilyn Buffalo at the door of her home in Edmonton. Photo: Brandi Morin/APTN)
Brandi Morin
APTN National News
EDMONTON — Marilyn Buffalo never thought she would be homeless at age 65. The former Native Women's Association of Canada president is now sleeping in a tent in Maskwacis after losing her rental home in Edmonton last week.
The home was expropriated to make way for the Valley Line LRT expansion on the city's south side.
Buffalo lived in her 3,300 square foot home for six years along with her four children, one of their spouses and two grandchildren.
Last August she first received notice of the expropriation, however she thought she would have plenty of time before she had to leave. Then in January she received a registered letter that said she had to leave by the end of March.
"I said, 'No, I'm not leaving,'" said Buffalo. "I didn't want to uproot my family in the middle of winter."
At that point city officials along with her landlord gave her till the end of June to find new accommodations. It still wasn't enough time. Although Buffalo is self-employed she didn't have the resources to acquire a new home.
Buffalo has been a single mother for 35 years and practices the traditional family setting of living under the same household with some of her now adult children and their families.
"This is the home that they know they can come to. It's a big loss for everybody. Because now we don't have a place to gather," she said.
She was forced to pack up all of her belongings and put them into storage while under added stress from family members getting seriously ill and one committed suicide in the last few months.
Her one son, wife and their children were able to recently find a small home to rent, but everyone else that lived in the home has been displaced, including her 45 year old daughter Rhonda Buffalo. Rhonda has been a student for the past year and will be sleeping alongside her mother in a tent until she finds work again. She struggled with depression and anxiety over the past few months but said her main concern was staying strong for her children.
"It feels scary and empty," said Rhonda. "But we just keep going. We're trying to take it one day at a time."
Buffalo said she understands they aren't the only Albertans facing homelessness and that she wants to share her story to shed light on the issue.
"Somewhere there's a human dignity for individuals like myself, but no one offered us an olive branch of any kind," she said.
She did attempt to enter into negotiations with city officials in the hopes they could help with moving costs. After three meetings the discussions turned sour.
But later on, a small settlement agreement was reached that cannot be disclosed for legal purposes, but Buffalo said it hardly made a difference.
"The fact is it clearly put me out on the streets. We have no place that we can go and advocate."
Buffalo has had an extensive career. In addition to her work at the Native Women's Association, she established the native studies program at the University of Alberta, she was a policy advisor to several levels of government and is also a residential school survivor. She attended the final Truth and Reconciliation event in Ottawa last month and said it was painful to hear Edmonton Mayor Don Iveson speaking to reconciliation when issues such as homelessness are so rampant in the city and seemingly ignored.
"It brought tears to my eyes…How do you reconcile healing and wellness and reconciliation for our people when thousands of us are being impacted by these laws that don't protect anybody except the powers at be?"
Renters have few rights in Alberta when it comes to expropriation, however Buffalo said she is an descendant of the original First Nations that lived in the area long before the city was established, the city sits on "Indian land" and that it should make more efforts to address Aboriginal homelessness.
A 2012 study conducted by Homeward Trust found that out of 2,174 homeless people surveyed in Edmonton, 46 per cent of them were Aboriginal.
"100 years later we're facing the same expropriation that my ancestors have faced," she said, adding that if Edmonton is serious about reconciliation efforts it's going to take a lot more than signing protocol and "feel good" agreements with area chiefs. That governments need to look at amending laws and legislation to accommodate Indigenous people living in cities.
She believes the lack of supports and resources for urban Aboriginal people contributes to other issues.
"This speaks to poverty, child welfare and missing and murdered Indigenous women. If you're a homeless person and a mother and you have no means of putting food on the table or don't have shelter- the root cause is poverty. You're children get taken away. People give up. A lot of our people, especially women are falling through the cracks."
Brad Smid, project manager for the Valley Line LRT called the situation unfortunate.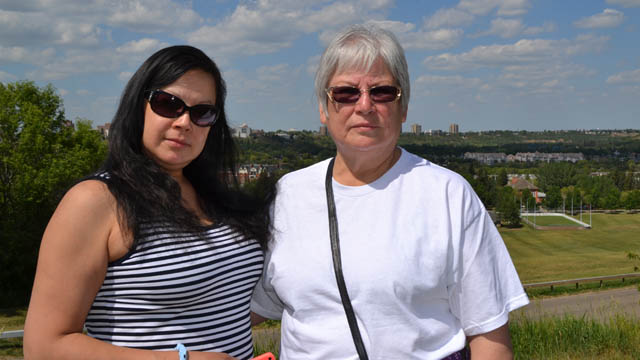 "We obviously don't want to see that happen to anyone affected by the project. We are definitely committed to fair treatment of all parties to the process. We try to give a lot of lead time and communication in advance for them to find alternative housing, to understand the expropriation process and their rights."
Buffalo said she is living proof that homelessness can happen to anyone. Nevertheless she will continue to search for a suitable place to live. She refuses to stay on "skid row" or in accommodations that are run down and in some cases crawling with bed bugs and other pests currently available for rent in Edmonton.
Buffalo is travelling to Montreal this week to attend the Assembly of First Nations annual general assembly. She has also been nominated to once again serve as president of the Native Women's Association. Friday, she will learn if she is voted into that position where she says if elected she will continue to be an advocate for Indigenous women.
By sharing this experience of now being homeless she hopes it will make a difference for others in the same boat.
"I am not alone. We need leadership with a heart to implement change in policies. I recently spoke to graduates at the 40th Anniversary of the Natives Students Association at the UofA…In the back of my mind I was thinking, 'If only they knew where I am.' I told them 'you can't give up'."