Former climate researcher using green thumb to find ways to grow vegetables in the North
Shirley McLean
APTN National News
At one point in his life, Glenn Scott wanted to study broadcasting.
Instead, he found himself in the circumpolar north studying climate change in Russia and Alaska.
Now Scott, owner of AgriArctic Yukon Inc is developing spaceship-like pods with silver material on the walls surrounded by budding signs of life.
He calls it the Agridome, a small dome he designed and built to test the feasibility of growing vegetables year round in Canada's North.
"So for the last three months I've been involved in constructing these germination racks," explained Scott. "And this vertical aeroponics unit here all connected to an automation system to demonstrate you can grow things in the north and grow them productively."
The walls are lined with mylar; a shiny silver material that reflects the energy efficient lighting.
Scott is experimenting with aeroponics to grow the vegetables without soil and minimum amounts of water.
The vegetables receive food through a fine nutrient-rich mist or spray which is applied directly to their roots.
In the middle of the dome is a double sided wall holding rows of soilless plants in plastic pods with their roots exposed to the air.
Scott said one of the major benefits of using this system is the reduction in water usage.
And by arranging plants vertically, rather than horizontally, northern growers will optimize space and energy efficiency.
He can also monitor the plants ph balance and temperature inside the dome via his high-tech computer system.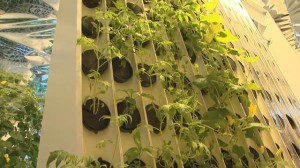 The $90.000 project is funded by the Canadian Northern Economic Development Agency and Cold Climate Innovation of the Yukon Research Centre.
"Food security is an important issue in the North and we are committed to supporting innovative and affordable technologies to grow our food", said Stephen Mooney, Director, Cold Climate Innovation, Yukon Research Centre.
Mooney says one of the factors that make this project promising is the potential for commercialization.
"The idea is to really cookie cut this and work the bugs out so we can make more of these and pack them up and distribute them across the north."
During the winter, Whitehorse temperatures dipped to -30 C while the dome maintained a balmy 15 C.
The whole dome takes up about 30 square metres.
Scott said he wants Northerners in remote communities to be able to grow fresh vegetables year round and help with the high cost of living.
His contribution to food security.
Food security is a big issue in the North.
This past fall, Canada's Auditor General critisized Canada's Nutrition North program for not being able to tell if it was making food in the North more affordable.
And an APTN Investigation into the problem found people scrounging in the local dump to find food.
Also, an internal federal government report stated that Ottawa must spend more money in the North for food. 
In Whitehorse, Scott's crop yielded tomatoes, peppers, sweet peas, cucumbers, zucchini, herbs and even cantaloupe.
Next winter he hopes to experiment growing the staples, carrots and potatoes.
@shirlmclean