'I just kind of fell in love with it': Saulteaux woman becomes flight instructor in Saskatoon
The 20-year-old fell in love with flying at the age of 12.
---
In the first airplane Natasha Moar ever stepped foot on, the 20-year-old First Nations woman did some of the piloting herself.
It was a fluke that she found herself there. She was supposed to be in a glider with her air cadet crew. But weather wreaked havoc on her plans.
"Because of the weather two of us got picked at random to go into the plane that pulled the gliders. My friend didn't want to go in the front so I did.
"While I was there the pilot let me fly the plane and I just kind of fell in love with it."
Not bad for a first flight.
"It was funny my dad mentioned I got to fly a plane before I went on a plane to travel somewhere," says Moar.
Natasha, who's a member of Cote First Nation, has just passed her Class 4 instructor rating flight test and she's joining Millennium Aviation in Saskatoon as their newest flight instructor.
Her older sister, Latisha says that Natasha has always been really adventurous.
"When she was a teenager we went to Las Vegas and she jumped off the top of the Stratosphere," she says.
That jump, a plunge from 250 metres above the Las Vegas strip, is a main attraction at the Vegas hotel known as The Strat.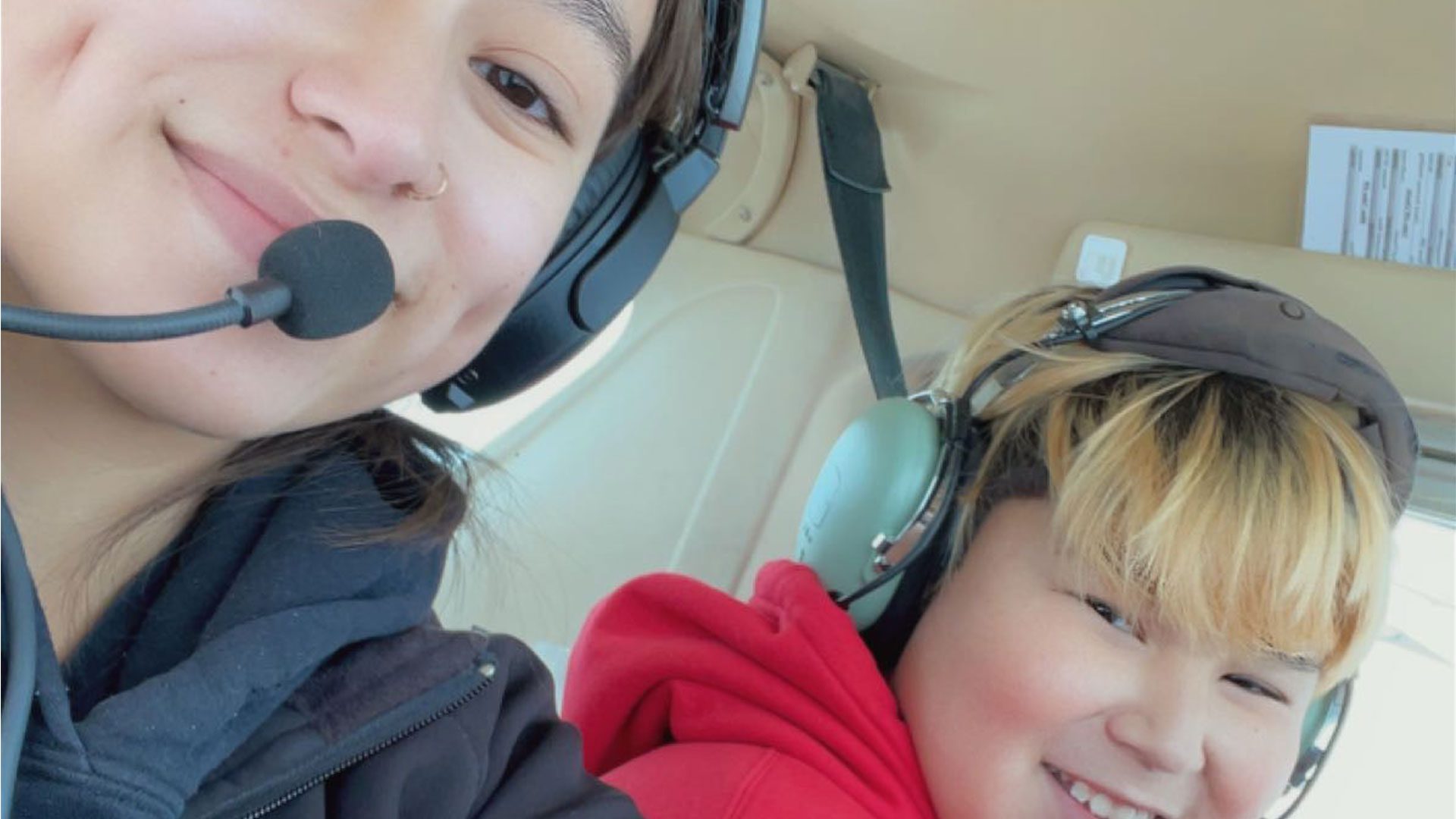 ---
Latisha says her sister has worked hard to achieve her commercial pilot license, starting from when she was 13.
"She's doing amazing things all by herself. She took out student loans and worked full time as well as night classes," says Latisha.
Natasha's parents gave her an introductory flight at Millennium Aviation for her thirteenth birthday.
"During the trip I got to fly the plane and do more. After that I knew it was what I wanted to do for a career choice," says Natasha.
READ MORE: Sky's not the limit for first female Indigenous Medivac crew
In the fall of 2019, she began her ground school training to be a commercial pilot.
"I had a job so I was going high school Monday to Friday, after school I would be going to work and on Thursdays I was going to the ground school. My mom would drive me there," says Natasha.
She saved up money and then started to get the flying hours needed to get her license. Students need 200 hours of practice to get their commercial license.
Natasha says what she loves most about flying is the variety.
"Every day you're up there it is going to be different… the wind when you're taking off and landing or what you are going to encounter in your flight. Maybe a month ago we had another First Nation guy come in for his intro flight and it made my day when he told me he was so happy that he met me.
"He was like you're the first First Nations commercial pilot I've ever met," says Natasha.
She's happy with work as a flight instructor for now, but says that as she plans to continue to make flight her career path.
"I'm not too sure what the long term goal is, I am just seeing where it takes me."