First Nations leadership in Manitoba address misinformation as Moderna vaccine arrives
---
Surrounded by healthcare workers and leadership, Mervin Garrick was the first person to receive the Moderna vaccine in Pimicikamak Cree Nation.
"I wanted to show people to have trust in the vaccine, and I'm pretty sure a lot of them now have different feelings about it," said Garrick, who is a councillor in the community 800 km north of Winnipeg, during an online press conference hosted by political advocacy group Manitoba Keewatinowi Okimakanak (MKO) on Tuesday.
---
Pimicikamak is one of a handful of First Nations that started receiving the vaccine beginning last week and leadership has been addressing the hesitancy in taking the new vaccine.
Garrick was vaccinated moments after they landed in the community on Jan. 7. He was the first person to be vaccinated on a First Nation in the province.
Pimicikamak received 199 doses and Monias said two elders have chosen not to be vaccinated with others still expressing concerns over Western medicine practices and misinformation being spread online.
Garrick has this message for those who are worried.
"Elders have called me and talked to me about the vaccine and I just told them its better you take it," said Garrick.
Monias said it's not leadership's job to force people to take the vaccine but to provide them with as much information as possible so people can make an informed decision.
He believes Garrick's decision to get vaccinated has helped ease minds.
"We had elders that were not even on the [vaccination] list show up…that was a good sign that people were coming forward," said Monias. "That kind of removed all that notion that this is not a good thing."
In October, Pimicikamak, also known as Cross Lake, declared a code red lockdown after dealing with an outbreak that saw upwards of 35 cases in a week's time. As of last week the community is still dealing with 30 cases, according to Chief David Monias.
Monias said the community has spent months preparing for the vaccine.
"We had our logistics planned out, we had our facilitators ready, our technicians, our medical team, we had our medical vans and drivers and so forth all ready to go," he said.
"We were prepared for this vaccine."
---
Read More: 
APTN News coverage of COVID-19
---
The province announced last week 5,300 doses of Moderna would be available to all First Nations in the province this month. Another 5,300 doses will go out next month.
Members from First Nations advocacy groups in the province have determined among the first groups to be vaccinated on First Nations include people over the age of 70 and personal care home staff and residents.
The Manitoba First Nations COVID-19 Pandemic Response Coordination Team has been working with communities to determine how many doses are needed to reach these groups.
Vaccinations have also started in the nearby community of Norway House Cree Nation.
Norway House Cree Nation also started receiving doses.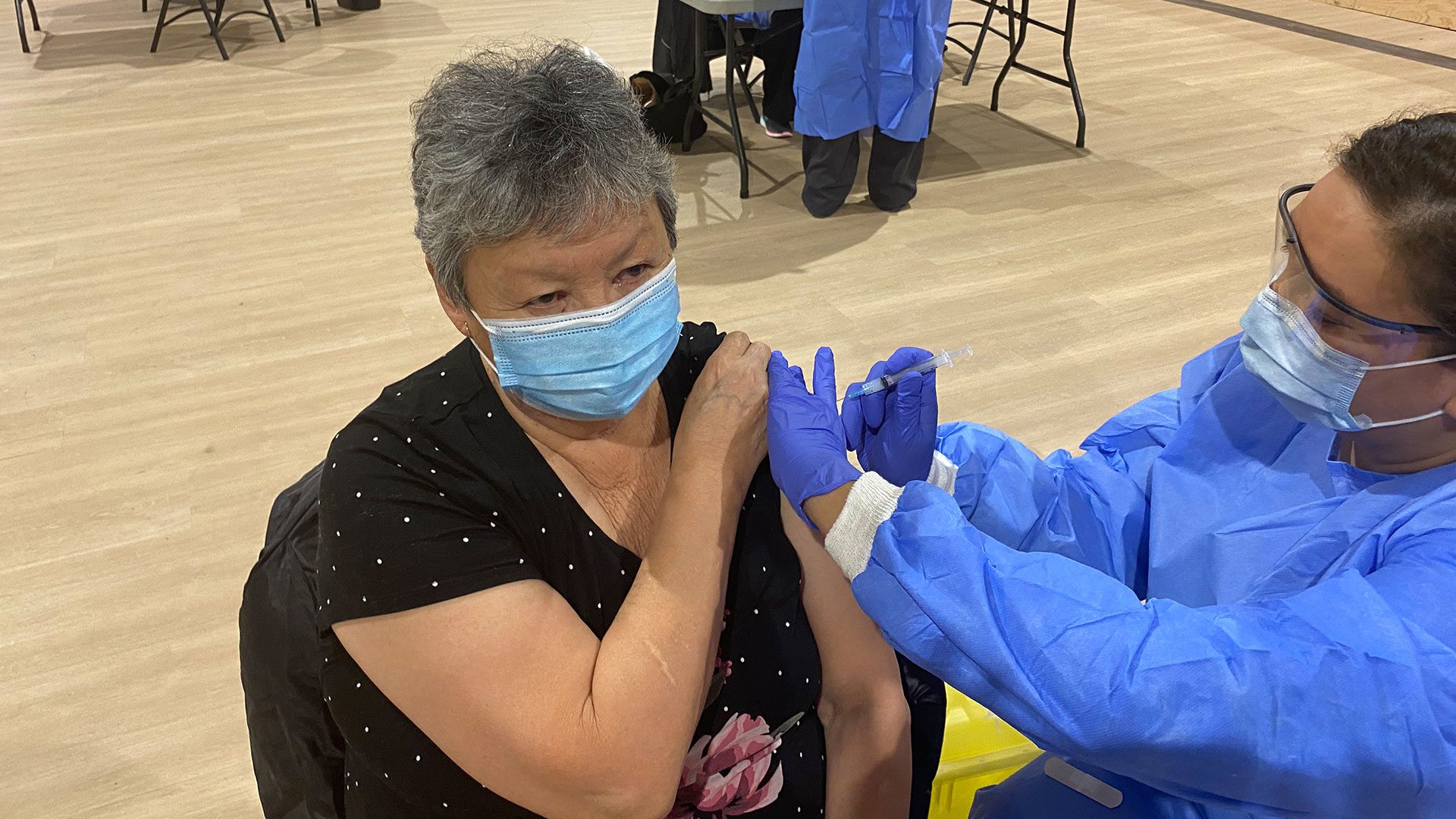 ---
Chief Larson Anderson said three out of 120 elders have chosen not to take part.
"We're trying to assure them that the vaccine is quite safe and it's meant to help," he said.
Larson added those residents are speaking with doctors in the meantime to get more information.
York Factory First Nation, also in northern Manitoba, received 20 doses of Moderna and began vaccinating residents on Monday.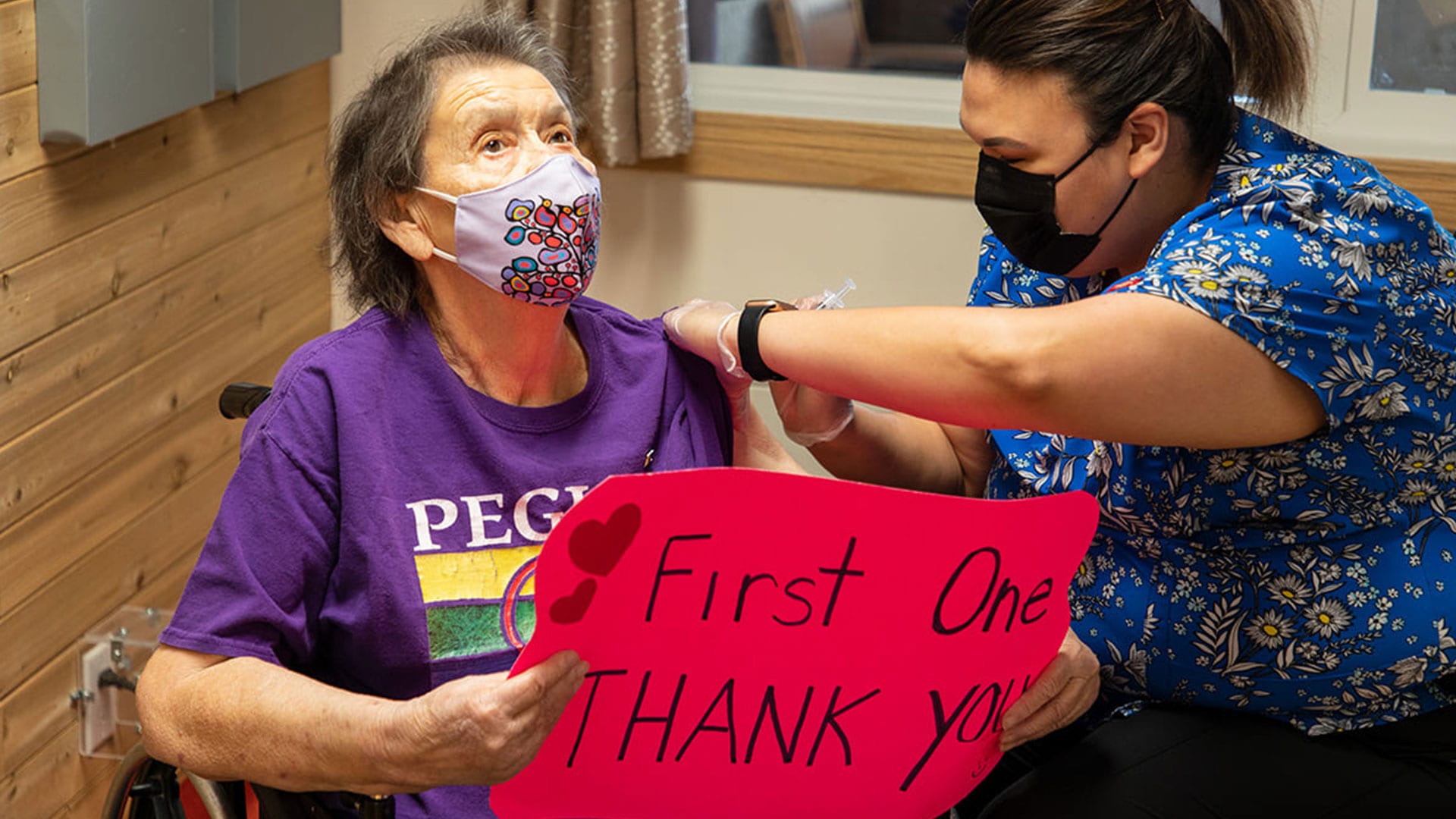 ---
To the south Peguis First Nation and Fisher River Cree Nation also began administering doses this week.
As of Tuesday First Nations people account for 64 per cent of the active cases in the province and 41 per cent of the new cases.