First Nation in the Yukon holds gathering to remember people who died from addictions
---
In the small community of Carcross, Yukon, about 30 people gathered to honour those who have died from addictions and issues associated with mental health.
The rural community of around 300 people 70 kilometres south of Whitehorse has been hit hard by tragedy recently.
During the first week of the new year, Carcross/Tagish First Nation (C/TFN) announced three citizens died due to drug related deaths.
Felishia Johnson, a Carcross resident and adopted C/TFN Deisheetaan clan member, says the deaths weigh heavily on everyone.
"It's really sad to see some of the young people losing their lives. A lot of those people are Indigenous people," she says.
Because of the deaths, C/TFN declared a state of emergency last week.
Haa shaa du Hen (Chief) Lynda Dickson told APTN News the First Nation did so  in order to receive more funding and supports from the territorial and federal governments, as well as to raise awareness about addictions.
Johnson, who runs a supporting sobriety group on Facebook, helped arrange the vigil. She says her and her husband recently became sober.
"We were tired of the lifestyle. We were tired of drowning our spirit. We're very cultural people, and substances take away from that, they make your spirit leave your body," she says.
Johnson says addiction has touched many people in the tight-knit community, including herself.
"I lost my brother about six years ago to substance use and the grief still comes back. I always wondered what his life would have been like because he was only 32. I'm very emotional, I'm heartbroken and sad."
More supports needed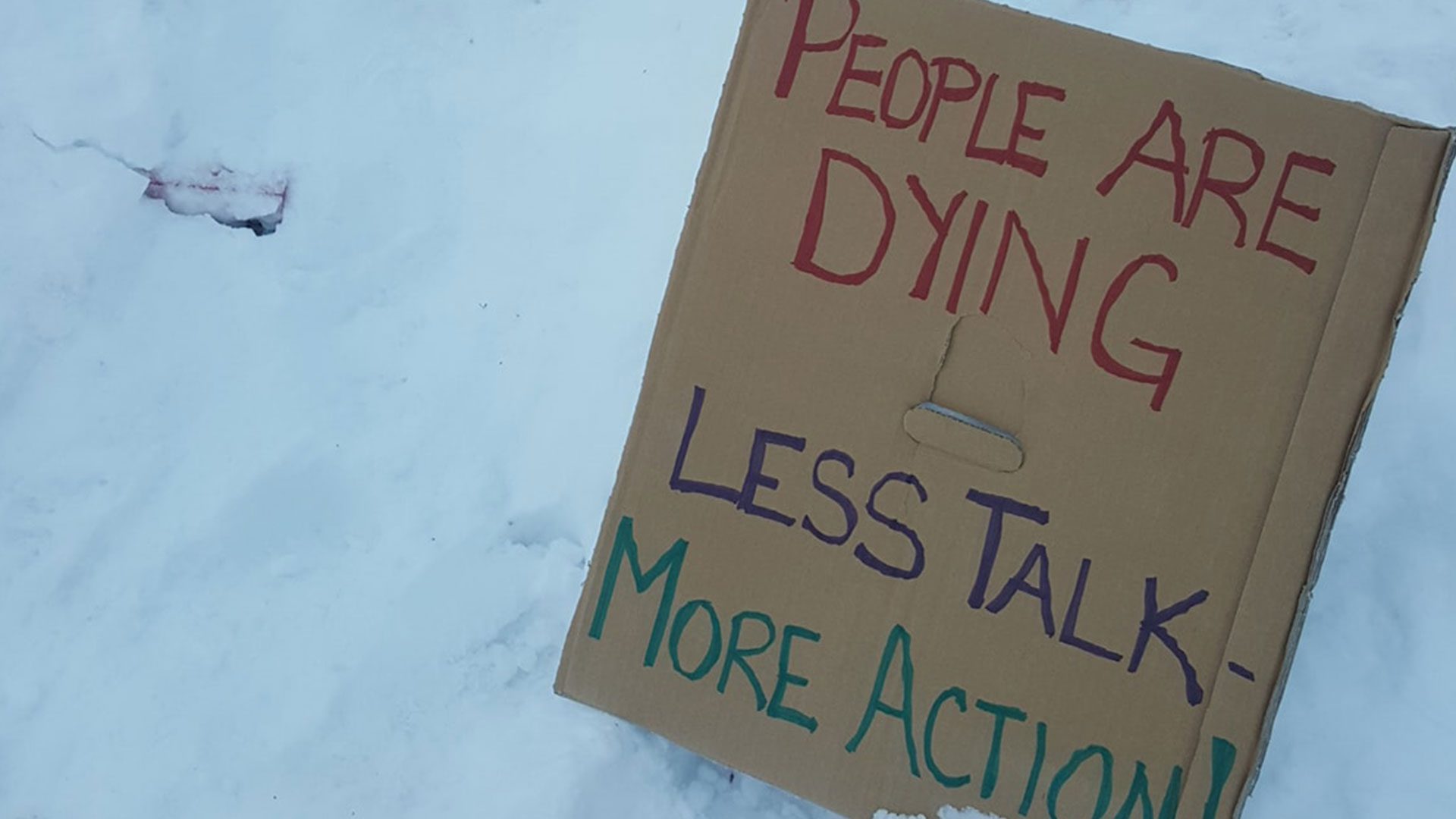 ---
The vigil was part of a territory-wide series where several communities remembered their loved ones lost to addictions and other problems associated with poor mental health.
Supporters marched, told stories of their loved ones and lit candles in their memory.
Lyndsay Amato, a C/TFN citizen who was a main organizer of the event and attended the Carcross vigil, says the territorial government isn't providing enough supports for people struggling in rural communities.
"We need the government to see our communities are still suffering. They need to start standing up and supporting us," she says.
A government spokesperson told APTN there are supports in Carcross, such as a community counsellor and child and youth clinical counsellor, but Amato says more is needed.
"They need to give us more preventative services to each of our rural communities. They need to our support Indigenous people more than they ever have before," she says.
It's something Johnson agrees with.
She says some people in Carcross don't have computer skills and can't access what little supports are already in place.
"Not a lot of people have support or someone to help them to locate those resources, or they don't have internet or they may be lacking computer skills," she says.
---
Read More:
First Nation in Yukon declares state of emergency after three drug related deaths in one week 
'Something needs to be done': Yukon community of Mayo struggling with addictions, mental health crisis
---
Johnson says she would like to see community involvement when tackling the addictions crisis.
"Having the community involved I think it's really helpful because you're getting the support from your peers, you family, the people that you know," she says.
Amato and other organizers are also working on a petition calling on the Yukon government to declare a state of emergency in response to the territory's opioid-related deaths. Similar to C/TFN's declaration, she hopes the declaration would provide supports and awareness to communities struggling with addiction.
She notes the declaration would also be in support of a petition that circulated in the community of Mayo last year calling on health and social services Tracy-Anne McPhee to declare a state of emergency over its addictions and mental health crisis. While McPhee did respond to the community, she stopped short of making a declaration.
Government promises to 'do more'
---
On Friday Premier Sandy Silver and McPhee issued a joint statement that the territorial government was planning phase one of a mental wellness summit that will focus efforts to address substance use, the opioid crisis and suicide prevention. The summit will be held in February.
"Today we met with leaders from across the territory to start taking action. We are committed to supporting Yukoners who are struggling with mental health and addictions and we recognize we need to do more," it states.
Carcross' MLA, John Streicker, who spoke at the vigil, likewise promised he would lend his support to the community.
Johnson is hopeful the community can come together to fight its addictions crisis.
"We can fight this opioid crisis, we can fight substance use, we just all need to work together."