Feds promise $4.5B in new spending on Indigenous peoples in pre-election budget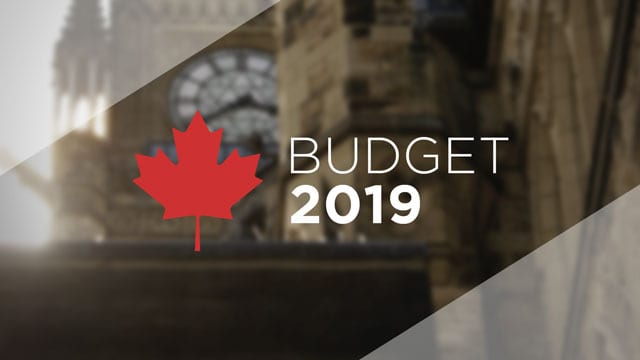 The federal Liberals are promising to spend $4.5 billion in new money over five years for First Nation, Metis and Inuit as the government delivered its final budget before the October election.
"We know that building a better Canada must, by definition, include advancing reconciliation with Indigenous Peoples," said Finance Minister Bill Morneau in his budget speech.
The main focus of the budget is cash for Jordan's Principle, keeping on-reserve water systems up and running, and education for First Nation, Metis and Inuit post-secondary students.
According to the government, the two per cent funding cap has been lifted, and spending will reach $17 billion by 2021-22.
Jordan's Principle
Jordan's Principle, the program that provides services for First Nation children living on reserve will get a total of $1.2 billion over three years. According to the budget, 214,000 children have received services including speech therapy, educational supports, medical equipment, and mental health services under the program since 2016.
"Budget 2019 includes important new measures to help advance self-determination and improve the quality of life for First Nations, Inuit, and Métis Nation Peoples," said Morneau. "It includes new investments to better uphold Jordan's Principle, so that First Nations children can get the help they need—when they need it, where they need it."
Read:
Despite the fact that Bill C-92, the Liberal's child welfare law is making its way through parliament, there is no new money for First Nation, Metis or Inuit child welfare in anticipation of the law passing.
According to the government, the First Nation Child and Family Services program, which pays for the services that are needed, currently has a budget of $1.1 billion and spending for the proposed Bill C-92 child welfare legislation will operate from that pot.
The program was topped-up in the 2018 budget by $1.4 billion.
In the north, $220 million over five years is being promised to provide services to Inuit children on health and social services with "government partners."
Languages
With Bill C-91 being studied by committees in the House and Senate, the government is promising $333.7 million over five years to support the proposed Indigenous Languages Act. The bill, which has the support of the Assembly of First Nations, and the Metis National Council but not the Inuit Tapiriit Kanatami, will start receiving money to launch it in 2019-20 with $115.7 million per year ongoing.
The money will be administered by Heritage Canada in anticipation that the bill will be passed and implemented.
Education:
The government decided to segregate First Nation, Metis and Inuit students in this year's budget.
Money for First Nation students will total $327.5 million over five years.
The money for Inuit and Metis students is spread out over ten years.
The budget for Inuit students is set at $125.5 million with $21.8 million ongoing.
The Metis program will receive $362 million with $40 million ongoing.
Infrastructure:
Despite the high profile stories on communities struggling with mold and water issues, there is no new money for on reserve or northern housing as money from last year's budget is kicking in.
The government says so far it has spent $2-billion in new public water systems in First Nation communities which includes repairing and upgrading existing systems.
Now, with its self-imposed deadline of 2021 to end all water advisories, the feds are proposing to spend $739 million over five years on providing support for communities to keep systems running and updated, and to make sure that people are trained to operate them.
"So far, we have lifted more than 80 long-term water advisories, and we're on track to eliminate all of the advisories in the next two years," said Morneau.
"There are, today, children living on reserve in Canada who cannot safely drink, or bathe in, or even play in the water that comes out of their taps. That's not okay."
Inuit initiatives
In the north where people live in crowded homes, for years, there is no new money for housing – the government is sticking with its 2018 commitment of $300 million over 11 years.
The Inuit Tapiriit Kanatami (ITK) launched its suicide prevention strategy in 2016. Ottawa is now financially supporting that initiative with $50 million over ten years with $5 million per year ongoing.
$15 million over five years to establish a northern remote community food production system.
Metis Initiatives
$30 million to recognize the contribution of Metis veterans of World War Two.
$50 million over five years to enhance the funding of the Metis Capital Corporations to support the start-up of small and medium sized businesses – and $100 million to establish an Indigenous Growth fund to encourage investments in Indigenous led businesses by Aboriginal financial institutions.
The North
$700 million will be spent over ten years for more diversified post-secondary educational options, enhanced infrastructure resources to connect remote communities, increased economic development and research.
$26 million over five years to Yukon college for its transformation into a hybrid university.
The Dechinta Centre for Research and Learning in the Northwest Territories will receive $13 million to foster Indigenous knowledge and education.
Comprehensive Claims and governance reform
According to the government, as of March 4, 2019, Ottawa has settled 68 specific claims – a 40 per cent increase in the number of settlements between 2012 and 2015 – the year the Liberals were elected.
The budget proposes to forgive $1.4 billion in loans to First Nation and Inuit communities that were forced to borrow money from the government to help them negotiate comprehensive claims.
The government says it will also reimburse any community that has already paid back its loan.
According to the budget, this will affect 200 communities.
Despite the death of the Indigenous rights framework legislation, the budget includes notes that it will try a new approach to governance funding that includes a new lifecycle funding model for the maintenance or replacement of community infrastructure, and an interim approach to land and resource management responsibilities.
That includes, $78.9 million over seven years starting in 2019-20 with $13.7 million per year ongoing to permanently fund the Surveys on Indigenous Peoples and First Nation Regional Health survey to help communities make better decisions about what programs are needed in their communities.
And, $48 million over two years for communities in greatest need obtain the expertise, advice and tools required to govern their community and deliver critical programs and services.
Truth and Reconciliation Calls to Action in the budget:
Calls to Action: 53-55
$126.5 million to establish a National Council for Reconciliation and provide it with "initial operating capital." The council will bring together First Nations, Inuit, and Metis Nation peoples as well as non-Indigenous Canadians to get a "better understanding of reconciliation."
Calls to Action: 72-76
$33.8 million to develop and maintain the National Residential school student death register and work with various organizations to establish and maintain an online registry of residential school cemeteries. This will be done in partnership with affected families and communities, as well as the National Centre for Truth and Reconciliation.
Calls to Action: 50
$9.1 million over three years to "support the construction" of an Indigenous Legal Lodge at the University of Victoria. The budget also proposes to spend $10 million over five years to support Indigenous law initiatives across Canada to improve equality for Indigenous Peoples in Canada's legal system.
Calls to Action: 66
$15.2 million over three years for an Indigenous youth pilot program delivered by Canadian Roots Exchange (CRE). According to the budget, the CRE is a non-profit organization that works to "advance reconciliation by bringing together Indigenous and non-Indigenous youth to promote mutual understanding and respect."
Calls to Action: 80
$10 million over two years to enable communities to recognize and commemorate the legacy of residential schools on the proposed National Day for Truth and Reconciliation.
Other budget spending:
$9-million over three years for Indspire.
$60 million over five years for urban Aboriginal programs including money for Friendship Centres.
The government says that it is also looking at creating a marine conservation area in the High Arctic Basin or Tuvaijuittuq – the last portion of the Arctic region expected to retain summer sea ice until at least 2050, according to the budget.
$211 million over five years with $49.4 million per year on going to increased emergency management on reserve.
$48 million over four years starting in 2020-21 to renew funding for infrastructure projects on reserve that will protect communities from climate-related hazards.