Federal government challenging tribunal order to compensate First Nations children in care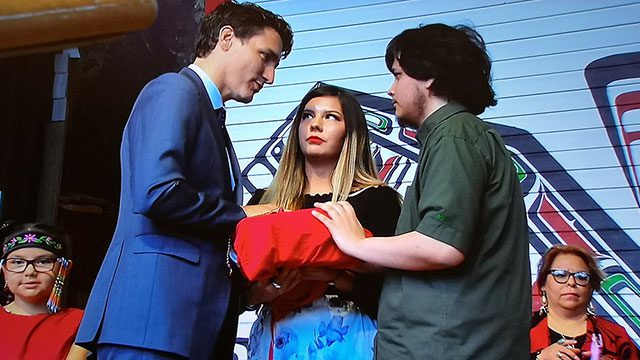 APTN News
Justin Trudeau's Liberal government is seeking a judicial review of a ruling that ordered Canada to pay $40,000 to First Nations children who were taken from their homes on-reserve and put in care dating back to 2006.
The application was filed in Federal Court Friday.
The Canadian Human Rights Tribunal found Canada guilty of willfully underfunding on-reserve child welfare and ordered each child be paid $40,000, a settlement that could amount to billions of dollars. Parents or guardians could also be eligible for payments.
The ruling followed the tribunal's historic decision on Jan. 26, 2016 that first found Canada guilty of purposely discriminating against First Nations children.
The government said in its appeal it wants the court to set aside the tribunal's ruling for compensation or send it back to the tribunal to be reconsidered.
"Canada acknowledges the finding of systemic discrimination and does not oppose the general principle that compensation to First Nations individuals affected by a discriminatory funding model can be made in appropriate circumstances," wrote Canada.
Cindy Blackstock says it's another example of the government not owning up to its mistakes.
"I think that is another sign that they are not accepting responsibility for their own behaviour," said Blackstock, who is the executive director of the First Nations Child and Family Caring Society, which first launched the complaint at the tribunal more than a decade ago along with the Assembly of First Nations.
It took the Trudeau government more than two years to act on the tribunal's initial order to increase funding.
A recent APTN News investigation found that 48 Indigenous children–mostly First Nations–connected to Indigenous child welfare agencies in Ontario died during that time.
In fact, over a five-year period between 2013-2017, 72 Indigenous kids connected to child welfare died in northern Ontario, where three Indigenous agencies covering most of the territory were underfunded by the federal government approximately $400 million in that same period.
The number of deaths jumps to 102 Indigenous children when looking at the entire province between 2013 to 2017.
Death as Expected: Inside a child welfare system where 102 Indigenous kids died over 5 years
'Wilfully and recklessly': Human rights tribunal awards compensation for First Nation children in care
"What they need to do is comply with the order, stop fighting us in court and do the right thing for these kids and their families," said Blackstock.
Indigenous Services Minister Seamus O'Regan said the government wants the tribunal stayed until after the election.
"The recent ruling from the Canadian Human Rights Tribunal is significant and raises important questions and considerations such as who is to be compensated and the role of the tribunal," O'Regan said in a statement Friday. "In order to give us both clarity on the ruling and time to have these conversations with our partners, which are not possible during an election, we are seeking a judicial review and stay.
"We agree with many of the findings of the Canadian Human Rights Tribunal including the recognition of discrimination and mistreatment and the need for compensation," he added.
However, Blackstock questions why the feds are first asking for the tribunal's order to be overturned.
"Why even ask for that if you agree there should be compensation?" she said.
The Chiefs of Ontario, one of the interested parties in the proceedings at the tribunal, chastised the Liberals for the decision to appeal.
"Canada says that it accepts there was discrimination against First Nations children and accepts that there should be compensation. But yet it also says this is not the appropriate forum to get that compensation," said Grand Chief Joel Abram in a statement released Friday.
"Canada is saying we need to negotiate. We have been trying to negotiate about compensation for these children since 2016, and we never get responses. It is a frustrating situation, and meanwhile families are still waiting for justice."
Conservative leader Andrew Scheer has already said he wanted the order judicially reviewed, while both Green leader Elizabeth May and NDP leader Jagmeet Singh said they would honour the tribunal's order.