Federal Fisheries minister will not review federal permits that authorize flooding for #MuskratFalls project
Fisheries Minister Dominic LeBlanc says he will not review permits issued for Muskrat Falls hydroelectric project.
(An aerial view of the Muskrat Falls hydroelectric dam in Labrador. Photo courtesy of Nalcor)
Trina Roache
Jorge Barrera 
APTN National News
Fisheries and Oceans Minister Dominic LeBlanc says he will not review federal permits granted to Newfoundland and Labrador to flood an area for the Muskrat Falls hydroelectric project.
The request to hold a review came from Labrador MP and Parliamentary Secretary to the minister of Indigenous Affairs Yvonne Jones after nine demonstrators were arrested by RCMP for ignoring a court injunction ordering them to stay away from the site.
"I have asked the minister to do a review of the environmental conditions that were supposed to be met when a permit was issued by the federal government," said Jones, in a scrum following question period on Parliament Hill Monday. "If the conditions were not being met when the permit was issued, obviously then there will be a federal responsibility for that."
But in a statement, a spokesperson for LeBlanc wrote that the minister is putting the onus on the province.
"We understand that the Government of Newfoundland and Labrador is working with the proponent, Indigenous peoples, and stakeholders with respect to this project," the statement said. "We expect the province will meet its responsibilities to ensure the health and safety of Canadians."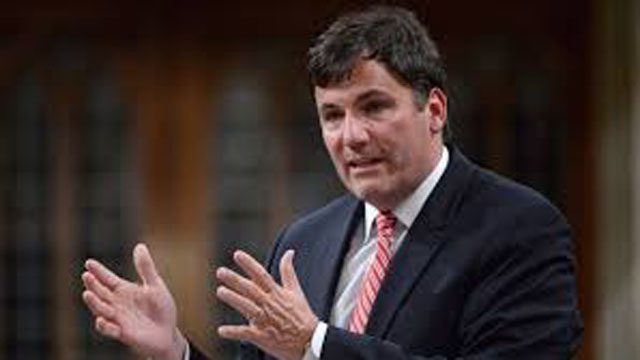 There was no mention of reviewing the permits.
Yvonne Jones could not be reached for comment as of the posting of this story.
On Monday, Nunatsiavut President Johannes Lampe asked the Prime Minister to step in, saying a Harvard Study on methylmercury at Muskrat Falls was a game changer.
"Independent scientific evidence, which was not available when the authorization was granted, overwhelmingly demonstrates that flooding of the reservoir, under current clearing conditions, will violate the terms of that authorization," said Lampe.
No one from the Nunatsiavut Government has heard from the federal government at this point.
Todd Russell, president of the  NunatuKavut Community Council. said he didn't want to comment until he heard it directly from the Minister's office.
"But I will say this," said Russell. "There comes a time when they got to start communicating with us directly. And I have to say, it's all news to me. Isn't it? I said yesterday (Tuesday) I haven't been informed. We haven't been asked. And if they confirm what you're saying, probably for good reason because there was no intention of ever doing it."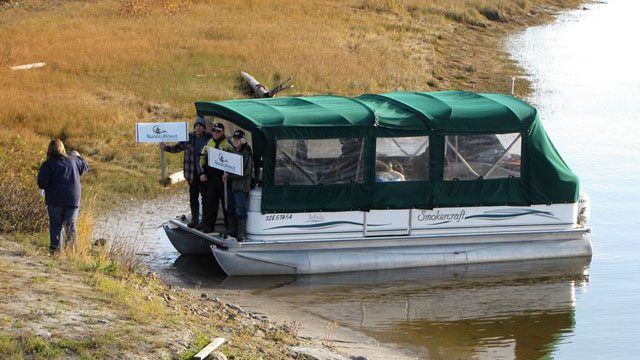 For more than a year, Inuit leaders have been pushing for changes to the Muskrat Falls project to address concerns over methylmercury.
The Harvard University study predicts that the trees and topsoil left in the flood zone will create methylmercury. The toxin will flow downstream, and work its way up the food chain.
The Inuit fear their traditional food sources will be poisoned.
"There were options, things they could do," said Russell. "This is what is so maddening about this entire situation."
Inuit leaders say there's still time and want the project halted immediately so the reservoir can be fully cleared.
"We still believe, standing here right now, by this monstrosity wreaking havoc upon the landscape, that there is still time," said Russell. "Let the water flow clean from that reservoir. Start respecting Indigenous rights."
Russell toured the Lower Churchill River by boat, before heading to the construction site where land protectors are camped out.
On Monday, nine people were arrested at the blockade for violating a court injunction obtained by Nalcor Energy, a provincially owned energy corporation.
"We warned the premier that if there were no changes, you are precipitating the action you're seeing," said Russell. "And it's spreading. Support is very widespread, people see the injustice."
Russell said this isn't an abstract issue for people who live around Lake Melville, where the water from the dam will flow.
"When you disrupt the food on people tables, you disrupt their well being, their sense of security, their connectedness to each other and land. You threaten a way of life. That's what this project does," he said.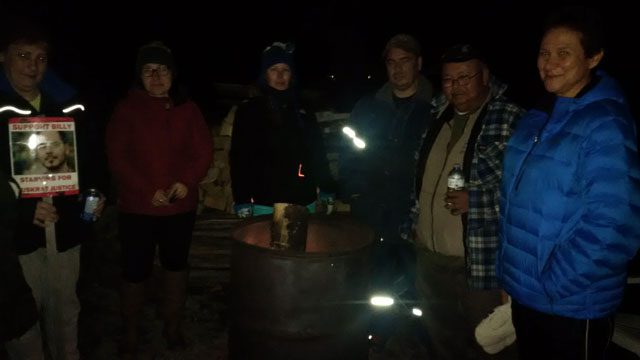 In a statement, Newfoundland and Labrador's Environment Minister Perry Trimper called the federal government a "key stakeholder" in the project.
"Their scientists have worked closely with officials in the department of Environment and Climate Change throughout the project and they participated in two scientific workshops held by the department on Muskrat Falls and methylmercury."
Trimper added that the federal government has also been involved in "the Aquatic Environmental Effects Monitoring Plan – an important plan that will monitor methylmercury in fish and seal which will be vitally important to informing actions needed to ensure protection of human health."
But that monitoring plan falls short according to the Nunatsiavut Government.
"The Province has indicated that the work carried out by Harvard University is not being used to inform the monitoring program," said Lampe. "That is extremely disappointing, and has added to the level of frustration we have had with the Government of Newfoundland and Labrador on this whole issue."
In the meantime, work continues at Muskrat Falls. The land protectors continue to watch over the project from a distance outlined in the court injunction sought by Nalcor.
Nalcor said flooding has not yet begun but is imminent.
The initial flooding will fill the reservoir to the 25 metre mark; rising up to a metre per day. Later flooding will fill the reservoir up to 39 metres and isn't expected to be completed until 2019.
The blockade, arrests and rallies are just the latest in a long fight against a project that many have called a boondoggle; Muksrat Falls is behind schedule and over budget.
"The civil unrest we are currently witnessing is because of the Government of Newfoundland and Labrador's poor handling of the Muskrat Falls fiasco and it appears to be escalating," said Lampe. "It is time the premier showed some leadership and direct Nalcor Energy to delay flooding of the reservoir until all concerns are meaningfully addressed."