Family, friends say Inuit artist Annie Pootoogook lived in fear before death
The Ottawa police's Major Crime Unit is treating Pootoogook's death as suspicious.
Jorge Barrera
APTN National News
William Watt sits at a dining room table with a King James Bible and says he's been an "emotional wreck" since police investigators told him his girlfriend of eight years, Inuit artist Annie Pootoogook, was found dead in the Rideau River.
The table is the same place where Pootoogook used to compose her ink and crayon drawings that once raised her to international acclaim in the contemporary art world before she was swallowed by the darkness in the alleys and river banks of the capital city that have also obscured her last moments on earth.
Watt said it hurts to know many of Pootoogook's friends on the street believe he is the reason for her death. They say that she was fleeing in fear from him the week before she disappeared.
"She always told rumours about me to everybody and all the Inuit said, 'Annie says this, Annie says that.' I can't defend myself against rumours," he said.
The Ottawa police's Major Crime Unit is treating Pootoogook's death as suspicious. The police initially ruled out foul play, but later decided it needed a second, closer look.
The investigation is being stymied by a lack of information on Pootoogook's last movements. Police seized footage from area surveillance cameras, but Pootoogook was found in the water by a river bank obscured by trees along the far side of a park. Investigators have said they can't find any witnesses to help chart Pootoogook's last movements in the area before her death and issued a public plea for help.
Watt is not a suspect in Pootoogook's death.
Watt's voice often cracks with emotion and his words knot in his throat with sobs as he recounts his eight years with Pootoogook. Their relationship began in May one day by the Beer Store on Rideau Street in downtown Ottawa and they remained, mostly, together since.
"You are supposed to go through these five stages of grief, and I am stuck. Not knowing what happened to her, I can't seem to move on…from the pain. I try to get over it, I can't get over it, I don't know, I don't know what to do," he said. "When we were having troubles or getting miserable we used to tell each other, she used to say to me, I used to say to her, 'Just remember Jesus loves you.' And it used to help us a lot. But it's not helping me."
He then begins to sob.
Watt said police investigators last Tuesday showed up at the door to his one-bedroom apartment in the neighbourhood of Ottawa South and told him they wanted to take him to the station to ask him some questions. He said he was put in an interview room with a camera to record the conversation.
At the time, reports surfaced the body of a woman was found in the Rideau River and he said he kept asking the investigators if the woman was Pootoogook.
"Finally I told them, 'I am not saying anything until you tell me if that was Annie.' And they said, 'Yes.' I lost it. I broke down," said Watt.
That same Tuesday, investigators also travelled to The Oakes, an Ottawa centre providing addictions programs, to visit Pootoogook's brother Pauloose Joanasie. When the officers told him his sister was dead, he started to weep.
"I was hurt, I started crying, she's my little sister," he said, in an interview at The Oakes. "She was a famous painter too, her drawings and all that, she was okay."
Joanasie said he and Pootoogook shared the same biological parents but he was adopted out in Cape Dorset, Nunavut, before his sister came along. He said he used to go hunting for geese and bring back the country food to his biological parents when he lived in the North.
He met Pootoogook on the streets of Ottawa after he spent some years in Montreal trying to make a living carving.
"(She was) a very nice person, she wasn't mean or anything, or wasn't aggressive or anything, she was really friendly and easy to get along with," said Joanasie.
Joanasie said he knew his sister had troubles with her boyfriend Watt.
"Her boyfriend keeps coming back for her looking for her, always takes her to his place and she even told me he tore up her drawings sometimes, don't know why," he said.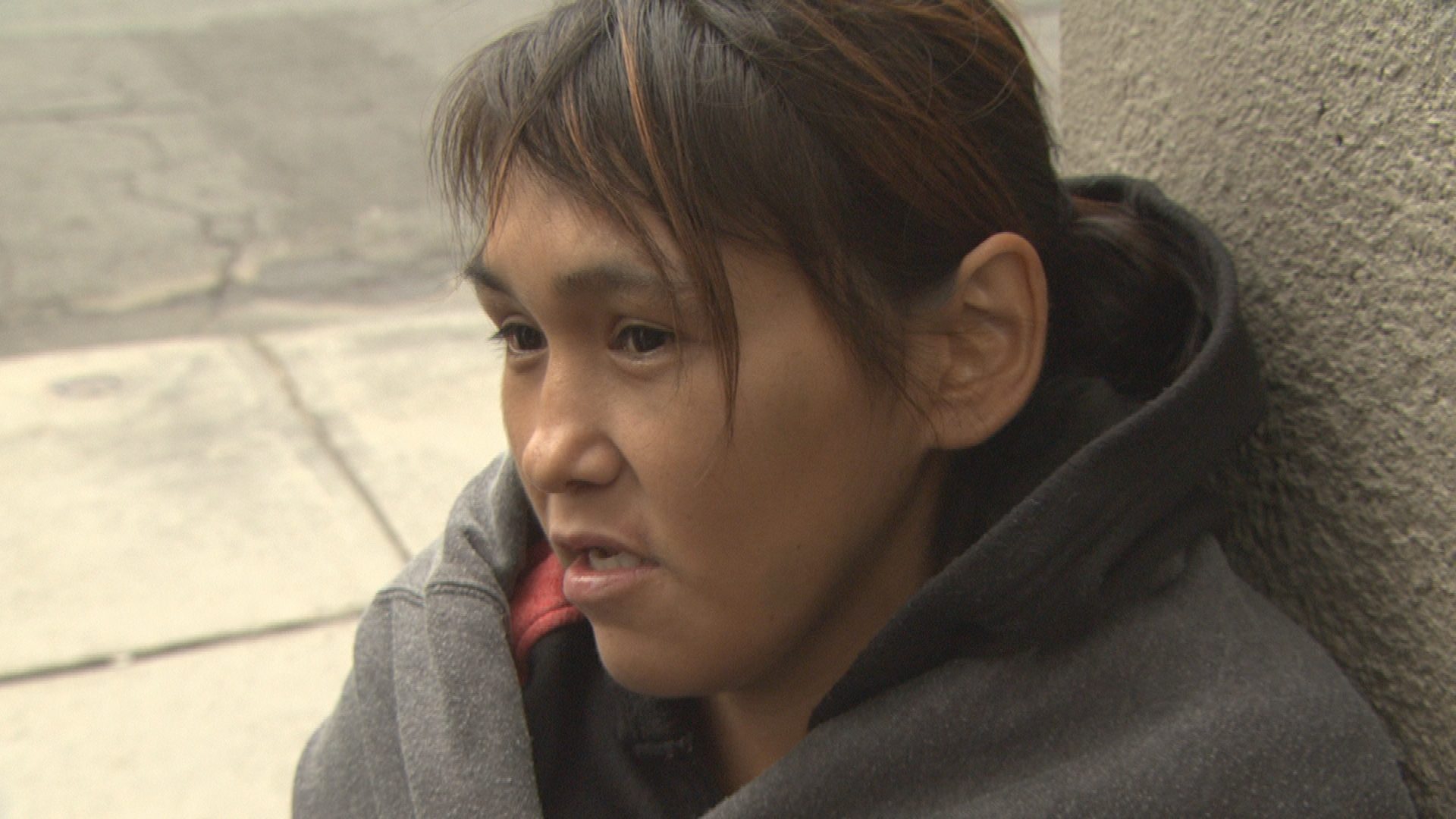 A similar story is shared by Pootoogook's friends on Ottawa's streets who say she lived in fear the last week of her life. They said she sought refuge at the Shepherds of Good Hope in downtown Ottawa. Pootoogook was found a few blocks from the shelter.
"She would always complain about the boyfriend, being abused," said Nancy Ainalik, who is also from Cape Dorset. "She was afraid."
Ainalik said all her Inuk friends on the street knew of Pootoogook's fear.
"Us Inuit know what she was saying, they are telling the same story, what she was saying before she passed away," said Ainalik.
Pootoogook's cousin Inusiq Shoo also said Pootoogook wanted to leave Watt.
"She always said she wanted to get rid of him, but she couldn't," he said.
Watt said he loved Pootoogook and she never told him she wanted to leave him. On the day she left, a little over a week before she was found in the river, Pootoogook did not leave a note. He said she also left her identification behind. Watt said he believed she was again in one of her periodic episodes when she would disappear for a few days.
"I don't know if that is the truth, if that's why she left because she didn't want to be with me anymore," he said. "She didn't leave a note or nothing. I gave her a (kiss) on the cheek, I hugged her and I left to do my (panhandling). Then I came back at 11 with her booze and her cigarettes and she was gone. No letter," he said.
Watt said he did hit Pootoogook once, a few years ago. He hit her on the side of the face because he said she had given him a sexually transmitted disease. He said they went to a program after that and tried to work through it.
"I loved her so much, I didn't want to lose her," he said.
He admits he did yell at her often.
"I yelled at her, I criticized her drinking. I called her a 'fucking drunk. You fucking drunk, sober up,'" he said. "I guess that's abuse."
Watt said he believes Pootoogook made up stories about his abuse to justify her drinking.
"She resented me trying to keep her sober so she runs off, goes and does her thing and I try to give her space," he said. "That is all rumours, she would go downtown and make rumours…it gives her an excuse to go get drunk, to be angry at me….All the Inuit people call me a woman beater…an abusive man. It's just not true. It justified their anger, they always have to be mad at somebody."
Watt said he has no idea what happened to Pootoogook before her death.
"I can't speculate," he said.
Watt said something happened to Pootoogook about eight months ago that scared her enough to keep her away from downtown until her final departure from their apartment with the 'Jesus Said' magnet on the refrigerator and a framed print of a boat on the water on the wall of the living room.
He said the police only interviewed him at the station for about five to 10 minutes. He wanted to tell them more, but couldn't because he was in shock at news of her death.
"There are things I want to tell the police. I don't want it in the news or anybody to know. I want to know the good things of Annie. She was into shit that could've affected her," he said. "I don't want to say what kind of woman she was. What she was doing to make money. There could be, I don't know, I have a thousand different thoughts. I can't even go down there. I can't try to talk to the Inuit down there, it's just going to screw me up."
He said Pootoogook did not like the water and could not swim. She would never wade in deeper than up to her knees whenever they went to a beach on the Rideau River known as Mooney's Bay.
"Nobody is coming forward saying anything. They always drink as a group. Why isn't anyone coming forward?" he said.
Inuit community support worker Sytukie Joamie
Inuit community support worker Sytukie Joamie said he is upset with the way Ottawa police handled Pootoogook's investigation, especially when investigators initially claimed no foul play was suspected in the death.
"You have to understand that we're in the capital of Canada and at 2016. This nation is dealing with missing and murdered women and they find an Inuk woman in the river and they call it not suspicious. That's very odd," he said. "We, the Inuit community, knew it was suspicious right from the beginning. We cannot prove it, but we know what she said, that led us to our own suspicions."
Joamie, who is also genealogist and traces the ancestry of urban Inuit to their home communities, said he is a relative of Pootoogook's and it pained him when he heard the news of her death.
Pauloose Joanasie is Annie Pootoogook's brother
"She wanted to stay alive. She wanted to live, but she was found in the river, dead," he said. "It's difficult to find out somebody has passed away in those circumstances, whether they are Inuit or otherwise, but to find out your own relative, another fellow Inuk, is found in the river, it's very sad."
Watt said he's tried to keep a low profile since Pootoogook's death. He recently went down to a bar on nearby Bank St. for a couple of beers, but wound up in an altercation with a stranger who confronted him on why he wasn't out trying to find out what happened to her.
He's still surrounded by the remains of her life, some of her clothes in a top drawer, a sketching table they found in the garbage. On the sketch table may be one of the last drawing Pootoogook every made. It's titled, Full of Love. It is of a woman sitting cross-legged, her fingers intertwined. The woman appears to have a slight smile on her face, a faraway smile of remembering.
"She is in God's care now," said Watt.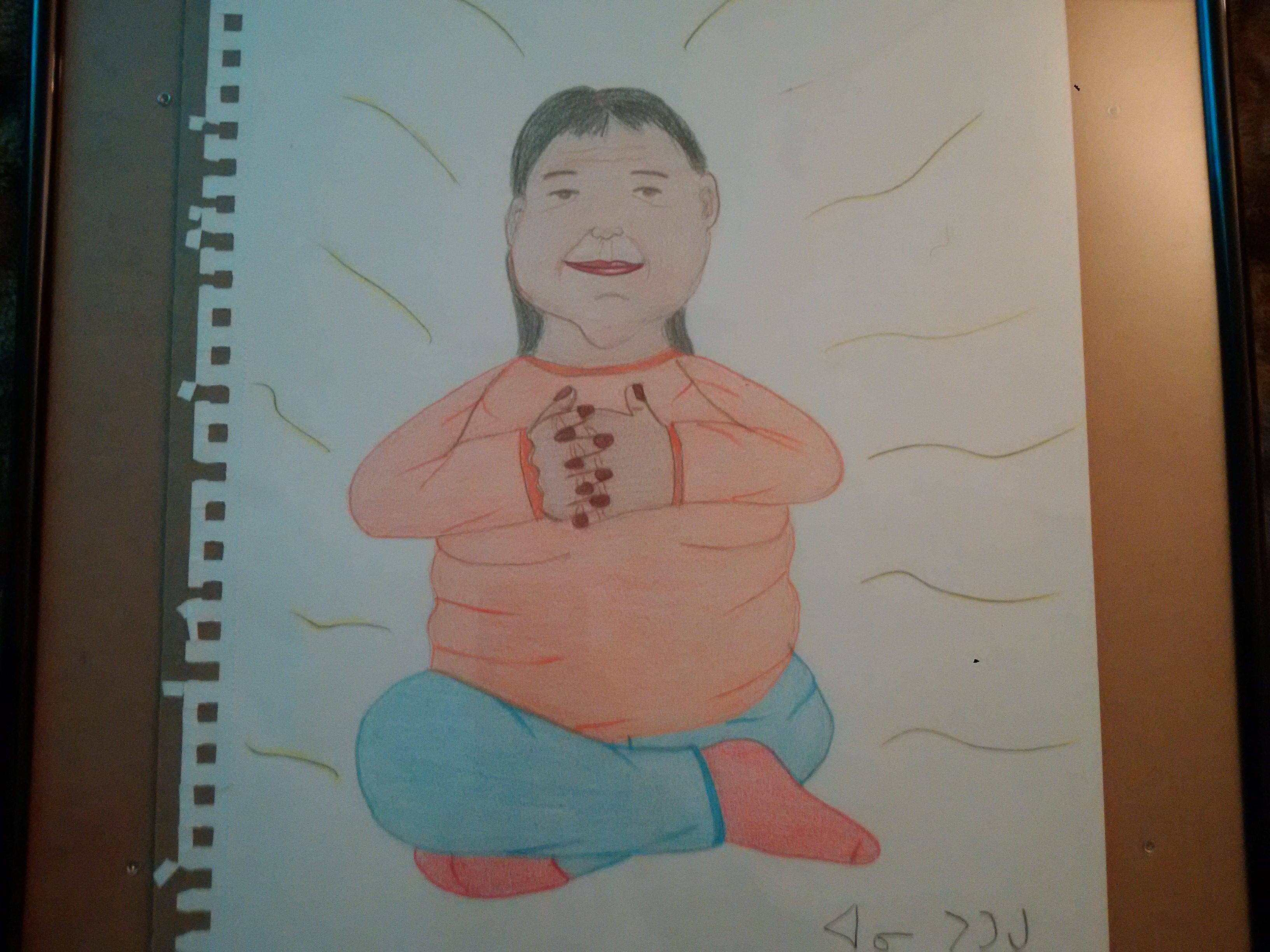 @JorgeBarrera
– with files from Annette Francis
-Editor's Note, story was updated on Oct. 4, 2016, to correct the name of Annie Pootoogook's final drawing. It was called, Full of Love, and it was finished on Nov. 21, 2015.